Interview for David, who enjoyed socializing across the borders of his own house, even with staff!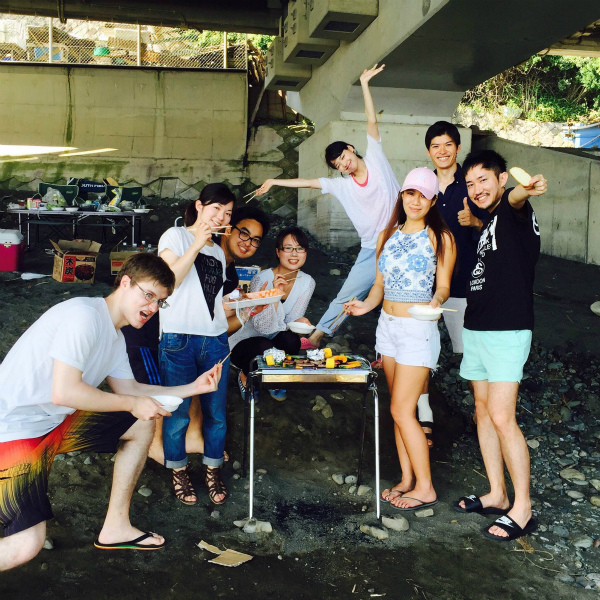 Hi, This is Kana from the Borderless House marketing team. We interviewed David from 
Machiya1 House
 this time! As 
he became close to the staff members as well
, let's hear his point of view.
"I got open-minded after living in a share house" – What kind of person is he?
- David, what made you come to Japan and to live in share house?
I had Japanese friends originally, and 
wanted to change my life a little bit
. So, I came here last September(2015). This is my forth visit. I was going to 
Akamonkai
, I chose 
Machiya1 house
 since it is 
walk-able distance and near the station
. I looked at 
Oak House
 too, but this house in Borderless House seemed closer to school and convenient. Then, I decided whether I live in private room or share room, talking with staff. It was my first time for me to live in a share house, but 
I got open-minded
. When you share a house with others, you understand different cultures and have to be kind and aware of helping each others.
"I could make friends in other houses thanks to staff"
- Since you visited our office often, I think you became closer to staff! What's the staff like to you?
I think the staff is good! They are 
friendly and good support
. Every time I make payment at your office, I talked with staff. (We were surprised that David became more fluent in Japanese every time he comes to office!) When there were problems with Air conditioner or Internet, Borderless House responded in few hours, and fixed soon. Actually, It was me who touched the device for Internet accidentally, though… I joined Halloween Party held by staff last year too, and it was fun. Also, when there were parties at houses near 
Machiya1 house
, one of staff invited me. That's why 
I could make friends with people in Machiya2 house and Kitasenju House
. It was good that staff helped me in such a way. Though I didn't talk Japanese so much in here since housemates were good at English, I talked mainly in Japanese with people in 
Kitasenju House
. ▼BBQ with people in Kitasenju House
Perfect house for "people who are not into party but want to talk with people
- What kind of people do you recommend this house to?
Machiya1 house
 is more for 
people who are not into party, but want to talk to people
, having their own life. This house is perfect for such people. Also, Machiya is really convenient. There are 
many lines at Machiya station
 including Chiyoda line, and Machiya1 house is 
close to station
. Besides, there are 
many food shops
 in Machiya. By the way, my favorite is "Jirorian(
ジロリアン 町屋店
)".(※The ramen shop related to famous ramen chain shops"Jiro") You can eat a lot with at cheap. ▼Last day at Machiya1 House. Seeing off by a housemate
If you want to 
put importance on living comfortable and having your own life, not only enjoying international exchange
, I see Machiya1 House is good environment to live in!
Details of Machiya1 House
Share House in Ueno, Asakusa, Akihabara area
Ask staff to introduce share houses