Looking for a room on a limited budget
Looking for a place to stay temporarily only for the short term
Wanting to make local Japanese friends
Wanting to put yourself in a new environment where you can practice Japanese every day
This is your chance!!
Enjoy RENT-FREE
at International Share Houses in Japan
Why now?
Because BORDERLESS HOUSE is now offering you a rent-free room for up to 2 months!
The minimum stay is 1 month and this is a great opportunity to take a taste of what it is like living with people from around the world! Half of the tenants are Japanese, so you can make local Japanese friends and learn Japanese language while staying in international share houses in Tokyo, Osaka and Kyoto!
We have more than 30 houses for you to choose from!

Benefits
All you need to pay when moving in is the deposit (partially refundable) and the utilities!
Rooms are fully furnished, so you can move in only with your suitcase!
Free WiFi provided. Wide-open common spaces where you can enjoy your time with your housemates. There are two types of rooms, private and shared rooms.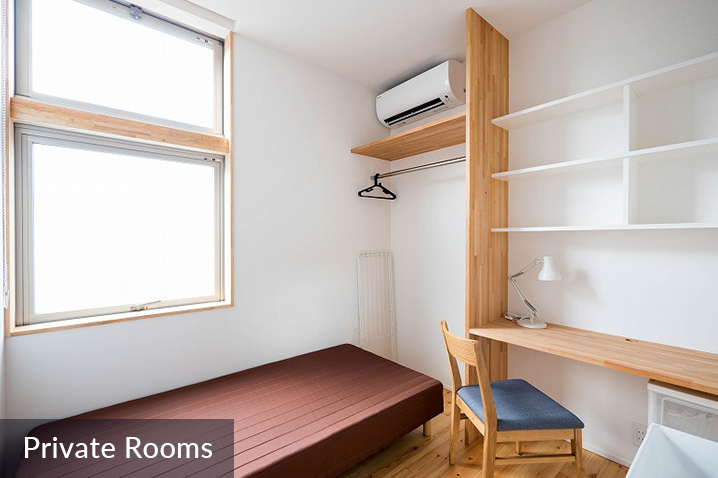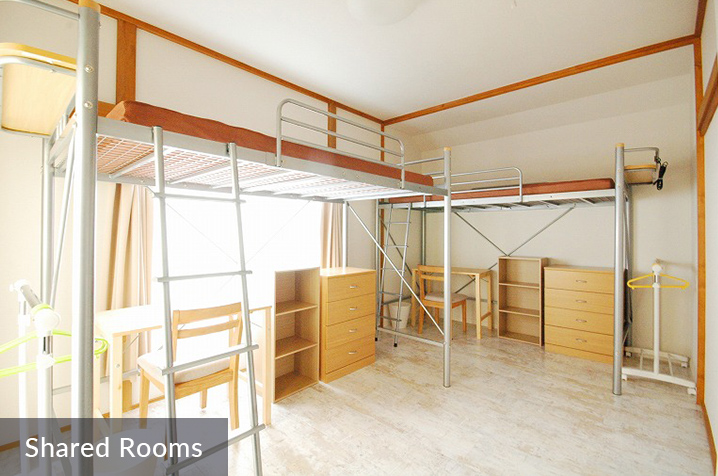 02
Save Money! RENT-FREE for up to 2 months
With "TRIAL STAY", you can stay at BORDERLESS HOUSE without worrying about the budget, because we offer you accommodation that is RENT-FREE for up to 2months!
03
No lock-in contract! 1-month stay is possible!
The minimum stay is 1 month, so if you are looking for somewhere to stay for a short term or temporarily,
Borderless House would be a great option!
Compared with a hostel or hotel, sharehouses can be a better choice for short-term stays!
Why? Because BORDERLESS HOUSE provides not only the room but also the community where you can make new friends!!

What you can expect after moving in
What you can expect after moving in
With COVID-19, having a social life and making new friends are difficult now. This is a great chance for you to live in a new environment with many wonderful Japanese housemates and make friends from all over the world! Living with the Japanese takes you deeper into Japan's local life and culture!
Japanese tenants are also interested in knowing your stories and your culture too! Many Japanese tenants at BORDERLESS HOUSE chose our sharehouses because they want to meet new people from various backgrounds and cultures. Why don't you join us & share your stories too?
Multilingual Environment Learn Japanese from Native Speakers
Because half of your housemates are native Japanese speakers, you will get the chance to brush up on your Japanese language skills by listening and speaking in Japanese on a daily basis! Make your Japanese learning experiences reach beyond the textbook!
Learn not only Japanese but also different languages with housemates from all over the world!
The original program that makes your daily life full of new encounters!
We offer a tenant-exclusive program called "Borderless Mates Program (BMP)"
You can choose from four programs: Language Exchange, Club Activities, Borderless Library, and Borderless Travel. Through these programs, you can make new friends from 90 other share houses in Japan, Korea, and Taiwan and meet people who share interests and hobbies!

Terms and Conditions
MOVE IN before October 31st, 2021
Only need to pay the monthly utilities. (Between ¥7000 and ¥12000 per month)
A deposit of ¥20,000 is required (The deposit is partially refundable)
Minimum Stay 1 month is required
Short-term Stay or Extension of Stay is possible! (No lock-in contract)
Only non-Japanese who are currently living in Japan can apply

Campaign Houses

Reservation Process
STEP1
Send an Inquiry
We will give you a detailed introduction to this FREE TRIAL campaign!
STEP2
Pick the House & Room
We will help you to find a suitable room based on your preferences!
STEP3
Proceed your Reservation
We will have a call with you in order to confirm your reservation and solve your doubts!
STEP4
Start your new life!
Enjoy your stay at the international share house!
Regarding the Definitions of "FREE TRIAL period", "first month" and "second month"
Examples
Move-in date: Sep.5
①Staying for only 1 month

FREE TRIAL period is from Sep.5 to Oct.4

② Staying for 2 months

FREE TRIAL period is from Sep.5 to Nov.4

1st month : Sep.5 to Oct.4

2nd month : Oct.5 to Nov. 4

*Payment of key money 30000 yen is required + monthly utilities

③ Staying for more than 3 months

FREE TRIAL ends on Nov 4.
The regular contract starts from Nov 5.
Regarding additional cost and contract term
*If you would like to rent the bedding set, there is an additional one-time rental fee - 9,000 yen. (Bedding set includes a sheet, mattress pad, futon, futon cover, pillow, pillow cover, and blanket.)
*Minimum stay is one month. We make a 1-year contract at first with an agreement form that indicates the campaign terms, then you can adjust the term of your contract by giving us your moving out notice at the assigned period.
We'll help you find the perfect house!