The Borderless House network does not just include current residents,
but also a network of over 15,000 previous tenants, hailing from various countries and coming from various backgrounds.
Hear testimonials and watch video interviews from previous tenants who share their experiences and honest reviews.
LONG INTERVIEW
Chatting with Residents / Sharing Experiences and Memories
TENANT DATABASE
What kind of people living in Borderless House?
What kind of people can you meet at Borderless House? What kind of friends will you make? No matter what your language ability is, Borderless House brings together people from various countries. See where people are from, what they do, and what their favorite parts of Borderless House were.
NATIONALITY
Nationality of Housemates
RANKING
Italy
United Kingdom
Germany
Canada
Sweden
Australia
TAIWAN
Russia
Viet Nam
Spain
Malaysia
India
Singapore
Brazil
Colombia
Netherlands
Turkey
China
GENDER
How is the gender ratio like?
AGE
What are their age groups?
JOB
What are their occupations?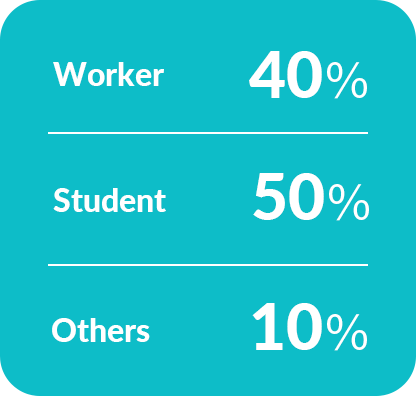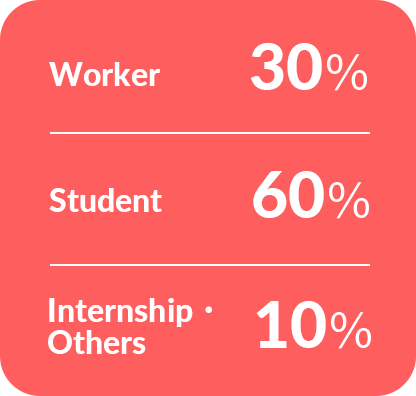 LANGUAGE SKILL
English speaking level when moving-in
English level of Korean tenants
Korean level of Non-Korean tenants
EXPERIENCE ABROAD
How much living-abroad experience, do they have?
Abroad experience of Korean tenants
Korea experience of Non-Korean tenants