How is life in Taipei, Taiwan? -Interview with German tenant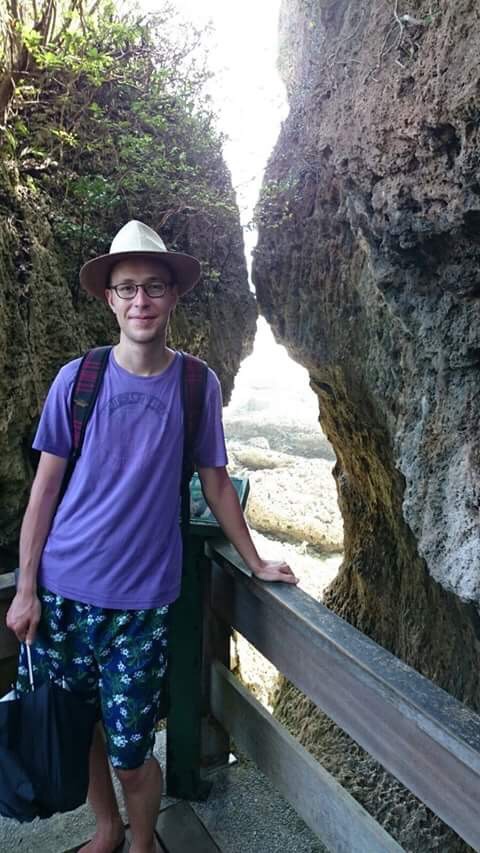 Hello!! This is 
BORDERLESS HOUSE in Taipei
!! We have a tenant from Germany who currently stays at BORDERLESS HOUSE TAIPEI. He has joined 
language program
 and usually interacts with his partner and staffs humorously.
We would like to introduce his life in Taipei and his own stories!
Self-introduction
Hello I'm Philipp from Germany, and I'm 24 years old. I studied music before and I play the saxophone. After studying, now I come to Taiwan for learning language and have Chinese course here. Because my girlfriend is from Taiwan, I want to understand her culture more!
Could you share your daily life in shared house?
I sleep a lot (laugh). But from Monday to Friday, I have classes from 8:40-11:30 in TKU. After that, I go to sleep again and do my homework. In fact, this is my second time to come to Taiwan, I traveled to Kenting, Tainan, and Hualien with my girlfriend last August.
Why do you choose BORDERLESS HOUSE in the first beginning? 
Because I want to practice Chinese with other Taiwanese housemates!
Is there anything difficult or tough for you to live in Taiwan?
The weather, and maybe the mosquitoes. Last year I have problems with mosquitoes' bite, but I didn't have serious problems with it this time. There were only two in my room. (And he slapped them!)
What impressed you the most during your stay in Borderless House or in Taiwan?
In the first day I came, my housemates did the karaoke, they love the karaokay! They just played the song on Youtube and sang with it. Dance and sing! As for other experiences, one of the cultural shock was that I found there was no sidewalk when I once went on the street. That's very strange for Germany. Another was that my girlfriend's parents took me to the restaurant and made me eat the animals' organs and frog legs. They told me, "It's chicken chicken, so just eat it eat it." (note: Many people who had tried frog said that it tasted like chicken.) I ate very much and I thought that was chicken. But I realized the truth after my girlfriend's friend told me.
Speaking of Taiwan, what is the most attractive point for you?
The food, very nice and helpful people. I love the dumplings, beef noodles and teppanyaki. Maybe the nature as well.
With your experiences, could you kindly give some advice to those who are going to come to Taiwan?
The good thing is that if you lost something, people here are always friendly and helpful!
(Picture in the mountain.)
(He joined the language program and practiced Chinese with his Taiwanese partner Michelle.)
Thanks Philipp for sharing his experiences!! We had good time chatting with him and hope that he can achieve his goal on learning Chinese :)
Check BORDERLESS HOUSE in Taipei>>
http://www.borderless-house.com/tw/all/
Check Tenant's only Program>>
Free House Exchange
http://www.borderless-house.com/houseexchange/
Language Exchange
http://www.borderless-house.com/languageexchange/