【Important Information about Rent and Contracts】Before Reserving Your Room!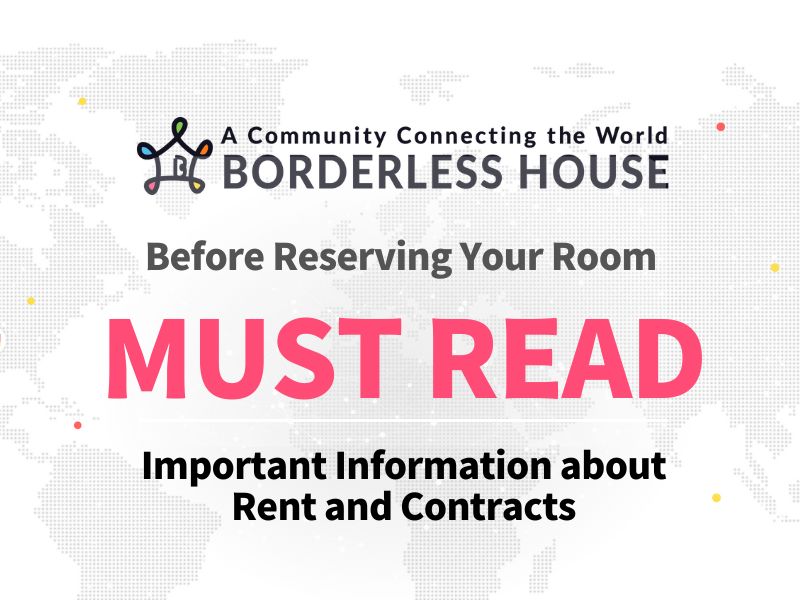 Dear tenants and those who are interested in our share house,
Since 2014, BORDERLESS HOUSE TAIWAN has been at the forefront of the share house movement, pioneering a space where diverse cultures converge. Our aim has always been to provide a platform for language and cultural exchange, fostering a rich multicultural community that thrives on global connections.
To all of you who have supported and contributed to this incredible international community, we extend our heartfelt gratitude. It's your presence that has made this journey so remarkable.
In our commitment to deliver excellence, we're making a few adjustments to our management systems and pricing. We believe these changes will further enhance the quality of service we offer to each and every one of you.
Here are the specifics of these adjustments.
Utility Fee
Summer  (May - October): 1,200 NTD
Winter  (November - April): 800 NTD
---
Inclusions:
●Bills: Water, Electricity, Gas, Management Fee, Wi-Fi, TV Channels
●Life support: Basic cleaning tools, kitchen wares, household appliances, A/C & washing machine cleaning (once a year)
Two types of contracts to suit your needs:
1. 【Flexible Contract】
- You can cancel the contract earlier (following the guidelines stated in Article 8 of the contract, with a 30-day notice).
2. 【One-Year Contract】
- Contract termination before the agreed-upon duration is NOT possible.
- If you choose to leave earlier, the remaining rent will need to be settled.

Now, you have two pathways to begin your BORDERLESS HOUSE journey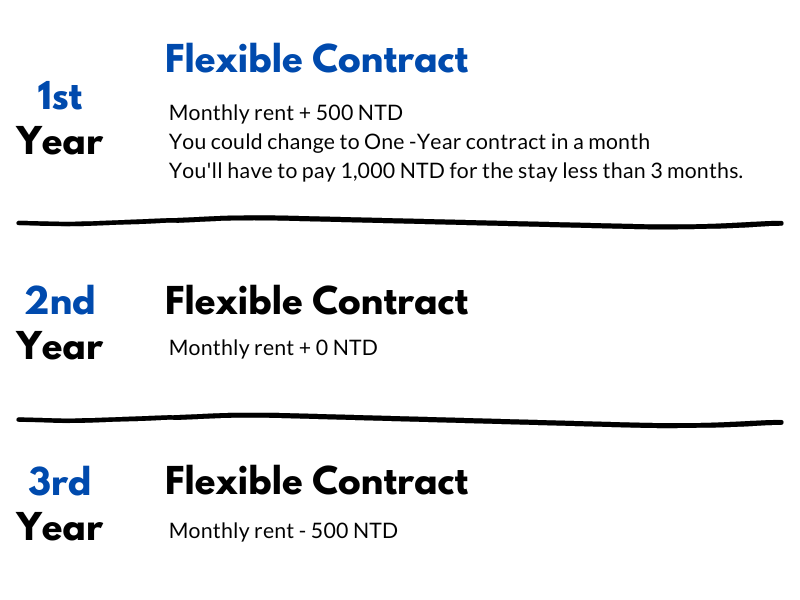 ▶ Starting with the Flexible Contract
(Transitioning to a One-Year Contract later incurs a 1,000 NTD fee. The new contract's commencement aligns with the original one.)

This option is ideal for:
✓ Short-term stays in Taipei
✓ Language school students
✓ Interns in Taipei
✓ First-timers in a Share House setup
✓ New job entrants in Taipei
✓ The curious ones seeking the Share House experience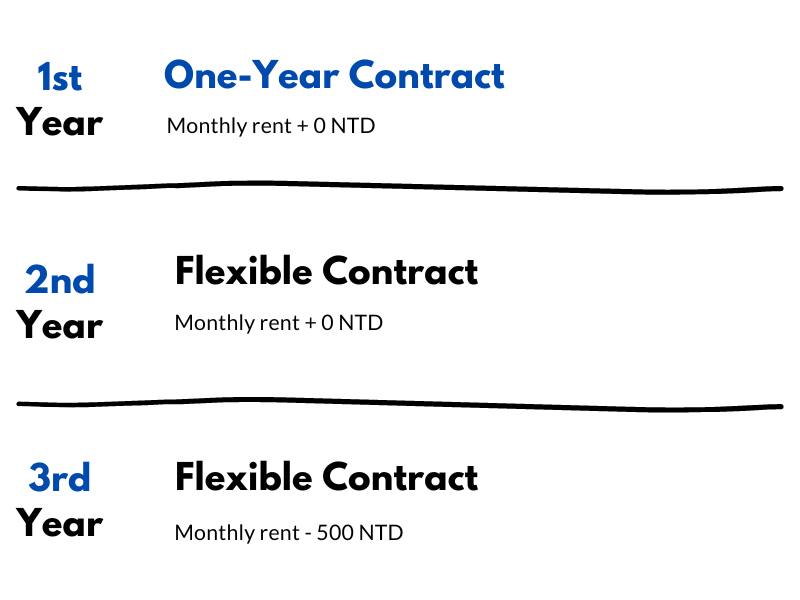 ▶ Starting with the One-Year Contract
(From the second year onward, it transitions to a Flexible Contract with the option to cancel early.)

This option suits those who:
✓ Plan for a long-term stay in Taipei
✓ Are university students
✓ Have previous experience with Share House living
✓ Maintain a stable job in Taipei
✓ Embrace the Share House lifestyle
A life lived in a Share House becomes a tapestry of unforgettable memories. Whatever your plans in Taipei may be, we encourage you to take this chance. 
For any queries, don't hesitate to reach out. Our tenants and we are eagerly awaiting your arrival, ready to hear and share your stories!
For more insights:
【What is Share House?】 BLOG
【Find your share house】 House Locations
【How's the share house life?】 INSTAGRAM