【Tenant's Story】My Quarantine Life in Korea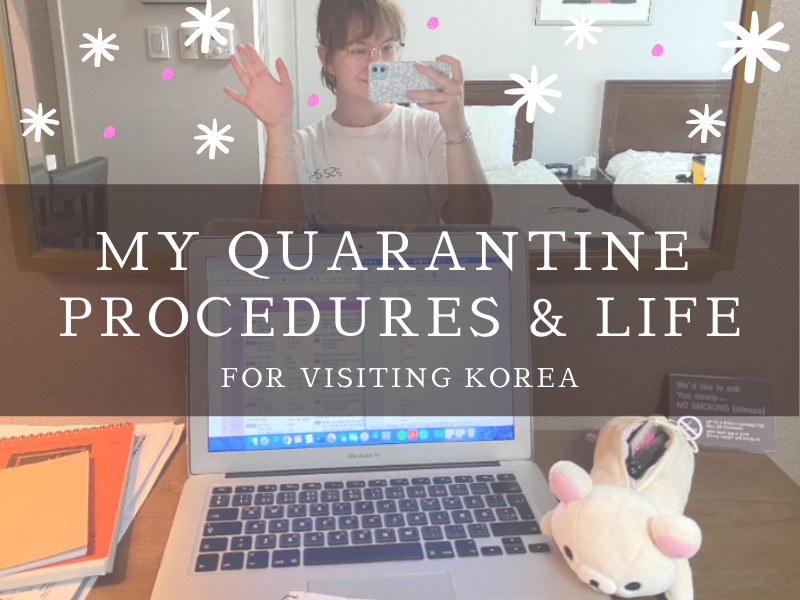 Hello! This is Borderless House.
Today, let me introduce our tenant's writing about her quarantine experience!
Now in Korea, 2 weeks quarantine is required for everyone who entered the country. One of our new tenants is now just experiencing the quarantine so we asked her how it is going on in real. Let me introduce her real story about the quarantine in Korea and hope her information helps you on planning to visit Korea!
Quarantine in Korea
Hello! I'm Weronika, and I will live in Borderless House in Seoul after my quarantine is over. Currently, it's my 4th day out here, and it's not as bad as I thought it would be! So, don't worry, if you got everything prepared you will be fine as well!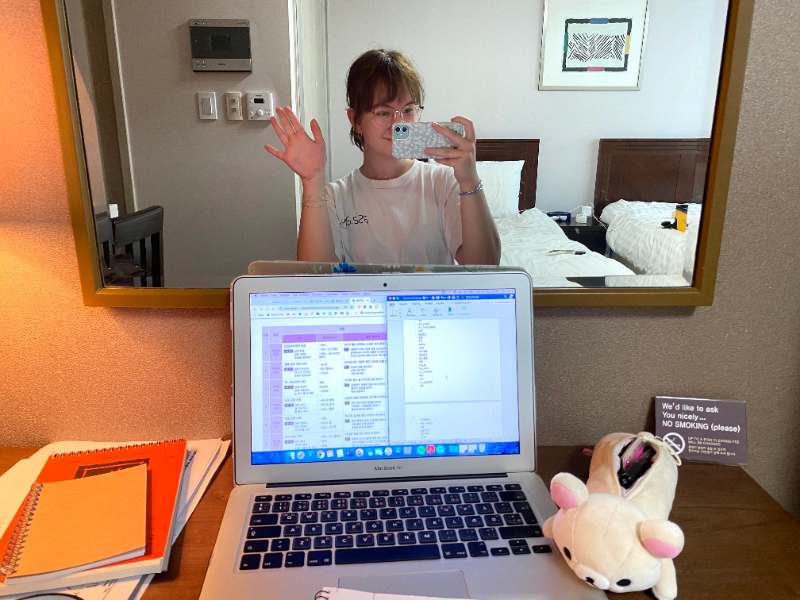 How I've arranged my quarantine
I am staying in Korea with a long-term student visa. Because I won't live in my university's dorms, and I don't want to put the other tenants at risk I had to find a different place to do my quarantine in. I have decided to find an apartment through Airbnb, and I really wanted to find a place closest to the Borderless House office or my share house so it would be more convenient for me to go there with my huge luggage however because I've been searching for a place rather late (I had a sudden change of plans), everything was booked! Therefore, I had to be really creative and find a place at least close to any metro station.
It's really important to let the host(s) know that you are going to use their place for your self-quarantine because some places aren't permitting it. Therefore, I have sent them a short question if I can use their place, and an introduction about myself including, why I'm coming to Korea, and that I have been tested negative for COVID-19 already in my home country before applying for my visa.
A pro-tip from me
is definitely including your test result if you have taken it before, it will make the hosts more welcome to let you use their place for the quarantine. It is also VERY important to find a place with your own kitchen and bathroom - NO shared areas.
Procedures at the airport
When I was on my way to the airport, it didn't feel like it was real at all! I felt really nervous and confused because on one hand I really wanted to come to Korea for my exchange but on the other, I knew that it was a big risk to take. Additionally, all of the quarantine procedures scared me, I felt like I didn't have enough head space to figure anything out. However as mentioned it's really not that bad.
Easy procedures than I expected at the airport!
I have already checked in for my flight at home and while doing that I had to confirm that I don't have any symptoms of COVID-19. Next at the airport during the baggage drop off, the lady at the counter asked me two questions, what type of visa do I have and if I have traveled abroad during the past 2 weeks. Other than that, everything was pretty much the same, no extra procedures except wearing a mask all the time (besides while eating or drinking), and some hand sanitizers placed here and there around the airport. Shortly said it was peaceful and easy.
After my first flight, I had a short layover in my motherland, Poland. Once again, I thought that it would be really stressful, but I only had to walk through the customs control which only took me a few minutes as there was almost NO queue. Thereafter roughly 10 minutes before the boarding I had my name called from the speakers, and I genuinely thought about the worst, but the lady at the desk, only double checked my visa to make sure that I am able to go to Korea.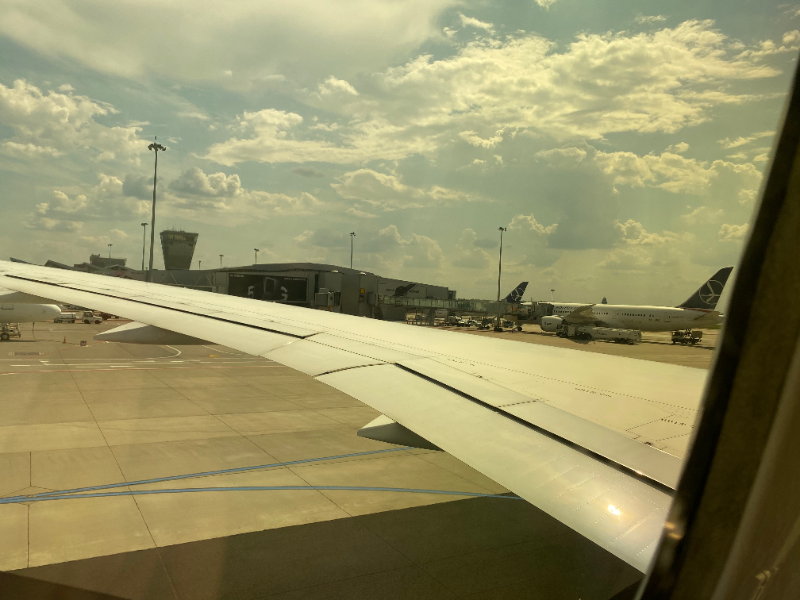 Paper works in the plane
Now, here comes ALL the paperwork. On the flight from Poland to Korea, I have received three different documents to fill out. Two of them looked similar to me so I can't remember the difference now, however, both of them were regarding my health (if I had any symptoms), if I have traveled anywhere 2 weeks and 3 weeks before the flight, my quarantine address and general info about me. The last paper was the casual customs paper, which everybody always gets while flying to Korea.
When I have finally landed, the first procedure was getting my temperature checked, and once again I was questioned about my health, why I came to Korea, and my quarantine address. I luckily had the perfect temperature of 36.5, so that part went smoothly for me. (However, as soon as you are too close to 37,5, you will be taken to another queue and further to a COVID-19 test at the airport.)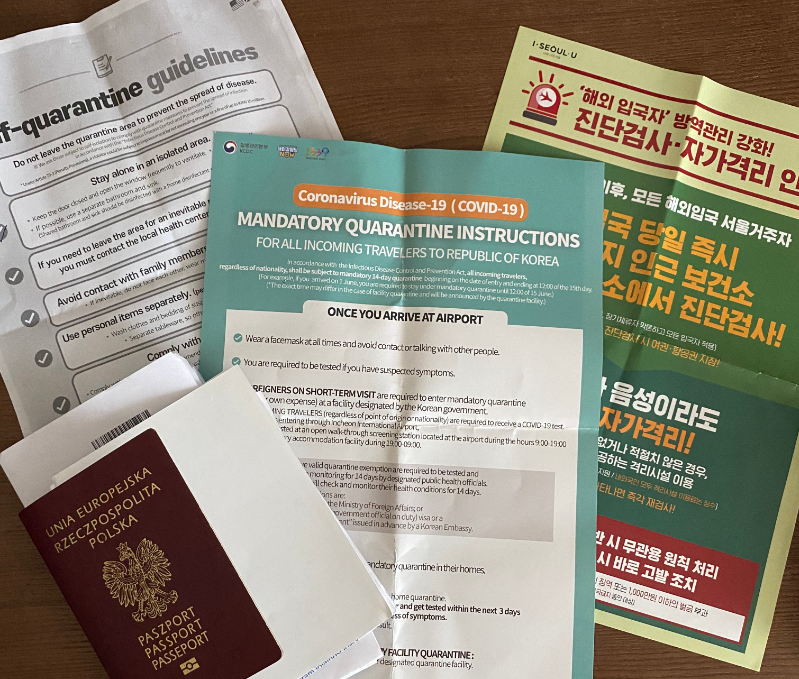 Quarantine Application
My next step was installing the quarantine app on my phone. After installing it, I gave my phone and necessary documents to an official who also filled everything in for me on the app. Thereafter I had to confirm my quarantine address and general information, which was the hardest because I don't have a Korean phone number – so it created a big hassle. I could give my number to my host university, but it was very early in the morning, so they didn't pick up, I also gave a number to my Airbnb host too (he said it was fine beforehand). So they ended up calling him and confirming everything.
Afterwards I walked over to another stop where I had to fill out four different documents, I felt really tired at this point however most of them asked about the same information like my quarantine address which I have saved beforehand on my phone. After that, I went through a regular passport, visa, and fingerprint check. Next was the bag claim and handing in the little customs paper.
Another pro-tip from me
is to write a note on your phone with your quarantine address (both in English and Korean), phone number (*if you don't have a Korean number yourself: your friend, family, university, Airbnb host whoever is okay with confirming all of the information), flight number, time and date when you have landed and your passport number. You will end up writing the same information over and over again, so it's smart to make it all a tad easier. 
My next tip is to have a small envelope or binder for all of your documents. I had a binder in my backpack myself, but it was dug deep between some clothes and my computer so I have carried my passport, flight tickets, documents loosely in my hand which caused me a little bit of stress while shuffling through all of them.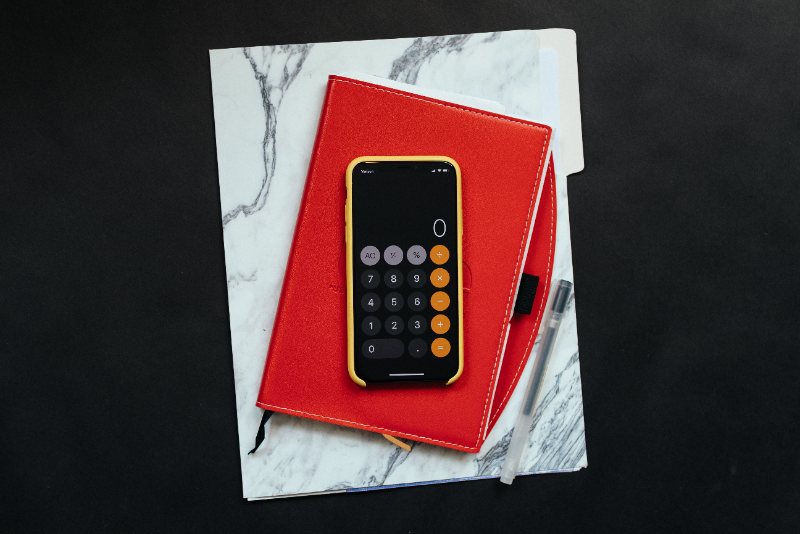 Transportation
After I finally was able to walk out from the baggage claim area, I was met by people in safety suits and masks, who asked me where I am going. I have shown them my address and next, they have guided me to a person who told me which booth I should go to. At the booth, I had to show my address again, and I got two choices whether I want to take a bus or a taxi(minivan) to my address.
I was really tired at this point, and if I had to take the bus, I would have to wait for 4 hours, so I took the taxi. The big downside of this was the fact that the taxi cost me at least 4 times more than the bus, however, my experience was really good, and it was worth all the money.
Before driving, the taxi driver and I walked over to another booth where I had to write my name and which district and health center I am going to, next we walked over to his taxi where there was a plastic between the front seats and the back of the car - Naturally both of us still wore our masks. It was a very comfortable drive and the first stop was the medical center in order to take my test. The driver knew exactly where to go so I didn't have to do anything! Then he dropped me off, literally in front of the entrance of the center, and I took the test. The staff out there was also really nice and understanding. After the test, my driver took me to my apartment, and once again helped me with the luggage – he even left his car open at the parking lot and helped me to find the right entrance to my building.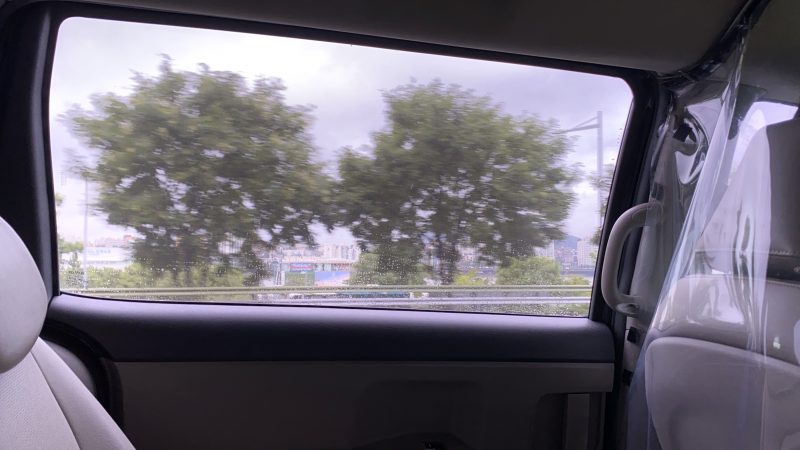 During quarantine
Even before my quarantine started, I was worried about feeling lonely, what to eat, and what to do with all the time that I got. However so far, I've been busy with making food, updating my Instagram, watching the TV, working out a little, I've been also studying for my placement test, or at least tried to (studying isn't that easy now when there are other fun things to do around me). Especially the week before my flight was probably the most hectic and stressful time of my life, but I finally feel like I can rest a little, after preparing for everything.
Besides that, I don't feel lonely at all either, even though I sometimes like to be alone in my own space I have always lived together with someone, so being locked alone in four walls scared me a lot! However, I constantly keep in touch with my friends and family, and with today's technology it's more than easy to use the camera and feel like everybody is right next to me – I keep thinking that maybe the lock down and online classes at home made me feel really used to it by now.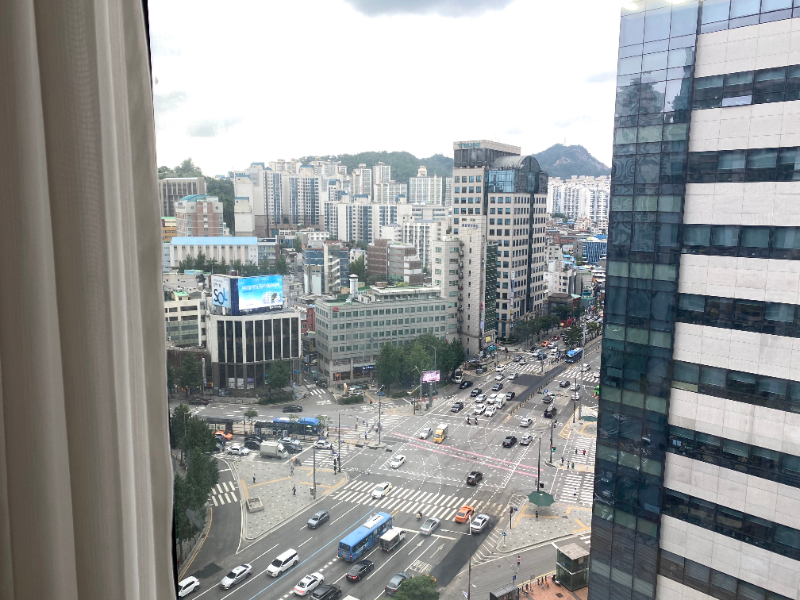 How to get every meal
About the food I've luckily stumbled upon a really nice Airbnb host who asked me beforehand if I need any groceries. I had to be tactical though, I couldn't ask him for whatever I wanted because some food can go bad fast, so i.e I've asked him to buy me some ramyeon because it can be stored for a long time, and of course for some water! I also packed some snacks and coffee in my luggage from home, it didn't fill out too much space and it saved me some money out here.
Even though I could live off from all the food that I have here, I also really craved something other than eggs and toast for breakfast and ramyeon for dinner, so I have also ordered delivery food. It's really easy, and convenient but I have to be careful with not ordering too much! I am not allowed to throw any trash out, so I have to keep two big plastic bags inside the apartment so any food waste would create an awful smell!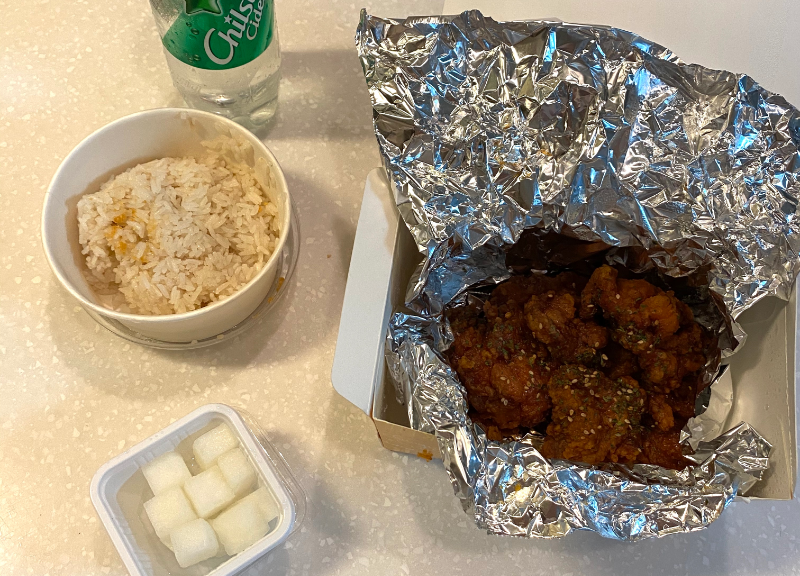 Pro-tip:
Many delivery sites require a Korean phone number (or even a Korean bank account), I couldn't get neither of those myself before I got to my Airbnb. However, if you are in the same situation as me, you can google "Korean delivery app for foreigners" and I'm sure that you can find something practical there.
Also, if you are worried about your time, and you're not as talkative bring or download some books, watch some movies or draw! You can also study some languages! You can never get enough of knowledge. Keeping some sort of a daily schedule or making daily goals, will also make you feel more organized and it will let you feel like the time is passing by way faster.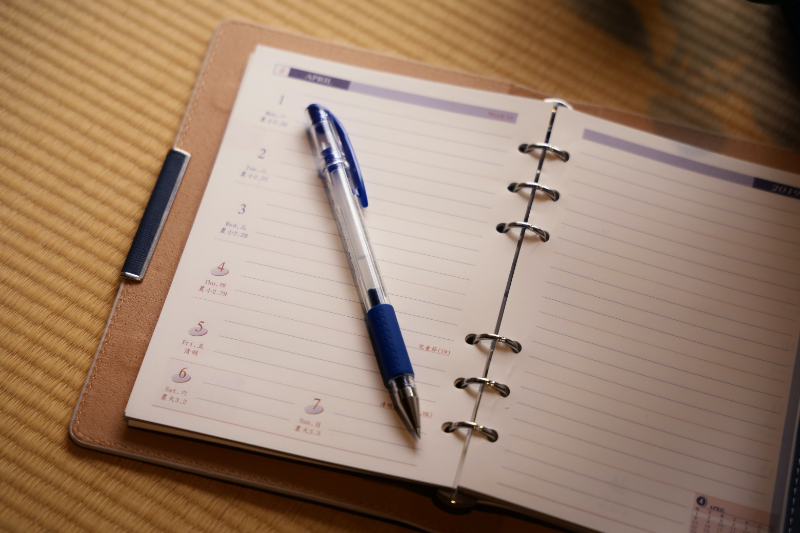 From Borderless House
How was her information? All preparation and procedures must have been so hectic and troublesome although it went well at airports. However, it was good to know that she is doing fine by using the time efficiently.
Hope it helped you planning to Korea now and hope you can also come to Korea soon smoothly!
If you are interested in our share house, we have a half rent discount campaign for the people coming through quarantine so please check here. -> Click!
For any inquiry, please feel free to contact us! -> Click!
KakaoTalk message is also available :)