【Quarantine Diary】Self-quarantine experience (1)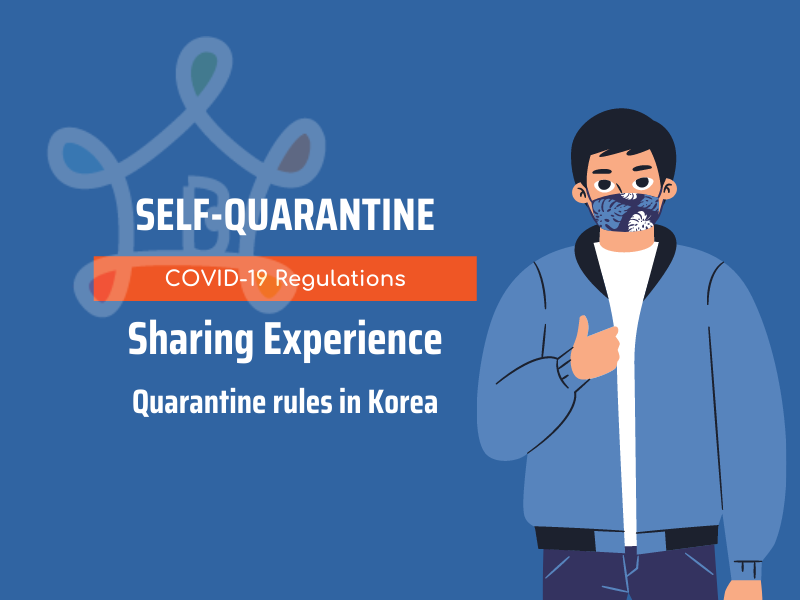 How Tenants do Self-quarantine
Hello, this is Borderless House Seoul again.
We hope all of you are always safe during this hard time in the world.
We have got some inquiries regarding the rules of quarantine in Korea.
Since many people still do not know well, we would like to share our tenants' story!

We hope his experience would be helpful to your future plan .
Let us check how he had made before and after his arrival in Korea below.
Friday, Feb 12th, 2021 - Arrival date
Hi everyone! My name is Lukas, I am 22 years old and came to Seoul as an exchange student to spend one semester at Yonsei university. During my stay, I will live in a Borderless share house.
Let me tell you how I made my quarantine before I came to Incheon airport .

I was given a place at a Korean University in October . As the places are usually allocated roughly a year in advance , my situation was rather spontaneous and I decided to accept my place here on a relatively short notice.
Nevertheless I still had enough time to properly organize my stay in Seoul .
I informed myself about the Covid-situation and the Quarantine requirements before accepting my place at the university in Korea . Therefore I was aware of the general requirements and as my departure came closer I looked more into detail on what the procedure would look like.
I got most of the information from my university. They were very helpful and proactive and always informed us about changes in the rules before we arrived and were always reachable once I was in Korea.
In addition I also got some information from the Korean embassy in my home country and from the agency I booked my quarantine room with.
Sunday, Feb 14th, 2021 - In quarantine room
I got some rest in my room and now tell you detail how I got this place for quarantine. I booked a quarantine place with an agency which provided all the meals and assistance I needed. The booking procedure was very easy and once I got here I did not experience any hassle with the quarantine place as such.
As I did not have to organize my meals and the infrastructure (Wifi, washing machine, kitchen) was working perfectly I did not experience any challenge and the daily life was very easy.

I was able to have my meals included which was essential for me , as it turned out delivery and online shopping is difficult without knowing Korean and without a Korean Credit card . Especially during lunar new year I would have run into problems as many restaurants and shops did not deliver for 4 days.
the agency also informed me about the procedures regarding the testing , so I felt taken care of and had no problem with following the government requirements.
Borderless House Information
How was his first story for quarantine in Seoul , Korea?
We would share the rest parts of his experience tomorrow . 

If you plan to come to Korea, you will get this experience for quarantine.

Since Lukas did find a place with his University ,
we would share how you do with Borderless House support program.
When it comes to choosing a quarantine place,
If you come to Korea for a short time like just a trip, you should stay at a place where Korean Government manages (We share tenants story for this later)
But if you come to Korea with a specific visa like a student visa,
you can go for self-quarantine by your self or Borderless House Support program .
Please check this out!
Borderless House support program
We wait for the day when we meet as Borderless Family.
Thank you and stay safe!
Go to next Dairy!