【Rent and Contract System】MUST read before reserving your room! (From Jan, 2023)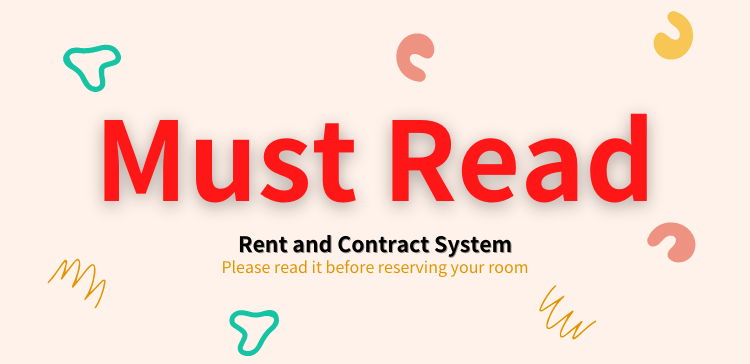 (Japanese and Korean versions will release soon)
Dear tenants and those who are interested in our share house,
This is Daniel from BORDERLESS HOUSE TAIWAN.
BORDERLESS HOUSE TAIWAN started the first share house in 2014.
We focus on creating a multicultural community for tenants who enjoy language or culture exchange with people from all over the world.
Except it, we're always thinking about how to make our service better, and how can we make your stay in Taiwan more relaxed and feel safe too.
We want to say "Thank you for supporting and creating such an amazing international community with us!"
We can't make it without all of you!
However, house maintenance is getting more difficult due to the rent and price level increases.
We decide to adjust some of our management systems and price from Jan 2023.
We hope we could have better service for everyone after this adjustment.
For the details, please check the information below.
Utility Fee
Summer (May - October): 1,200 NTD
Winter (October - April): 800 NTD
---
INCLUDE
Bills: Water, Electricity, Gas, Management Fee, Wi-Fi, TV Channels
Life support: Basic cleaning tools, kitchen wares, household appliances, A/C & washing machine cleaning (once a year)
Two types of contacts
1. 【Flixable Contract】
- You CAN cancel the contract earlier (Follow the rule of Article 8 on the contract to send the move-out form 30 days ahead)
2. 【One-Year Contract】
- You CAN'T cancel the contract earlier
- If you plan to leave earlier, you'll have to pay the rest of the rent.
Two options to start your life in BORDERLESS HOUSE!
▶ Start with the Flexible Contract.
(It cost 1,000 NTD if you plan to change to a One-Year contract. The first day of the new contact is the same as the original one.)

Recommend for these people:
Short-term stay in Taipei
Language school students
Coming to Taipei for the internship
Not familiar with Share House or never lived with other people before
Just got a new job in Taipei
Curious about Share House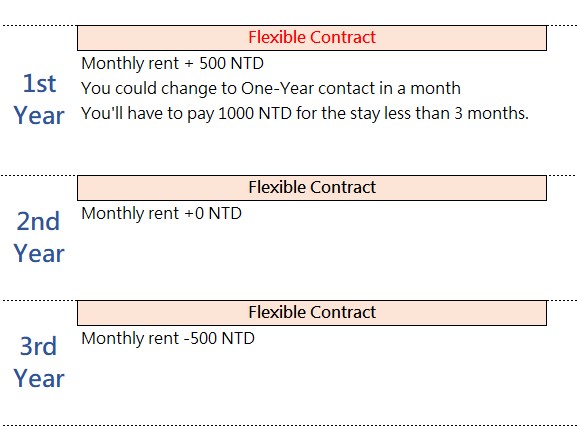 ---
▶ Start with the One-Year Contract.
(It'll be a Flexible Contact from the second year. You can cancel the contract earlier)

Recommend for these people:
Long-term stay in Taipei
University students
Familiar with Share House or have lived with other people before
Have a stable job in Taipei
Love Share House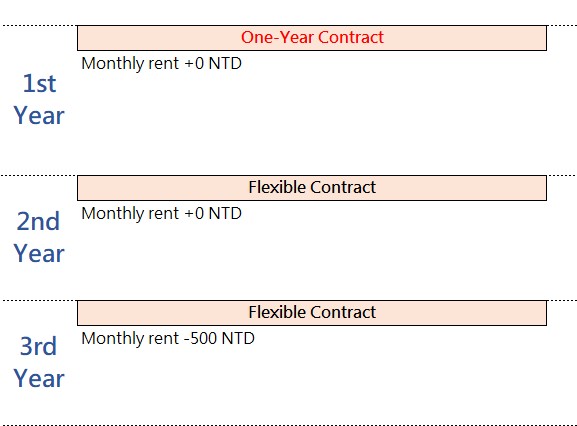 ---
Living in a Share House will be a part of your unforgettable memories in your life.
No matter what's your plan in Taipei, we highly recommend you give it a try.
If you have any questions, feel free to ask us.
We and our tenants are looking forward to seeing you and hearing your stories!
【What is Share House?】 BLOG
【Find your share house】 House Locations
【How's the share house life?】 INSTAGRAM