"Build bridges, not walls!" ~ We have expanded our online language exchange activities!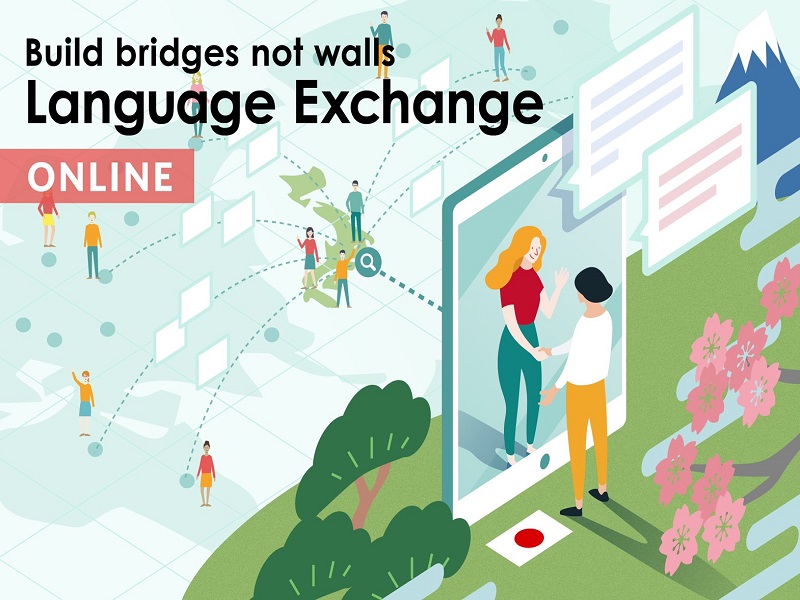 BORDERLESS HOUSE previously launched a tenant-only
online communication exchange service: "~ Build bridges, not walls! ~ Language Exchange"
The original intention of this service was to connect foreign tenants, who had their plans to come to Japan canceled due to COVID-19, connect with Japanese tenants who were looking forward to having new foreign housemates and roommates. By conducting exchanges online, interactions would not be restricted by time or space, and international communication could continue!
We have now successfully matched 20 groups of language exchange partners!
The participating domestic and foreign tenants have already shown us the many benefits of this program, such as providing a space to learn about different countries and cultures, and making lasting friendships, especially as now is a very difficult time to make new friends. Some partners have already agreed to meet in Japan at a later time when things have returned to normal!
BORDERLESS HOUSE still feels that we can do more.
Therefore, BORDERLESS HOUSE has decided to allow more people to participate and experience this well-regarded service.
Therefore, we will open our service to non-tenants at this limited time from May 11th to May 30th allowing them to register and participate alongside tenants.
Basic rules for pairing
A foreigner will be matched with a Japanese partner.
BORDERLESS HOUSE tenants will be matched with non-BORDERLESS HOUSE tenants.
-Pairing process-
STEP1
Log in and register!
Please apply using the form linked below.
<Fill in the application form now! >
STEP2
BORDERLESS HOUSE will match you according to the information on your registration form.
We will then establish a Skype group, arranging the time and exchange outline for your first meeting!
STEP3
The exchange begins!
First, introduce yourself. According to your customized theme, enjoy the fun of language exchange! (The first round is 40 minutes)
STEP4
After the end of your exchange, fill out the post-meeting questionnaire. Lastly, agree on a time for your next language exchange!
-Event Features-
Point 1
The procedure is simple. All you need to do is just fill in the application form.
The staff at BORDERLESS HOUSE will match your language exchange partner.
Point 2
You can make new friends from different countries and integrate wit an international community. You can also improve your language skills while having fun connecting over common topics.
Point 3
That's right, this is a free service!
We hope that during this period of time when an international exchange is strictly restricted, a bridge between countries will be established!
We sincerely look forward to more people joining and participating.