Event report: 【Borderless House Christmas Party 2016】 who was the winner of 1 month rent free ticket!?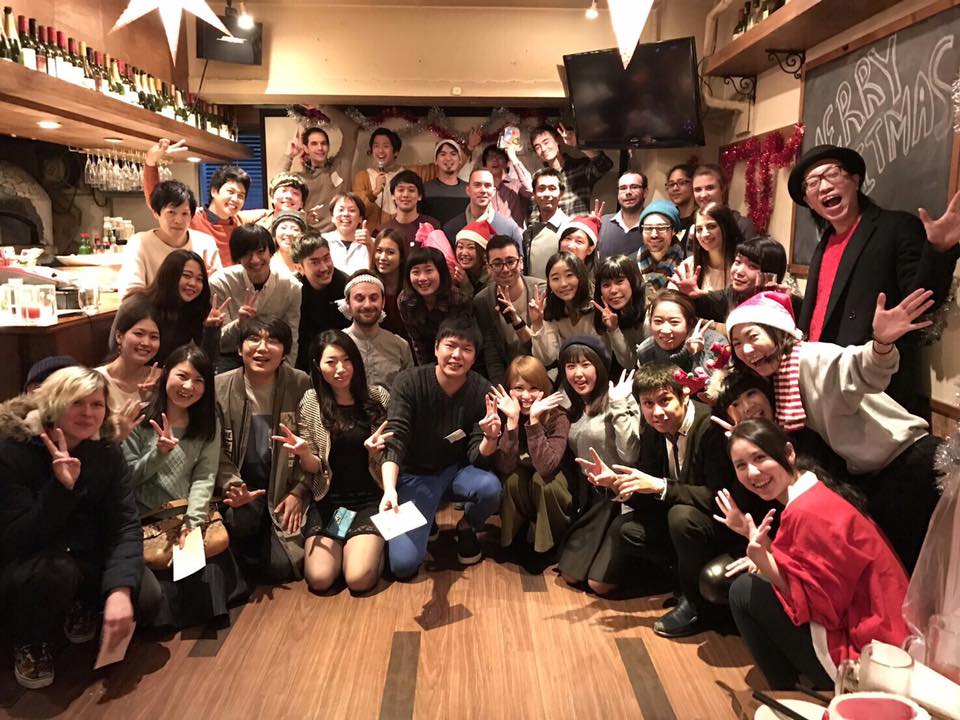 Hello, this is Chisa from Borderless House. 
On 18th of December, we have hosted 【Borderless House X'MAS Party 2016】!!!
We would like to thank everybody for joining us! 
This year the party was held based on the theme: "hirogaru, tsunagaru" (directly translated as "binding together and widening"),
meaning it's 

an opportunity for all the guests ad friends to get together, 
regardless of nationality, language and which houses the guests are from. 
Here is how the event went: 
The party was held at an Italian restaurant in Shibuya -the warm and cozy atmosphere welcomed all our guests!
We were the MC -thank you all for your patience! 
The party began with a warm up game before the toast; 

"Hi five self introduction game!"
The guests need to do hi five with 3 people when their eyes meet, and introduce themselves 
(name, nationality, which house he/she is from, hobby and etc.)
After the self introduction is done with 3 people, the guests are handed their first drinks and a BINGO card. 
The toast was called as follows: "To the many encouters of tonight! Kanpai (=cheers)!"
Looks like the guests have warmed up at the first free talk session, 
and are feeling much more comfortable mingling with the ones that just met!
The guests were to fill in the blanks by writing in each others' names.
Then the next game was the highlight of the event: BINGO! 
Everybody was all pumped up to become winners! 
After the 7 winners were chosen, there was a lottery to decide which winner is going to win which prize"
The guy in the middle won the booby prize...(=a throat coat candy, swabs and a sushi key chain)
He won the second prize...(= tickets to Yokohama Cosmo World for 4 people)
I hope he can go with all his housemates!
And last but not least, he was the first prize winner! 
Congratulations on winning 1 month free rent ticket!!! 
"I will throw a big house party and everybody here is invited!" was the comment he made on the spot :)
Let's look forward to the party then? Omedeto gozaimasu!
The party ended in a great success, thanks to all our fellow tenants and their friends for joining us!
There was also an after party which half of the guests have gone to! Awesome!
We are more than happy that the party became a wonderful opportunity for our tenants from different houses to get to know each other,
and most of all, to have a merry Christmas together! 
We hope to see you at the next event! 
Thank you once again to all the guests who made it to the party,
and merry Christmas and a happy new year to all!