The Ultimate Introduction to BORDERLESS HOUSE
Hope this guide helps you to learn more about BORDERLESS HOUSE!
※Click the PowerPoint to see the details!
What is an international share house - Borderless House? 
★Concept of an international share House★
BORDERLESS HOUSE is a place that gathers young people from all over the world and makes them live under the same roof to share diverse experiences.
Our tenants are from more than 150 countries, our community is like a small version of a global village! We create a multicultural environment that people from different countries and backgrounds can have a mutual understanding. 
★Vision of Borderless House★
We hope to create an open-minded multi-cultural society that is free of discrimination. We welcome everyone who shares the same vision with us and have sympathy for our concept join us and make this world a better place!!
★Residents of Borderless House★
At Borderless House, there are half Japanese and half non-Japanese at each house, so you will have chances to practice your Japanese and learn new languages every day. In this multilingual living environment, you have many chances to brush up on your language skills!
We have an age limit - from 18~35 years old in order to build a closely tied community in more or less the same age group.
Check the interview with our tenants to see if Borderless House would be the best option for you and what does life look like at Borderless House!
What services does Borderless House provide?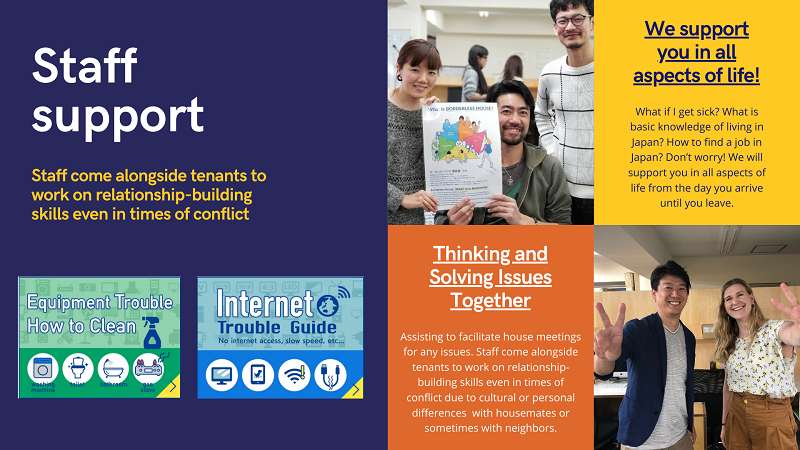 ★Staff members of Borderless House★
We aim to provide great experiences that our tenants can not acquire if they live alone and focus on the quality of the community rather than just offering accommodation to our residents, we have house management teams who will support you when you have any issues in our share house.
Each staff member has made their own life-long memories through living abroad or in a sharehouse. From general inquiries about living in a sharehouse to specific questions regarding a specific house's community and atmosphere. We assist you with any problems before and after you move in, and we are always happy to give you advice regarding any other worries you may have.
★Special Programs that you can only find at Borderless House★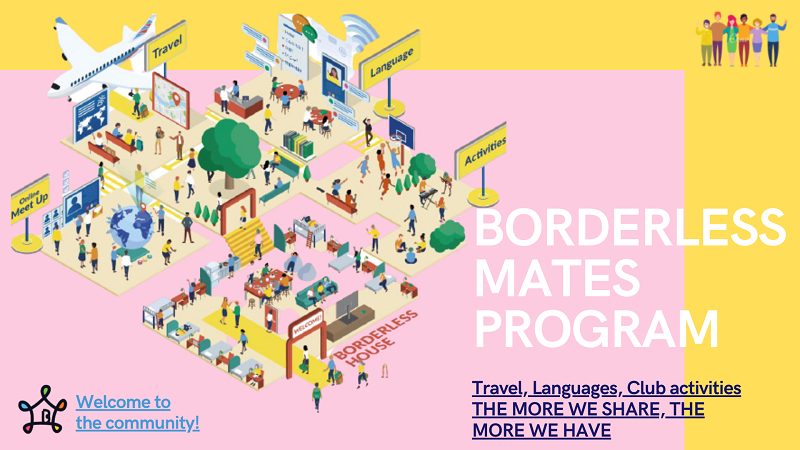 ✦Language Exchange
Language Exchange is an online communication service that allows you to brush up your language skills while having fun chatting with other Borderless Mates.
We have 1 on 1 Language Exchange that you can choose from multiple languages! This is for those who want to utilize the time to speak with their partners. We also have a Group Language Exchange for 3~5 people, which is for those who want to listen to and acknowledge the feelings, opinions, and ideas of others.
✦Club activities 
Club activities is a program for people who share common interests and themes. You can enjoy offline activities, online activities that you can participate in anywhere, and regular offline events hosted by Borderless House.
✦Borderless Travel
You can stay for free at the Borderless House(Japan, Korea, Taiwan) overseas where you are traveling! The period of stay is from 1 week to 1 month.
Moving in is free of cost, and you will be able to stay at the house after your scheduled move-out for cheap as well.
✦Borderless Mates Library
This large library-like platform is full of knowledgeable and passionate Borderless Mates. You can search for Borderless Mates with a wide variety of charms and characters to interact with and learn from them. Because Borderless Mates not only have diverse nationalities and language abilities but also have a range of international experience in specialized careers and hobbies. Undoubtedly there are Borderless Mates around the world who have the same interests or areas of
specialization. We help you to connect with Borderless House Mates around the world!
✦Career Support 
Housing & Career Support Program is a perfect program for those who have a dream of working and living in Japan! We cooperate with a company that provides professional career support for foreigners living in Japan, such as counseling and advisory services, tips for job-hunting, Japanese business manner, resume writing and interview coaching, and essential Japanese language. We hope to help you to land a dream job in Japan!
How to make a reservation with Borderless House?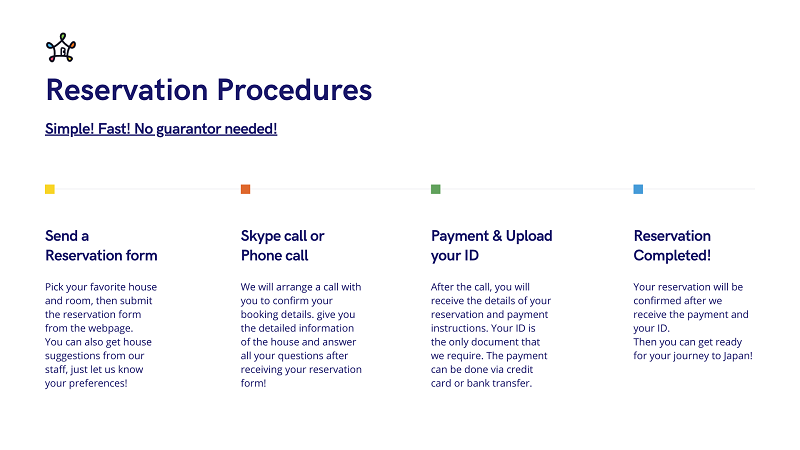 The processes of making a reservation with us are extremely easy!
No guarantor needed! We will get you the best house suggestions right after you send us an inquiry form. In order to make sure the house you choose is the most suitable for you and to solve all of your concerns and doubts before you book the room, we will arrange a SKYPE call with you to give you all the information you need and answer your questions!
We also have some frequent answer questions, feel free to check our FAQ page!
Why Borderless House is the best choice for you if you want to experience Japan deeply?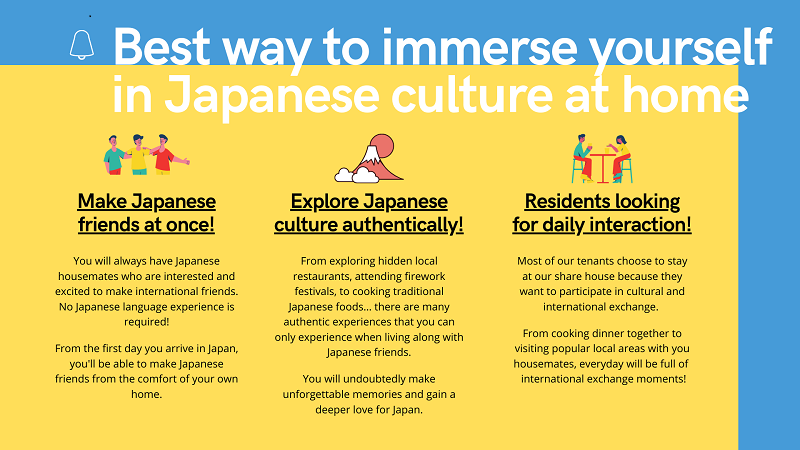 Make Japanese friends at once!
You will always have Japanese housemates who are interested and excited to make international friends. No Japanese language experience is required!
From the first day you arrive in Japan, you'll be able to make Japanese friends from the comfort of your own home.
Explore Japanese culture authentically!
From exploring hidden local restaurants, attending firework festivals, to cooking traditional Japanese foods… there are many authentic experiences that you can only experience when living along with Japanese friends.
You will undoubtedly make unforgettable memories and gain a deeper love for Japan.
Residents looking for daily interaction!
Most of our tenants choose to stay at our share house because they want to participate in cultural and international exchange.
From cooking dinner together to visiting popular local areas with your housemates, every day will be full of international exchange moments!
Still, have questions for us? Feel free to message us or contact us here!

 ▶Check Share houses in Tokyo
 ▶Check Share houses in Osaka/Kyoto/Kobe