WASEDA x BORDERLESS HOUSE ▏ICC One-Day Share House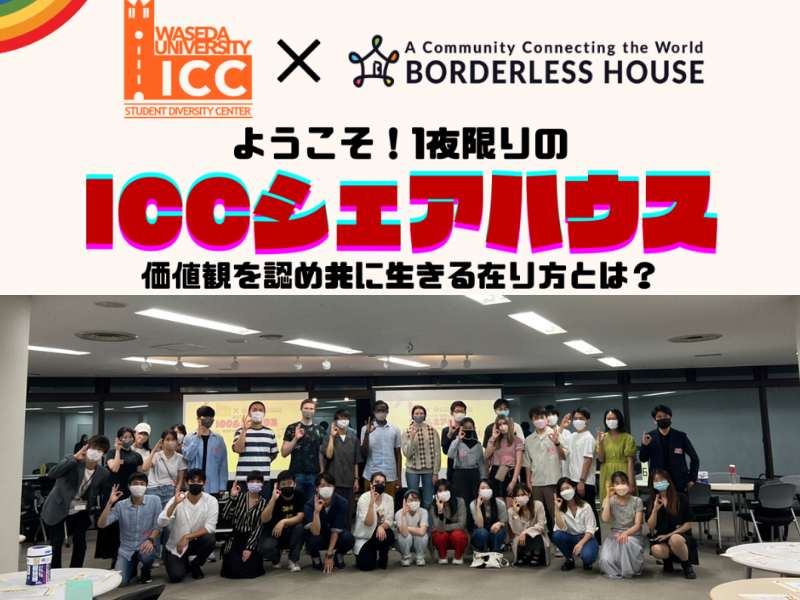 On June 17, 2022, BORDERLESS HOUSE was honored to be invited to hold a collaboration event with Intercultural Communication Center (ICC) for Waseda University students. At the event, the students got to have a discussion on some topics with people from different nationalities and backgrounds, which was exactly the same as living at Borderless House!
As when you live with people from various countries, there could be some moments you may have been shocked at some of the differences. And this is when we learn to understand different cultures and to think from a new perspective without holding any discrimination and prejudice.
Before we take you back to this One-Day Share House Experience event, let me give you a brief introduction to ICC!
About the ICC (Intercultural Communication Center)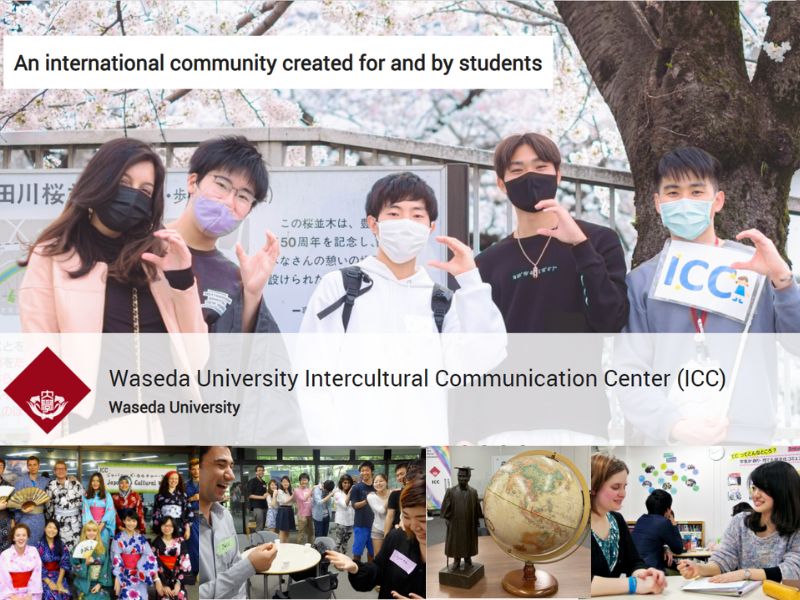 The ICC is a venue and global community that gathers both local and international Waseda students together for intercultural exchange and interaction.
Since Waseda University has over 5,000 international students enrolled from over 100 countries and regions, the ICC was established to utilize such a diverse international environment, and further enrich on-campus intercultural exchange.  Through such interaction, students develop a new understanding of the world around them, while creating new values and interests.
The purpose of this co-living workshop - ICC share house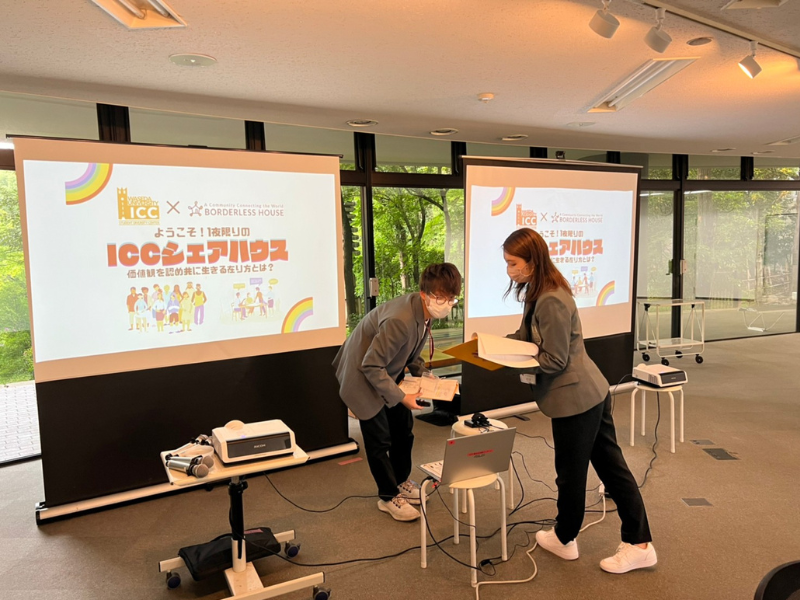 As the vision of Borderless House is "to create a truly multicultural society in which people can live together in harmony regardless of race or nationality," we hope to provide Waseda students with opportunities they could learn and realize the importance of recognizing and accepting each other's differences by exchanging thoughts and sharing own experiences.
We are very glad that on the day, there were around 30 multinational participants came, so we have many "cultures", "personalities" and "backgrounds", which just like our share houses.  
Workshop Agenda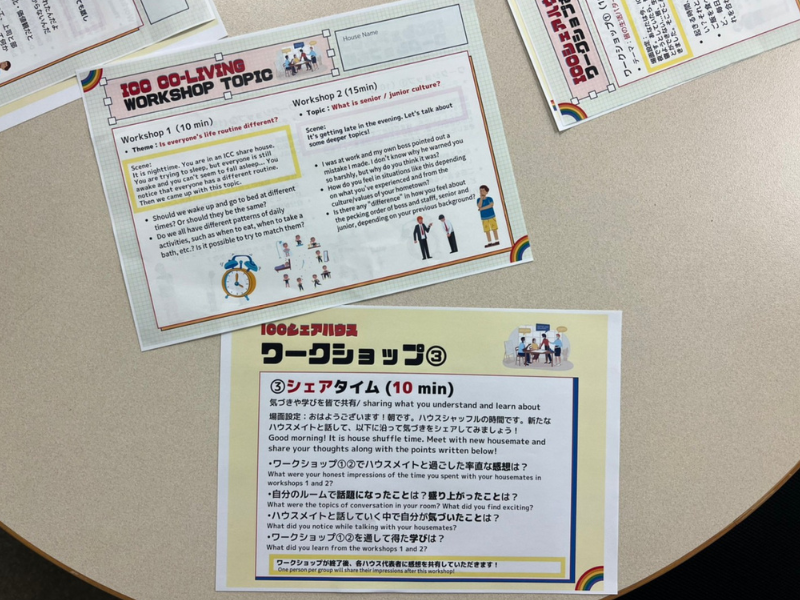 There are a total of 5 main parts of the workshop:
① Icebreaking!
② Presentations by the President and Manager of BORDERLESS HOUSE
③ Workshop1: Is everyone's life routine different?
④ Workshop2: What is senior/junior culture?
⑤ Workshop3: Share your understanding and learn about
When you move into a new share house, the first thing is to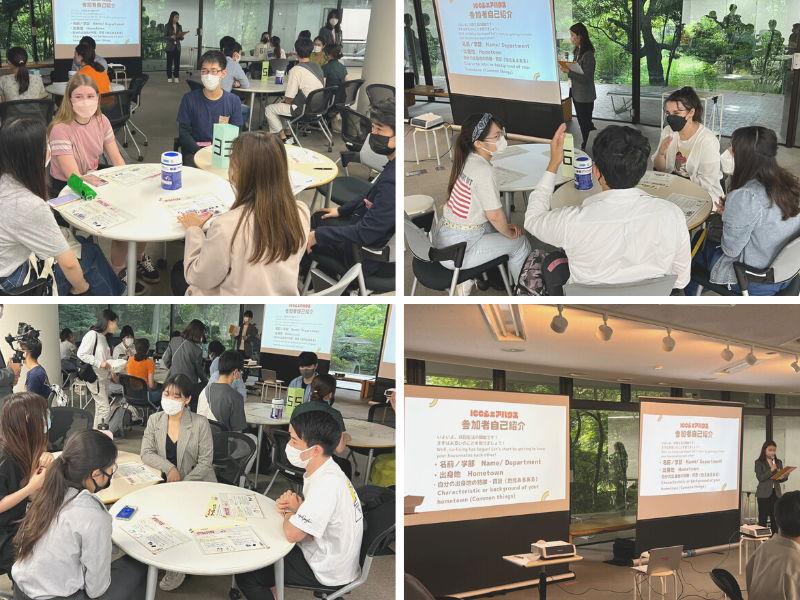 That's right! It's "self-introduction"! Tell others something about you and get to know all your housemates too! Maybe you'd be very lucky to make good friends who share the same interests or like the same animes as you, and you'd create a bond right away!
Presentations by BORDERLESS HOUSE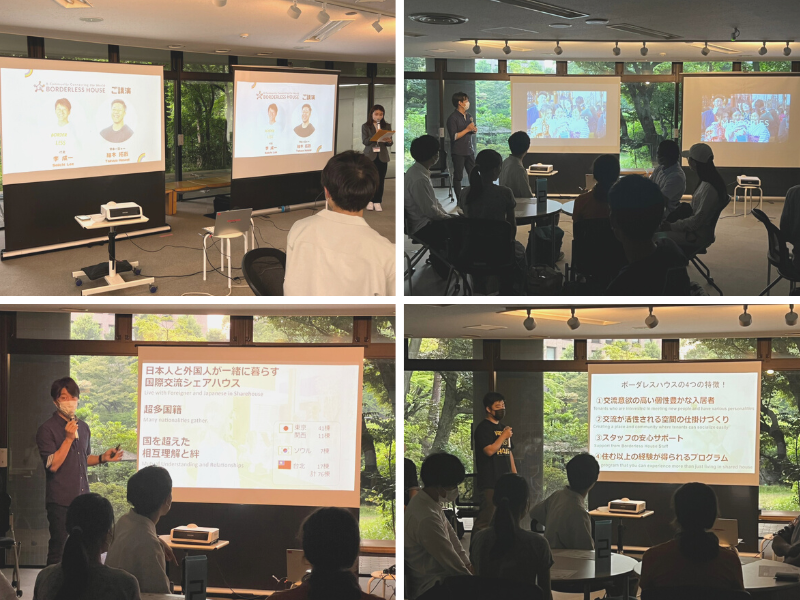 Next. our President, Seiichi Lee, and Manager of BORDERLESS HOUSE Tokyo Office, Takuya Hosogi had presentations to let the students have a better understanding and idea about what an "international share house" is.

From sharing about the vision and mission of Borderless House.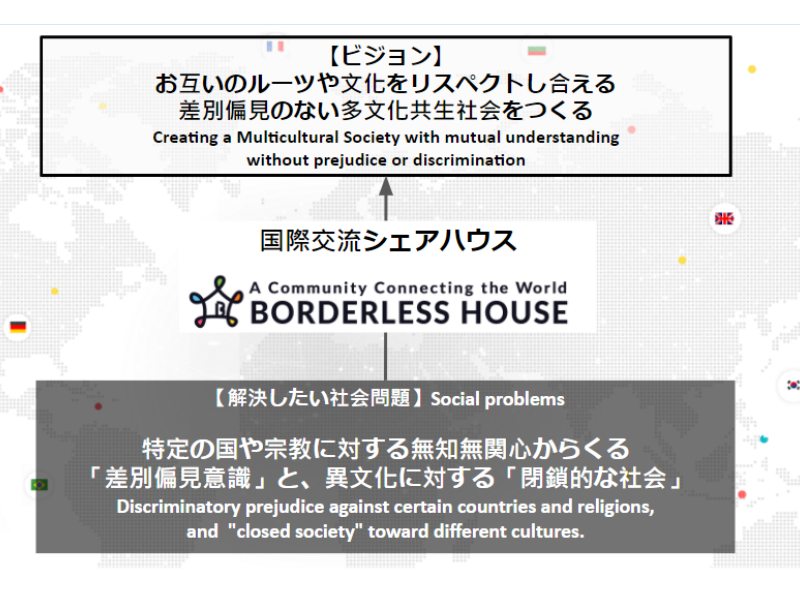 To show students the special characteristics of our share houses and the values of living at Borderless House. And of course, the photos of real share house life from our tenants!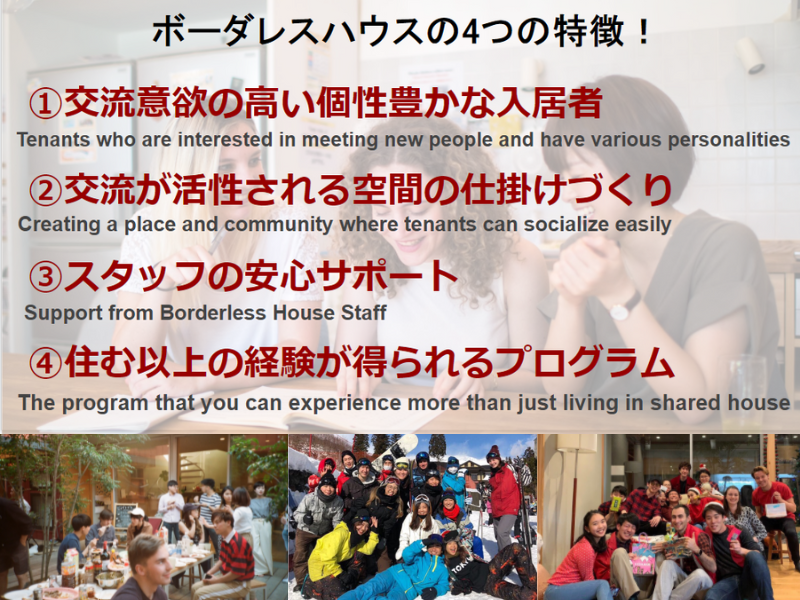 Workshop1: Is everyone's life routine different?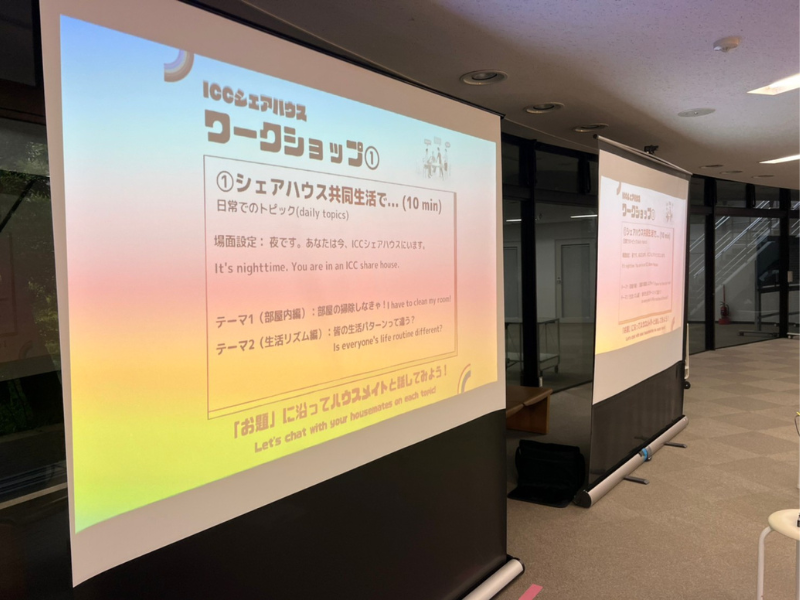 In a communal living share house, everyone has their own lifestyle; everyone is on different schedules. So at the first workshop, we talked about each other's lifestyles and schedules and figured out how to live under the same roof with minimal conflicts due to the differences.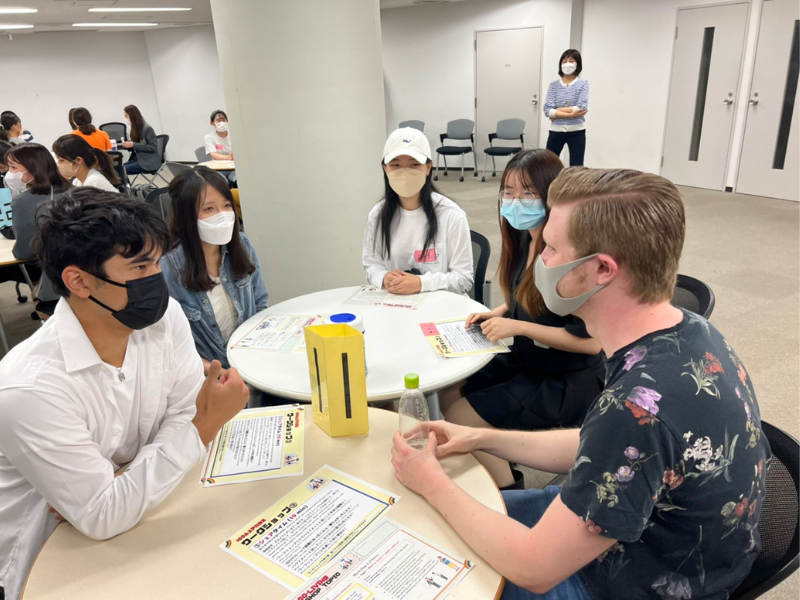 When you live with someone else, it's important to show respect for others in your everyday life, you need to be more aware that you share the space with others. So open communication is a key to making everyone live together comfortably!
Workshop2: What is senior / junior culture?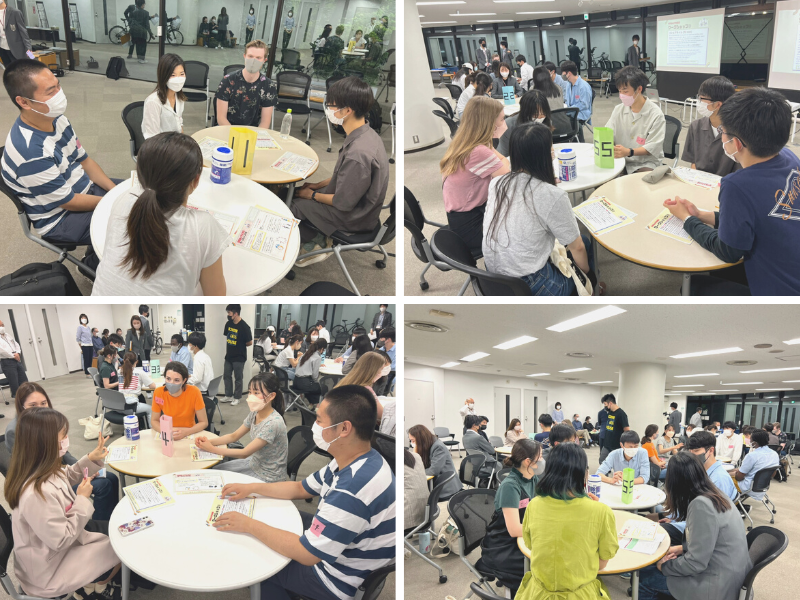 I believe a lot of you may already know about what "Senpai-Kohai culture" is, you can see the senior-junior relationship commonly in organizations, businesses, schools, associations, and clubs in Japan. So at this workshop, we talked about if this kind of culture and relationships also exist in other countries.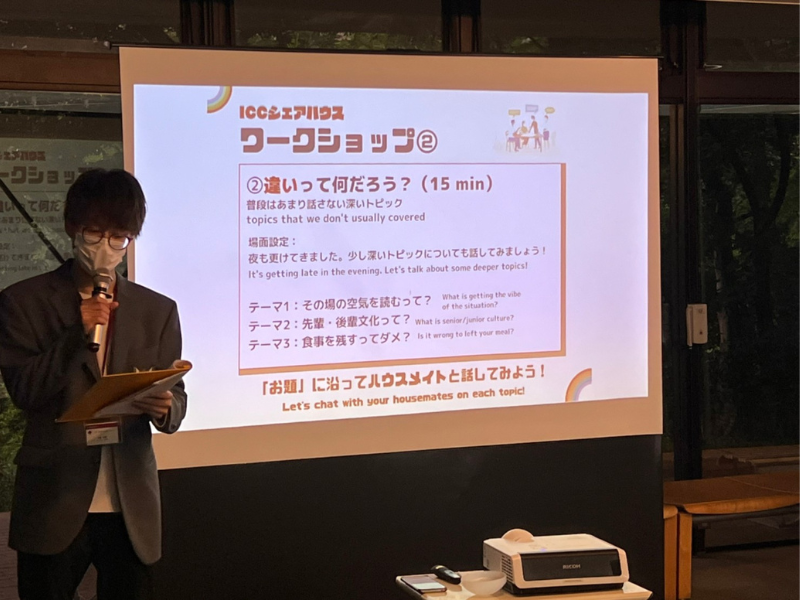 Everyone shares their thoughts and opinions about the "sempai-kohai" (senior-junior) system and its pros and cons. Some Japanese students also shared their own experiences, and it seemed to be very shocked for some foreign students who are from countries that don't have this kind of culture!
Living with people from around the world in a share house, you may find some cultures or value systems that may be totally normal to some people, however, they are quite strange to you. And it's very interesting to talk about the difference together!
Workshop3: Share your impressions and what you learn about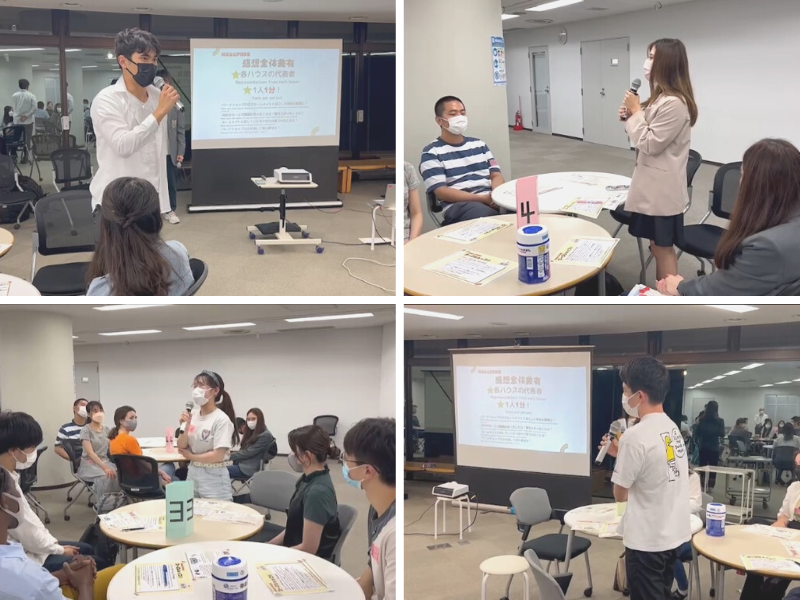 Lastly, there was a presentative from each group to share what they learn from today's workshop. And we are so impressed how much the students have learned from today's workshop:
"I am a university student right now so I have more chances to meet foreigners, but if there's a wall between us, it would waste such good opportunities, so we should build bridges, not walls"
"I think to be able to respect each other and to try to understand each other's differences is very important. For example, if you can't understand well because of language barriers, there are translation tools that you can use. And there are many ways you can use to communicate with each other. But the most important of all, you need to be willing to embrace new cultures and respect them."
Thank you very much for joining us at the ICC Co-living Event!✨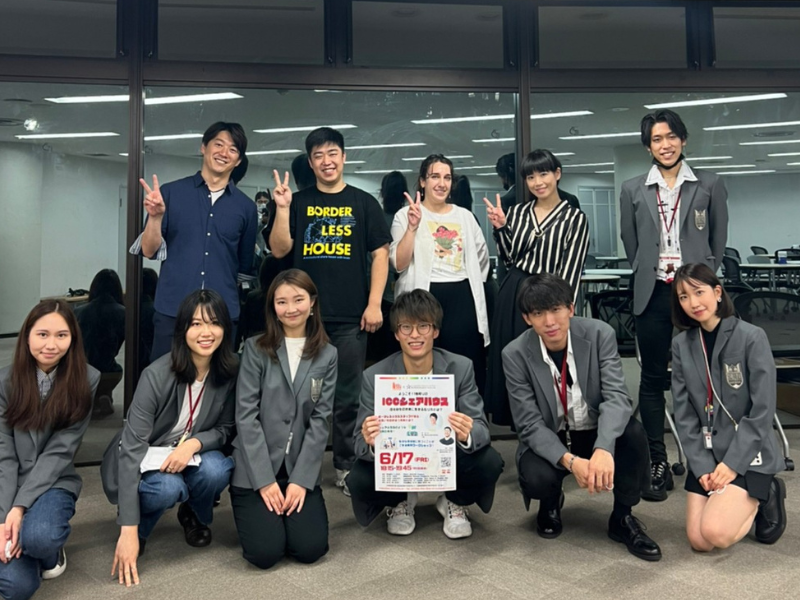 It was a valuable experience for BORDERLESS HOUSE to have close interactions with Waseda University students, not only just sharing, but also hearing their voices, ideas, and thoughts!
In the future, we hope we can have more opportunities to share our vision with the young generations and let more people experience multicultural and multilingual BORDERLESS HOUSE! If you also like our vision of creating a free of discrimination open-minded multicultural society and would like to cooperate with us for any events, please feel free to contact us HERE.
Let's promote a wonderful community that is built on mutual understanding and active participation together:)