From Special Events to House Parties! Everyday Life in an International Share House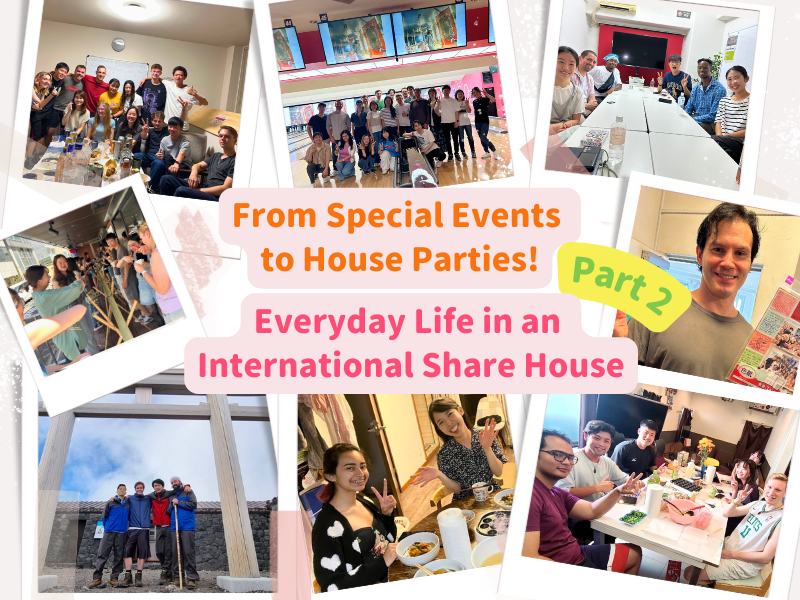 Hello there! In our previous blog post, we gave you an exclusive peek into the daily life at the international share house "Borderless House"! Have you had a chance to read it? (For those who haven't, you can read it right away by following the link below!)
▶"Cultural Exchange Every Day!?" A Revealing Glimpse into the Daily Life of an International Share House!
This time, in our second blog of the "Everyday Life in Borderless House" blog series, we're here to show you the latest updates from Borderless House!
"I am interested in interacting with people from other countries, but unsure about living in a share house...?"
"I've checked out Borderless House share houses, but how do people actually spend their time there...?"
For those of you with such thoughts!
By reading this blog, you should get a glimpse of the unique daily life that Borderless House offers, unlike other share houses.
Furthermore, in this blog post, we'll also introduce you to the community of a newly-open share house - "Borderless House Ikebukuro Oyama1"! Not only that, we'll explore Borderless Houses in Kyoto, Osaka, and Kobe, beyond Tokyo!
We hope you'll read until the end and take it as the first step toward starting life at Borderless House!
Creating a 'Special Everyday' through Encounters at Borderless House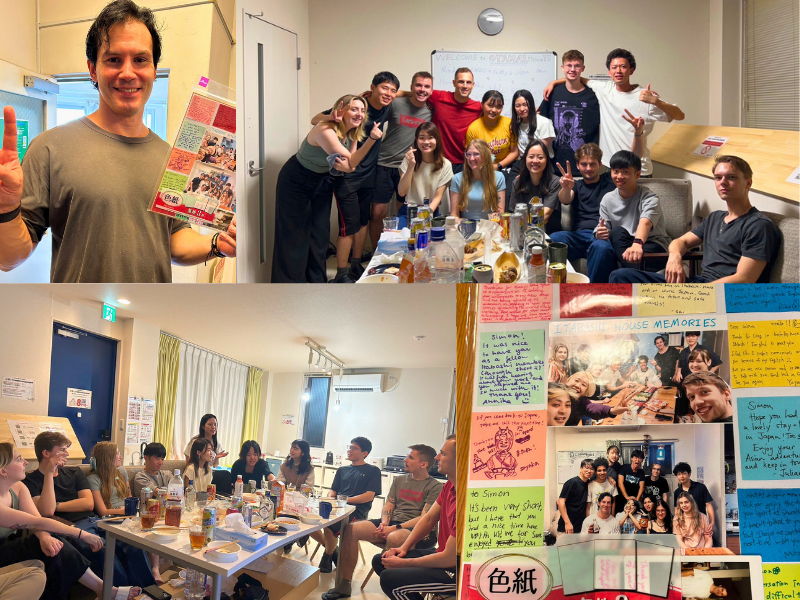 Daily Life in the New Share House @ Borderless House Ikebukuro-Oyama 1
From the newly-opened share house "Borderless House Ikebukuro Oyama 1," we've already received updates about their daily life! This share house, which is home to language learners from around the world and Japanese university students, seems to be bustling with activities. Bowling nights and outings to izakayas (Japanese pubs) make up their lively routines!
Farewell Party Filled with Memories @ Borderless House Itabashi-kuyakushomae
A farewell party was held for Simon, a resident of one of the largest share houses at Borderless House, "Borderless House Itabashi-kuyakushomae"!
"Even though I only had a month of life at Borderless House, it was truly enjoyable! Look, I even received messages from everyone!" With great joy, he showed off a gift card filled with heartfelt messages to our staff!
While expressing his desire to return, Simon embarked on his next journey to Hawaii. As a member of the Borderless House community, we're here to cheer him on!
Bringing Housemates Together: 'Borderless House Home Party'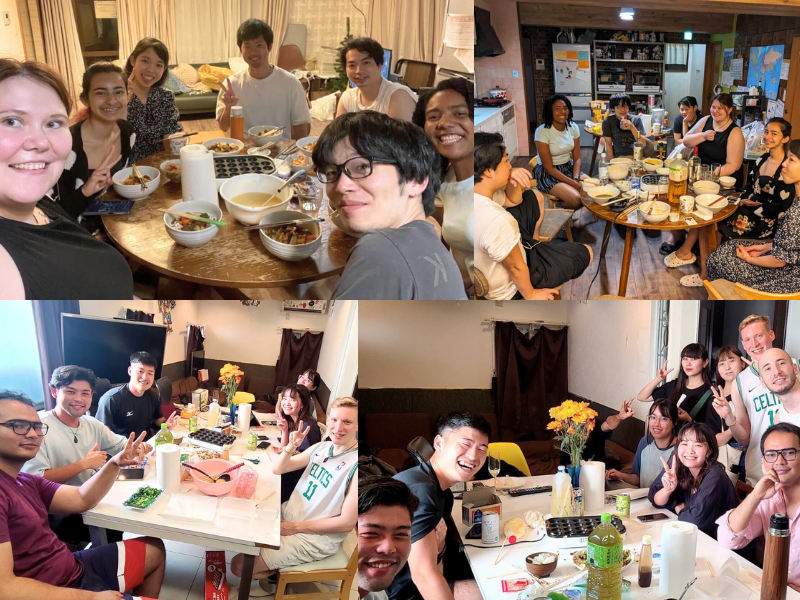 Heart-Pounding Welcome Party" @ Borderless House Kobe-Motomachi 1
As residents from various countries gather at Borderless House, farewells are accompanied by numerous encounters. From the only share house in the Kobe area, "Borderless House Kobe-Motomachi 1," we bring you the scene of a welcome party for new residents♪
The new housemates' requested menu was a uniquely Japanese combination of "Curry Udon and Takoyaki." The housemates all joined in, answering the request and creating a warm and cheerful party atmosphere.
Classic Takoyaki Party! @ Borderless House Shinjuku Nakai 1
Currently hosting 14 individuals from 6 different countries, "Borderless House Shinjuku-Nakai 1" hosted a beloved event in its spacious living area—an all-time favorite "Takoyaki Party"!
What's intriguing about a Takoyaki Party is that it naturally fosters communication among participants. Indeed, at this party, current housemates, former housemates, and friends of housemates gathered around the table, creating a lively and friendly atmosphere.
A One-time Opportunity!? - Special Events PART1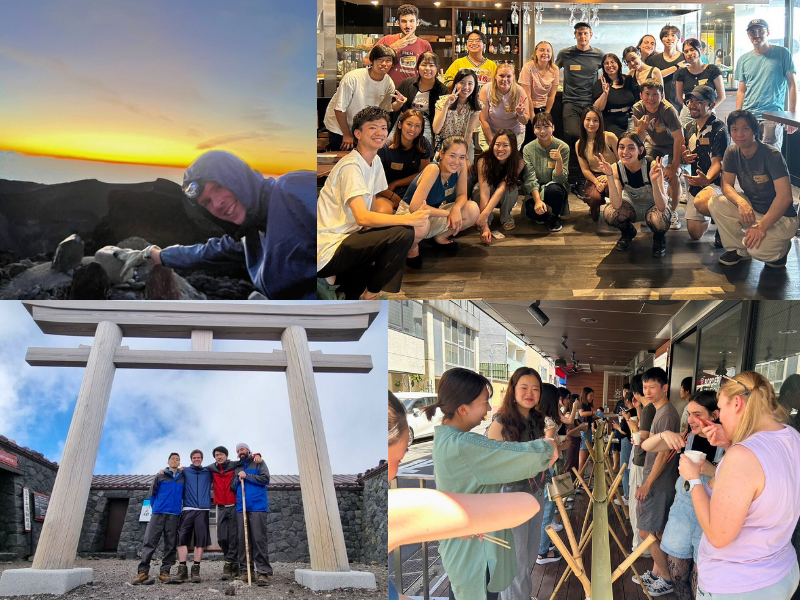 Summer Tradition! Nagashi Somen Event @ Borderless House Asakusabashi 1
When it comes to summer in Japan, it's all about 'nagashi somen' (flowing noodles)! With the idea of 'Let's experience Japanese culture together as the Borderless House community,' residents from multiple share houses enjoyed a nagashi somen event.
Despite the scorching heat, a total of 19 people gathered to deepen their connections through games and the experience of nagashi somen. It provided an opportunity to meet residents from other share houses, resulting in many new friendships being formed.
Gazing at the Spectacular View with Housemates! Climbing Mount Fuji @ Borderless House Osaka-Bentencho
In the cozy atmosphere of Borderless House Osaka Bentencho, featuring 8 residents in a small-scale house, four residents took on the challenge of climbing Mount Fuji! As Japan's tallest mountain, it was undoubtedly exhausting... Two out of the four-faced altitude sickness, but the remaining two were fortunate to witness the beautiful sunrise.
The stunning view of Mount Fuji is evident in the photos. Climbing Mount Fuji with housemates would surely become an even more memorable and moving experience.
Fostering Stronger Bonds Across Share House Boundaries! - Special Events PART2
A joint bowling event was held by the Borderless Houses in Kyoto!
A joint bowling event was held by the Borderless Houses in Kyoto! Many residents participated, creating a lively atmosphere. During the group play, the sight of housemates naturally exchanging high-fives was prominent, indicating that their relationships had deepened further.
Sports events like bowling are popular among Borderless House residents because they can be enjoyed regardless of nationality. Moving forward, more events will be planned to help residents become even closer.
Enhancing Language Skills While Having Fun! Language Exchange @ Borderless House in Osaka
Meanwhile, in Osaka, a joint Language Exchange event took place! Seven participants practiced speaking Japanese and English, deepening their connections. Some even expressed joy at having engaging conversations beyond language learning.
Borderless House regularly hosts Language Exchange events, providing a relaxed and enjoyable opportunity to enhance English skills. Feel free to join in for a chance to improve your language abilities!
Discover Your Ideal Japanese Experience with BORDERLESS HOUSE
✓ Planning to visit Japan for Japanese language studies or work holidays
✓ Aiming to improve your Japanese language skills
✓ Desiring an authentic Japanese living experience alongside locals
✓ Dreaming of having a second home in Japan
Borderless House aims to alleviate your concerns and fulfill your desires. How about starting the experience of "living while connecting with the world" at Borderless House?
Check out the current vacancies through the links below!
List of Tokyo Share Houses
List of Kansai Share Houses
Furthermore, we regularly post daily life at Borderless House on Instagram! Please consider following us for updates!