ASAKUSABASHI FESTIVAL! An event host by the tenants of Asakusabashi share house and local people from the neighborhood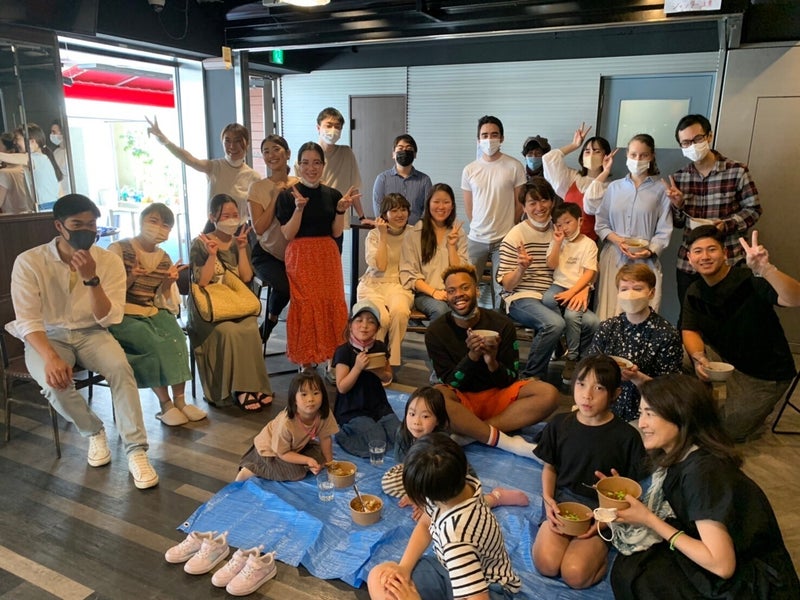 Hello everyone! This is Picasso, a resident of Asakusabashi.
We held an event (festival!) at BORDERLESS HOUSE Asakusabashi on Sunday, May 29, 2022! This event is a cultural festival-like event where share house residents can enjoy eating, singing, listening, finding, and talking all at once, with the themes of "making things together" and "getting involved with the community".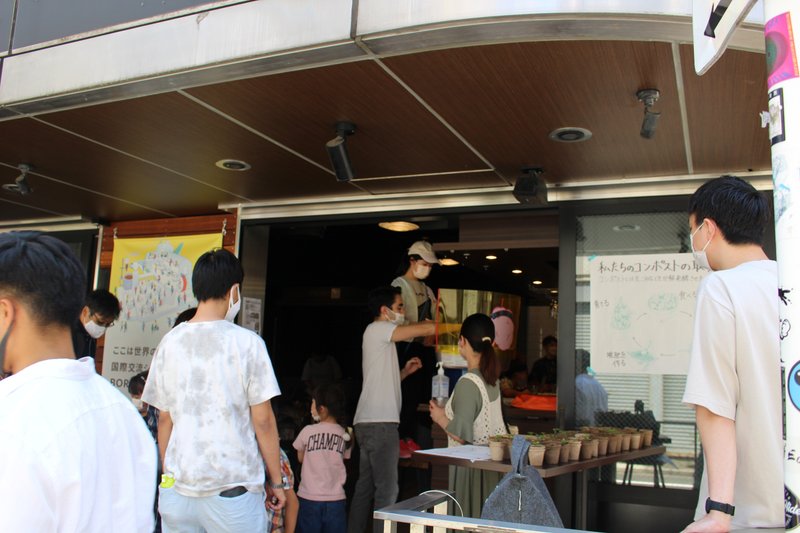 Then, let me take you back to the event!
The event was planned and executed by all of the tenants at Asakusabashi House! 
Fun English Lesson!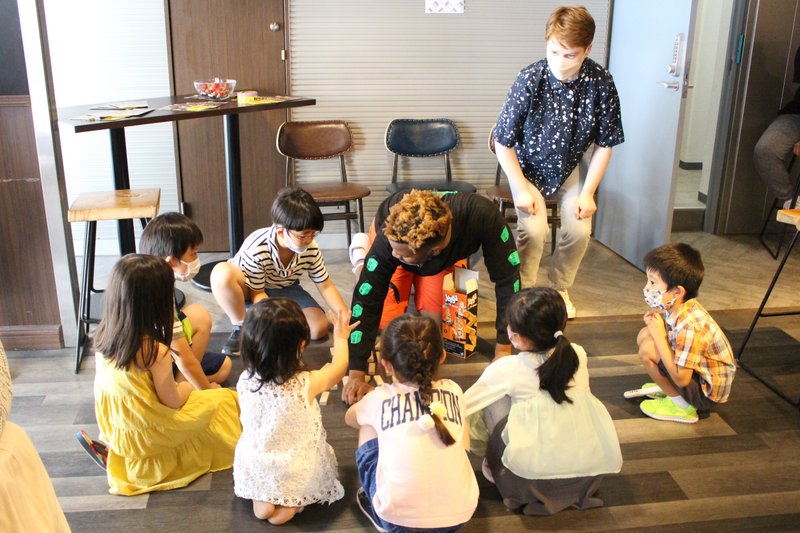 We also have an English lesson on the day that was taught by an American and an English native speakers of our Asakusabashi House residents. They were teaching English in a fun, game-like way!
There were many games that were not so common in Japan, such as games using cards and the body, but the children were very interested in them and had fun playing all of them.
Homemade smoothies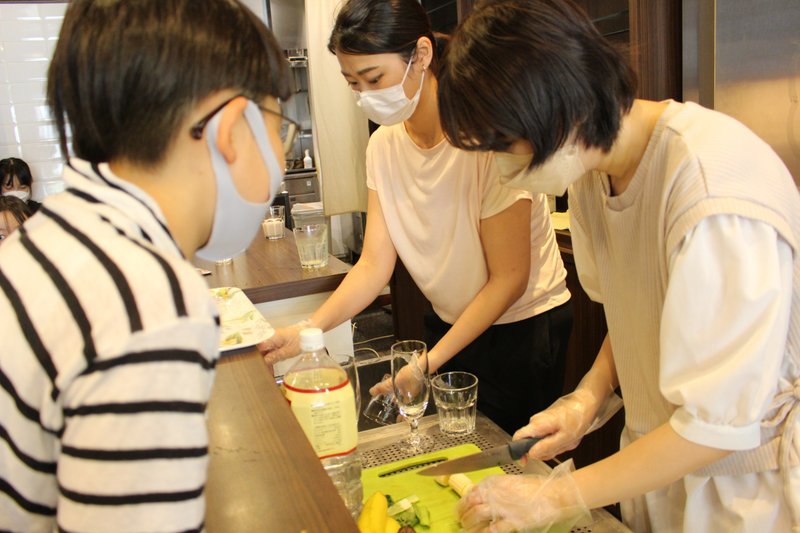 Freshness is the key to smoothies! Vegetables, bananas, milk, and other ingredients are delivered freshly in the morning! It took some time to prepare all the ingredients, and the blender was even louder than we expected, so we had to reconsider the work area, but we still made it in the end!
We expected to serve 40 cups, and the smoothies' popularity is beyond our expectations! Almost all of them were drunk by everyone. And after lunch, more smoothies were served.
This smoothie was very tasty, with a hint of greenery from the vegetables while retaining the fragrance of the banana.
Asakusabashi House Flea Market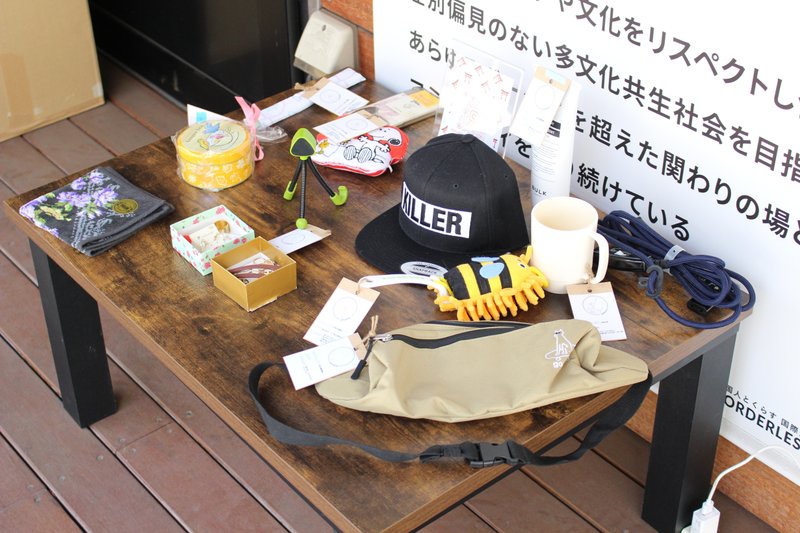 Asakusabashi House currently has 16 residents from 5 different countries.
We collected some original and interesting things from these 16 residents. When we looked through the items, we found a collection of DVDs of anime, travel books about other countries, as well as colorful clothing, and more!
We have tags attached to each item to tell you:
- what kind of people produced these items
- who donated them to us?
- what were the thoughts behind the items?
It was interesting to see the thoughts and meanings of each item.
Let's make our own Watagashi (cotton candy)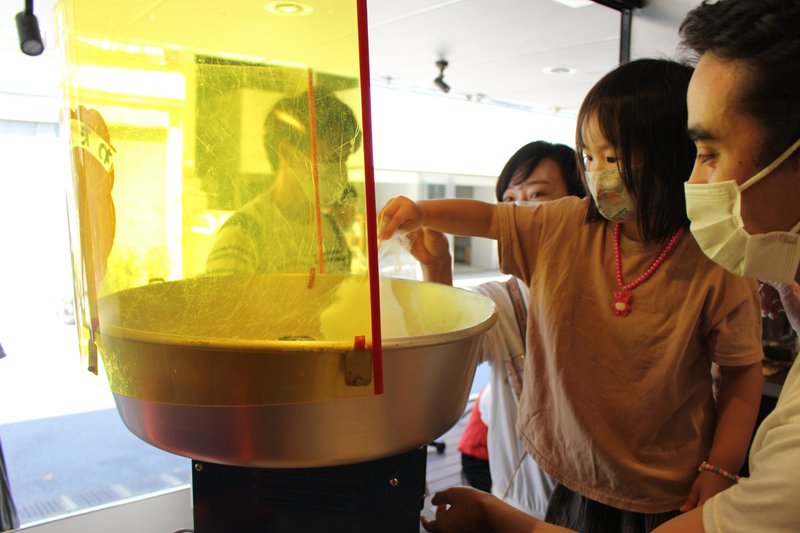 The watagashi machine became a trademark of this festival! This was a hands-on corner where visitors could operate the machine and make their own cotton candy and everyone enjoyed it, especially all the kids!
It was very impressive that children kept coming to the booth saying, "I want to make a cotton ball! One of our residents, Takumi carefully taught the children how to make them, and they all enjoyed making and eating their own unique style of watagashi.
Watagashi is actually difficult to make, even for adults, so I am impressed to see the kids try their best to learn how to make it! Regardless of the shape of the cotton candy they made, the event was very lively because the children seemed to be having fun with this experience.
Compost & Soil Improvers - Eco Sustainable Solutions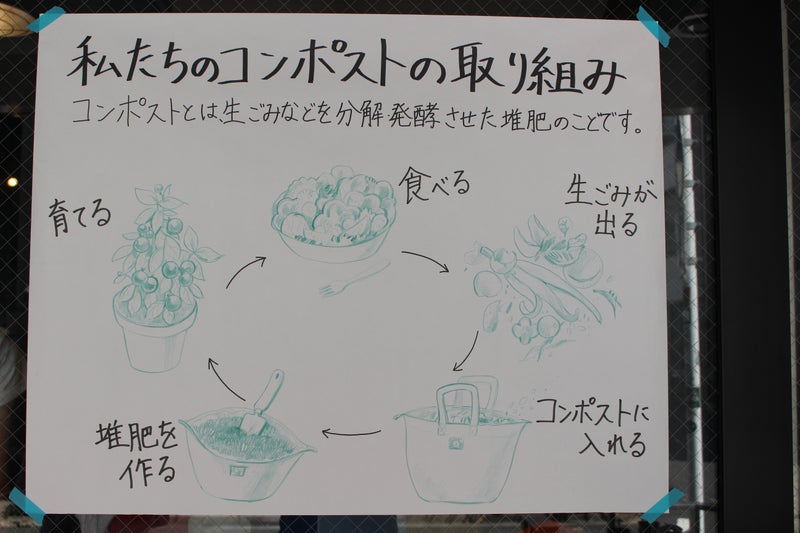 In our daily lives, we produce garbage constantly. With the composter, by putting food scraps into the soil with microorganisms, the microorganisms eat and digest the food scraps, then return them to the soil where plants can grow again.
In this event, we tried putting the food scraps from our daily life into the LFC compost box and putting pepper and marigold seeds into the composter. And now, we still continue doing it at Asakusabashi share house.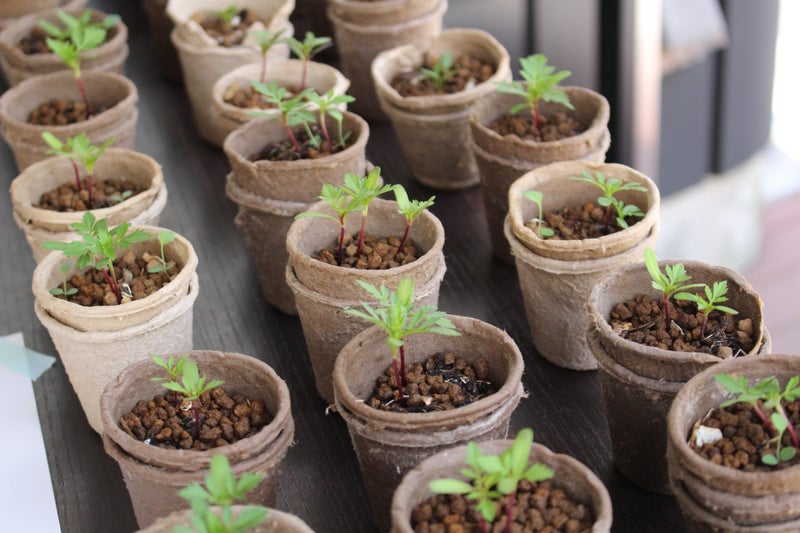 On the day of the event, small seedlings emerged from the seeds, indicating that the soil had actually been revived. We hope that this event will provide an opportunity for people to think about the waste produced in our daily lives.
Free Lunch!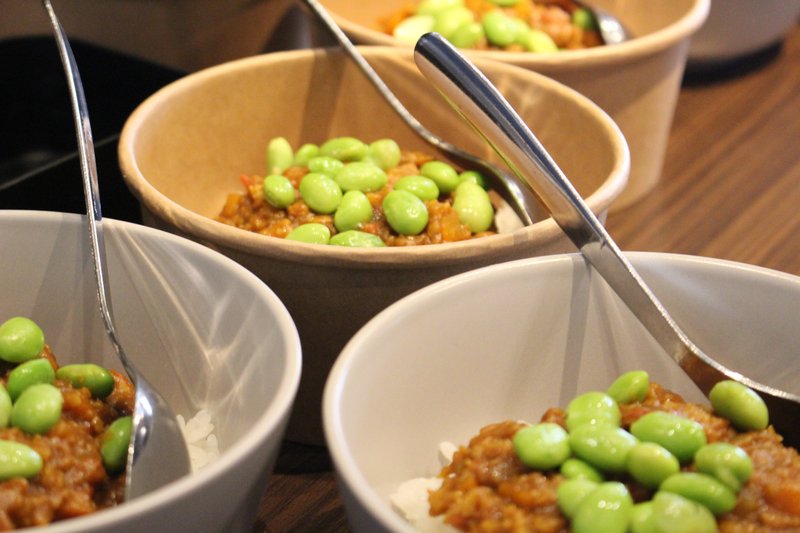 The lunch was a keema curry that has sticky rice and crispy edamame beans. The keema curry was super delicious, not too spicy, and very easy and smooth to eat. The lunch was free of charge on the day of the event.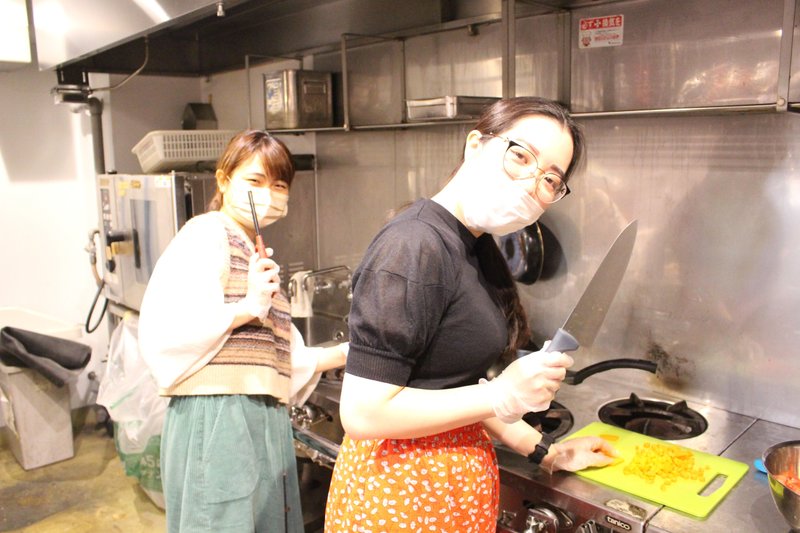 The lunch was also made by our tenants from Asakusabashi House! The curry was made with soybean meat, which is environmentally friendly. It was a satisfying yet tasty curry that gives people a chance to think about what they eat as well!
Desserts from overseas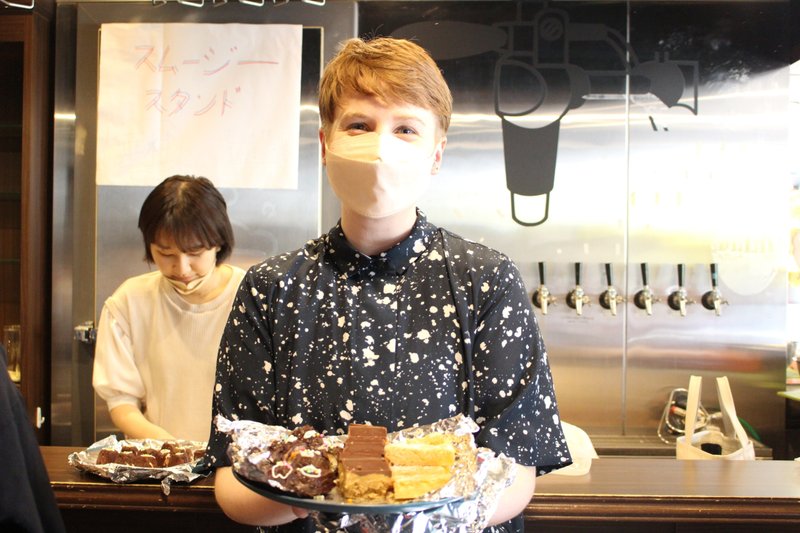 All the desserts were lined up for everyone to enjoy. Each of them is different and none of the sweets were left! All kinds of desserts were so delicious that once I started eating them, I just couldn't stop.
Live Singing by Mayowa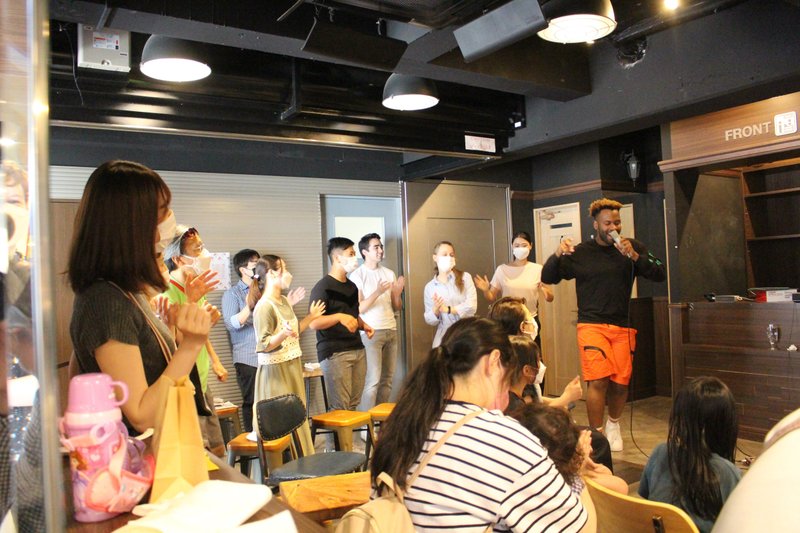 It was a hot and warm afternoon on the day of the festival, and the live show started with songs that make you feel relaxed.
Mayowa had performed a solo show two days prior to the festival. So he was already an accomplished MC, he performed a wide range of acts, including looper* to liven things up, and ukulele! He's so talented! All residents danced together during the final performance called "September", it was so fun and full of energy! I really like the energetic vibes of the house.
Lastly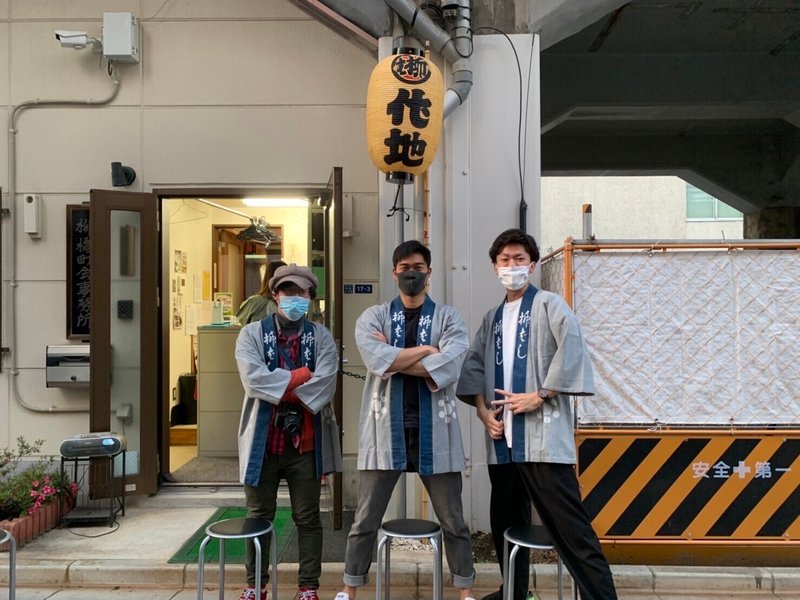 From left to right: Pikaso (reporter), Ryosuke (CM), Yuki (staff & former resident)
Until the festival was held, I wondered how many participants would show up? We were talking about what we would do if no one showed up at all... but when the lid was opened, so many people were there, and we were very grateful and had a lot of fun.
Even though Asakusabashi Share House is still very new, many people and the people of the Yanagibashi area graciously accepted us, making it a day we were much appreciated for.
This festival was the first of many we have planned, and we hope to hold more interesting events on a regular basis with the themes of "making things together" and "getting involved with the community".
Thank you for reading this to the end!
If you want to see more details about this event, please check HERE! (in Japanese) 
Here are more blog articles that are written by our residents from Asakusabashi Share House!