★SUMMER TRIAL STAY at an International Share House▏ Free Accommodation at BORDERLESS HOUSE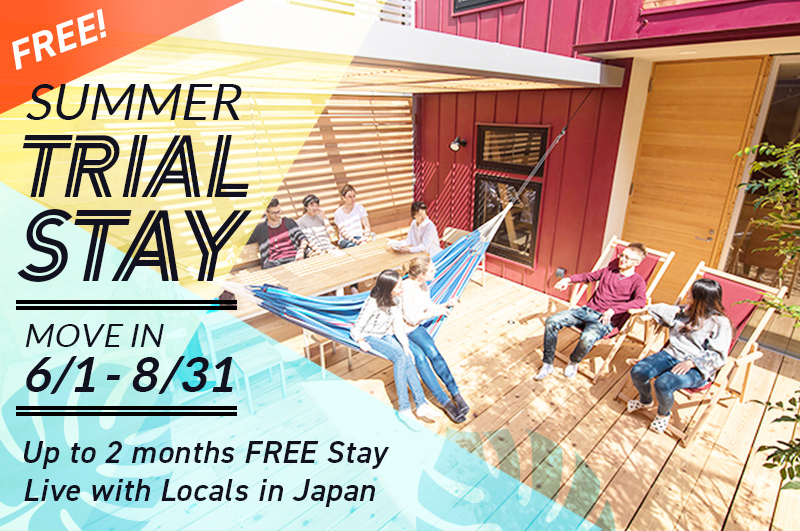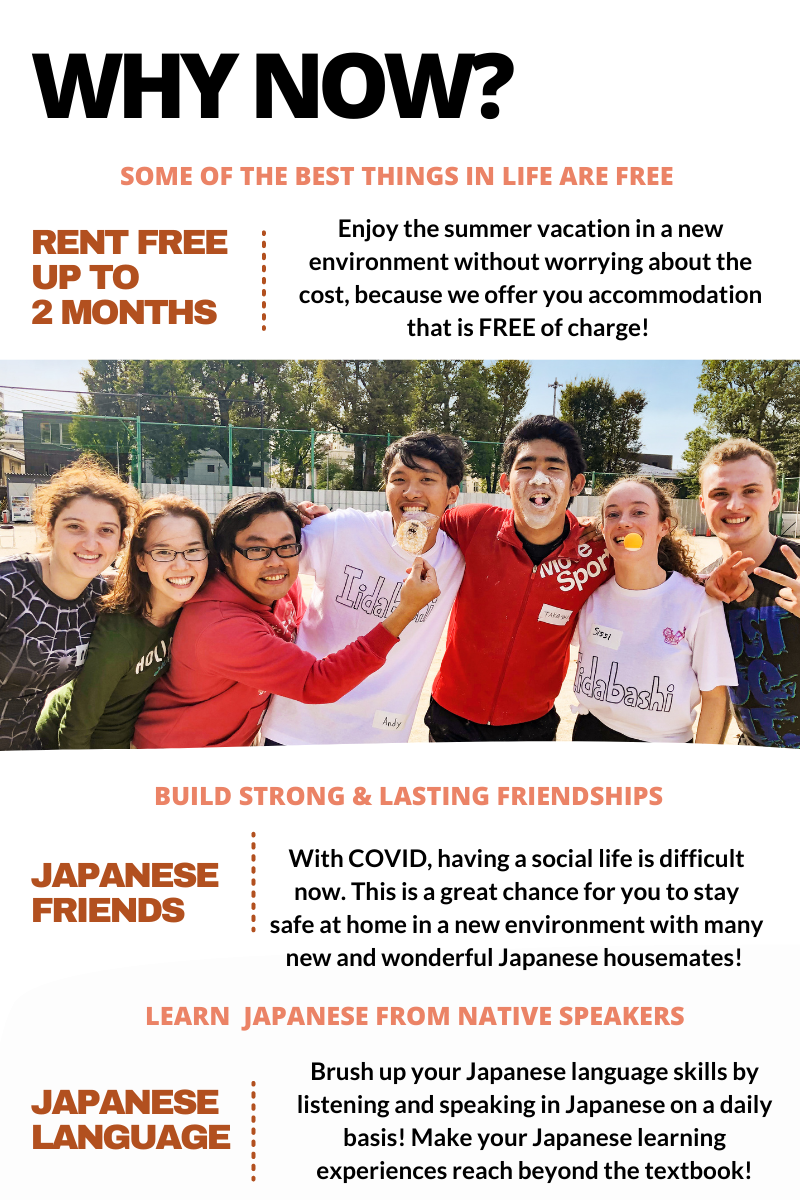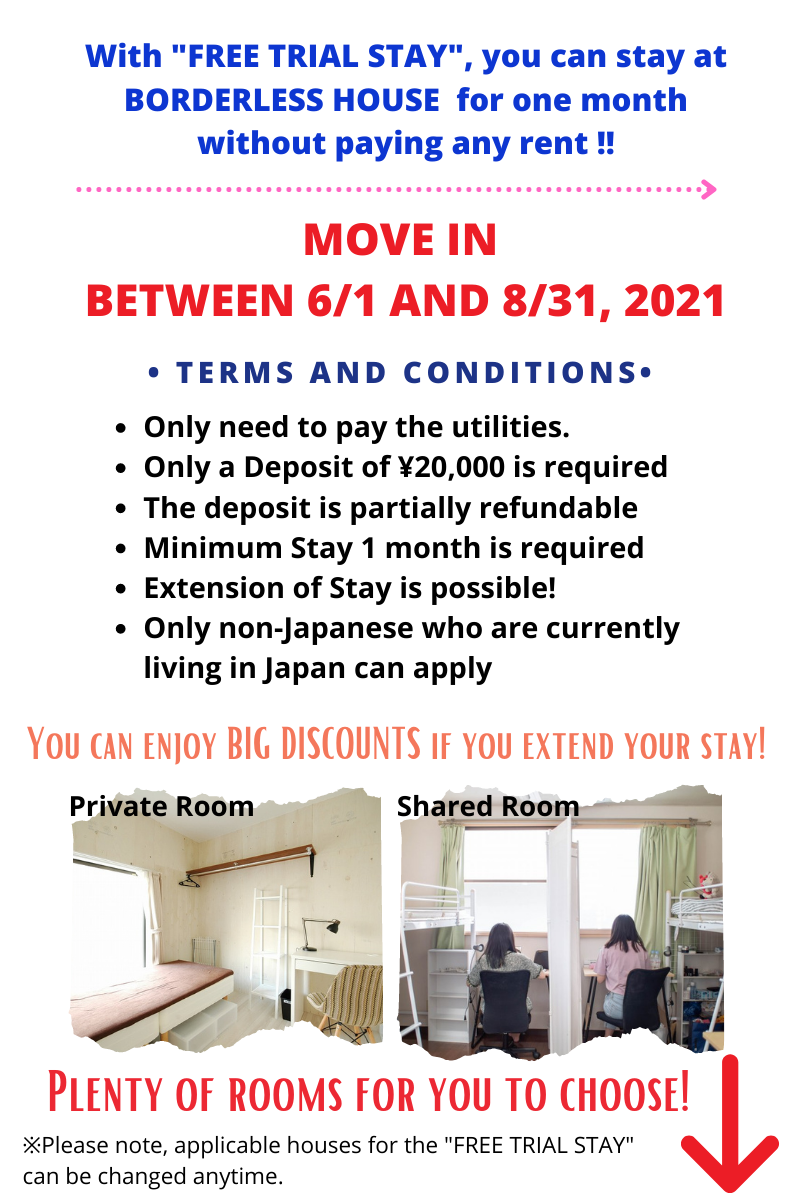 【Shinjuku・Nakano・Kichijoji Area】
▶BORDERLESS HOUSE KOENJI1
▶BORDERLESS HOUSE SHIN-NAKANO1
▶BORDERLESS HOUSE SHIN-OKUBO1
▶BORDERLESS HOUSE SHINJUKU-NAKANO2
▶BORDERLESS HOUSE MEIDAIMAE1
【Shinagawa・Meguro・Ebisu Area】
▶BORDERLESS HOUSE OMORI1
▶BORDERLESS HOUSE KUGAHARA1
▶BORDERLESS HOUSE SHINAGAWA-TOGOSHI3
▶BORDERLESS HOUSE UNOKI3
【Ueno・Asakusa・Akihabara Area】

▶BORDERLESS HOUSE KIKUKAWA3
▶BORDERLESS HOUSE MACHIYA1
▶BORDERLESS HOUSE NIHOMBASHI1
▶BORDERLESS HOUSE KITASENJU2
【Akasaka・Roppongi・Iidabashi Area】
▶BORDERLESS HOUSE IIDABASHI1
▶BORDERLESS HOUSE ROPPONGI1
▶BORDERLESS HOUSE KASUGA1
【Shibuya・Harajuku・Shimokitazawa Area】
▶BORDERLESS HOUSE HARAJUKU-KITASANDO1
▶BORDERLESS HOUSE NISHI-SHIMOKITAZAWA1
▶BORDERLESS HOUSE MUSASHI-KOYAMA1
【Ikebukuro Area】
▶BORDERLESS HOUSE IKEBUKURO-OYAMA
▶BORDERLESS HOUSE ITABASHI-KUYAKUSHOMAE1
【Osaka・Kyoto・Kobe】
▶BORDERLESS HOUSE OSAKA-TSURUHASHI1
▶BORDERLESS HOUSE OSAKA-TOYONAKA1
▶BORDERLESS HOUSE OSAKA-BENTENCHO
▶BORDERLESS HOUSE KYOTO-HANAZONO1
▶BORDERLESS HOUSE KYOTO-NISHIJIN
Summer FREE Trial Stay campaign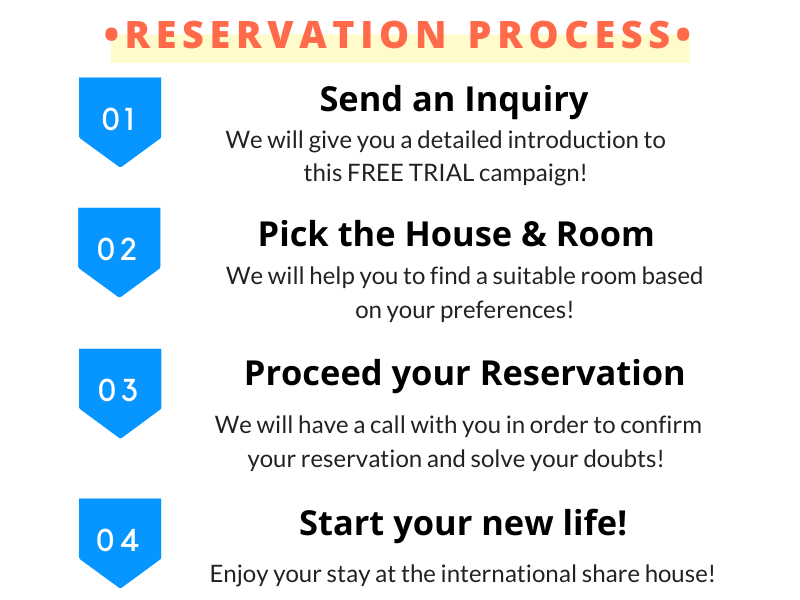 If you are interested in a trial stay at an international share house, feel free to contact us via Inquiry form, LINE, or Facebook Messenger!
★☆★CLICK BELOW! ☆★☆


Enjoy RENT-FREE for up to 2 months! Just stay for one month is also no problem!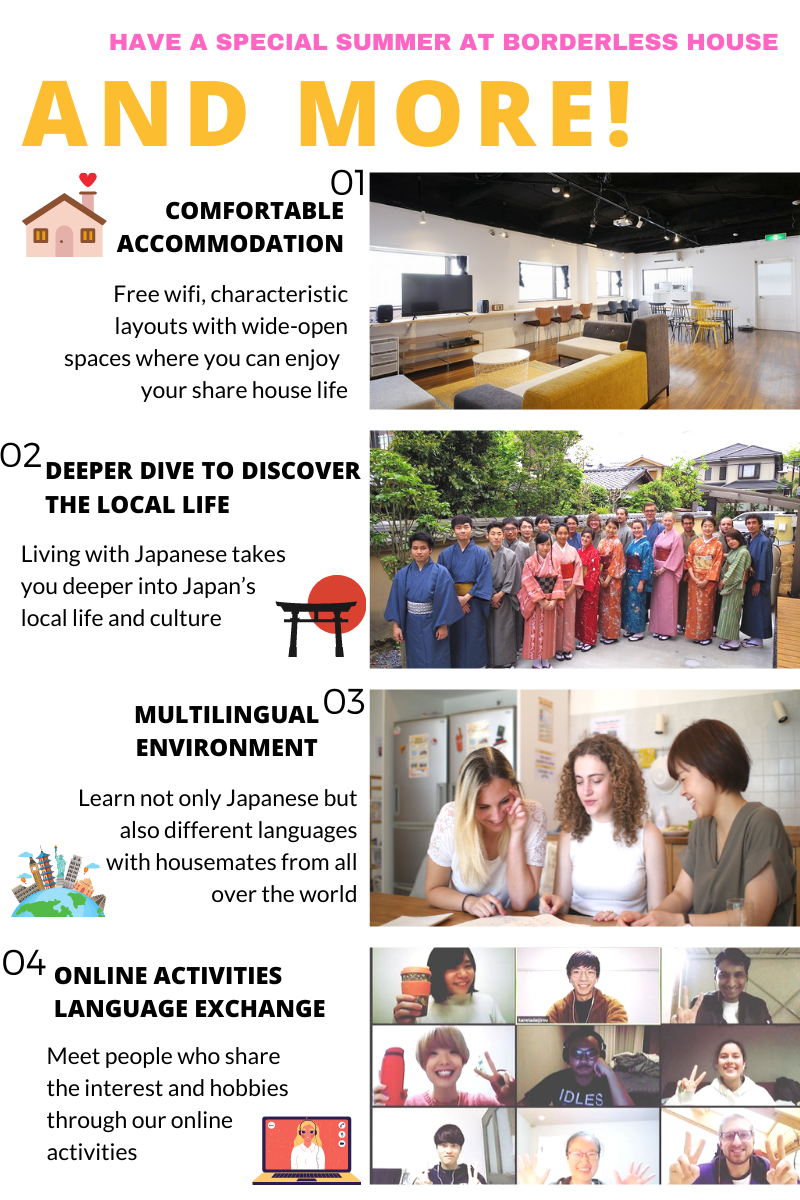 Best way to make Japanese friends, learn Japanese language and create unforgettable memories!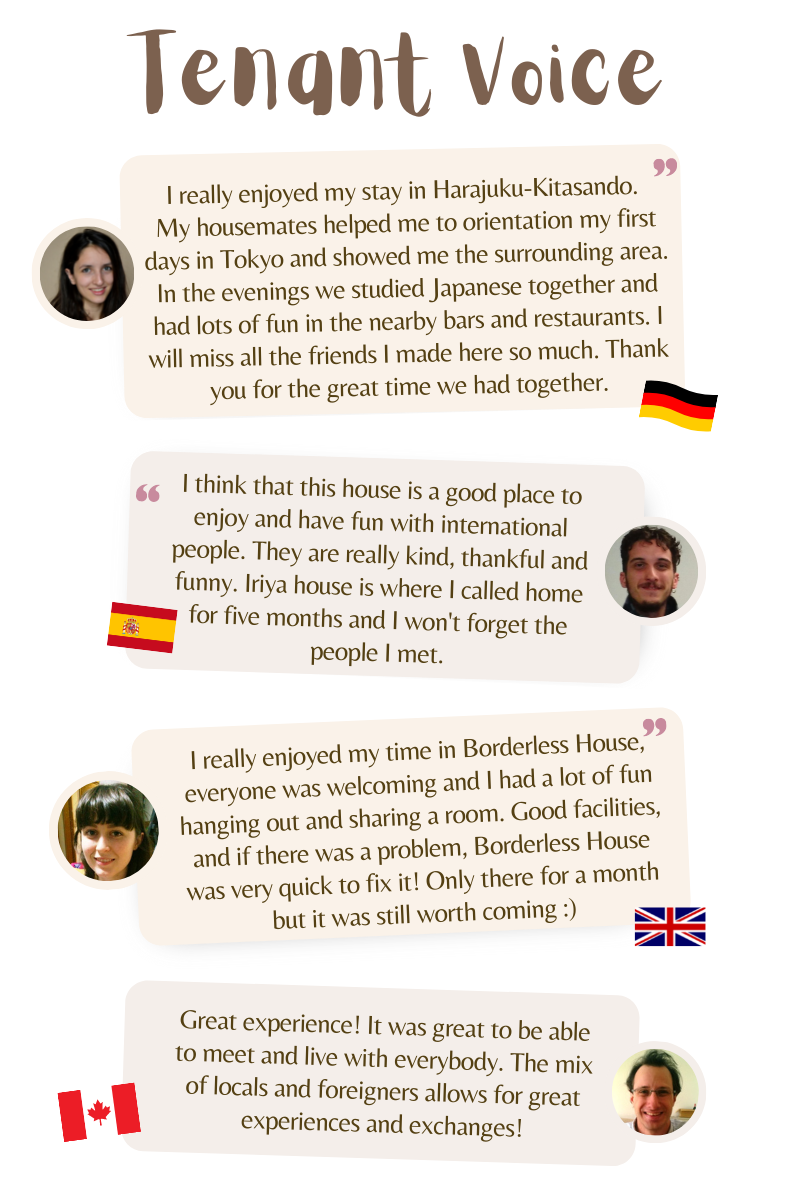 • TENANT STORIES • Check our tenants' life during COVID-19 
➔Greater Connections with Housemates during COVID19
➔Surviving Coronavirus in a Tokyo Sharehouse
➔Sharing times together as a big "family" is the best cure for loneliness during quarantine
Have a special summer with people from around the world at Borderless House!
Definitions of "FREE TRIAL period", "first month" and "second month"
<Examples>Move-in date: Aug.5 
①Staying for only 1 month
FREE TRIAL period is from Aug.5 to Sept.4

② Staying for 2 months
FREE TRIAL period is from Aug.5 to Oct.4
1st month:Aug.5 to Sept.4
2nd month:Sept.5 to Oct. 4

③ Staying for more than 3 months
FREE TRIAL ends on Oct 4.
The regular contract starts from Oct 5.

Regarding additional cost and contract term
※If you would like to rent the bedding set, there is an additional one-time rental fee - 9,000 yen. (Bedding set includes sheet, mattress pad, futon, futon cover, pillow, pillow cover, and blanket.)
※Minimum stay is one month. We make a 1-year contract at first with an agreement form that indicates the campaign terms, then you can adjust the term of your contract by giving us your moving out notice at the assigned time.