BORDERLESS HOUSE KYOTO-KURAMAGUCHI-Share House Live with Japanese
Available rooms
Male×Japanese nationality
Female×Japanese nationality
Male×Foreign nationality
Female×Foreign nationality
CAMPAIGN
【日本人対象:大学生限定】3/15までの入居で初期費用から20,000円引き!
BORDERLESS HOUSE
KYOTO-KURAMAGUCHI
Kyoto Area
Subway Karasuma Line Kuramaguchi station 15 minutes
Community Members3Countries12tenants!
House Type
10~14 people
Non smoking house
With theater equipment
International share house with local community. Why don't you enjoy "International community"×"Local community" life in this house ?
The international share house open in March, 2019 with the concept "living with local community".
The house are surrounded by bus stops to Shijo,Kyoto station and Emmachi. You can get easy access to main area in Kyoto!!
There are spacious entrance way, high‐ceiling-ed living room and kitchen. You can have your own time in all private rooms, and have fun time like setting weekend schedule or watching movies with housemates in living room !! We may also have small events in the spacious living room and entrance way !
In the area, there are unique public bath, renovated cafe and so on.
Enjoy "International community"×"Local community" exchange time with housemates in Kuramaguchi House !!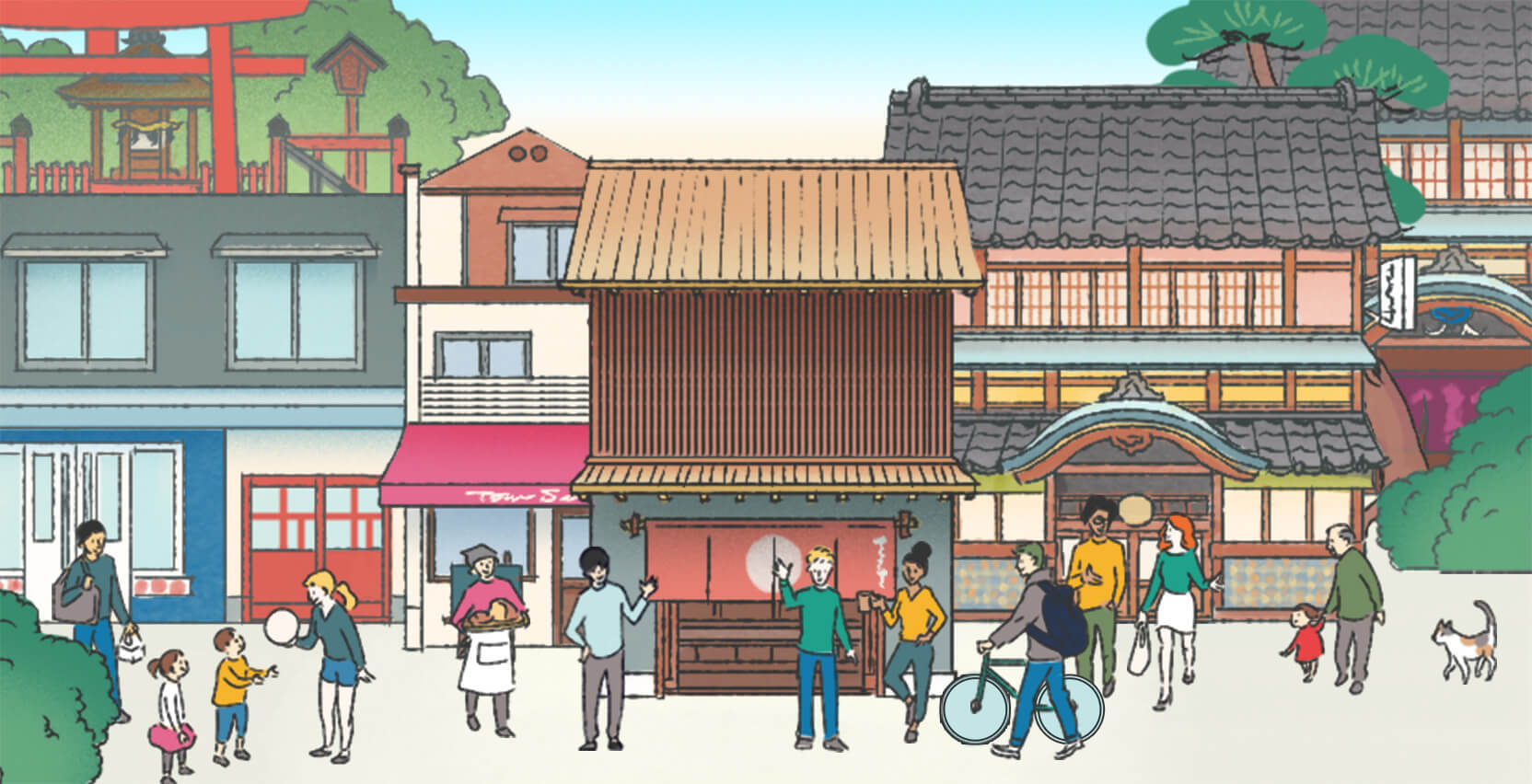 The international share house becomes a part of Kuramaguchi-dori where novelty and nostalgia exist together.
Kuramaguchi-dori has unique places: a historical hot spring, a public bath turned café, a beloved bakery, etc. This new international share house is a new building with private rooms only. It has a very livable lounge with a taste of a Japanese house in it.
Collaboration with local stores is being planned. Here is a share house that will be a base of new excitement.
Spacious community space
The lounge is a 20-mat room. In this spacious room, you will have a lot of fun talking with your share mates. The entrance has an earth floor"Doma". You can use it in many ways such as a workspace or space for having tea.
New building・All private room !
The inside of the building is new and comfortable in historical city, KYOTO. As private rooms are secured, you can be relaxed even in a share house. The rooms on the second floor have skylights. It is incredibly bright !!
CAFE SARASA

Near the share house, there is a public bath turned coffee shop where you can get home-roasted coffee, food, and baked sweet. This coffee shop has been used to film a move or a drama. The inside is decorated with beautiful majolica tiles, and you can enjoy a deep and retro space.

Fujinomoriryo

The building used to be a dormitory of Ritsumeikan Uni , but it was renovated to a studio and shop. Please find your favorite from such things as glasses crafts, felt crafts, lacquer ware, paper crafts, bamboo works, etc. Trial classes are offered too.

Tom Sawyer

A beloved bakery run by a friendly family. It is a local bakery loved by many people regardless of age or gender. 100 kinds of bread from normal types to sweet types line up. The bakery has had a long-standing reputation from locals.

Funaoka Onsen(Hot Springs)

"KING OF SENTO" (or "KING OF PUBLIC BATHS") decorated by retro tiles and openwork and designated as cultural building.
It has a rich selection of baths, the electric bath, a jet bath, an open-air bath, a medicinal bath, etc.

Kenkun Shrine

It is worshipped as a shrine that helps overcome difficulties or realize a great ambition.
From the top of the small mountain on which the shrine stands, you can see Kyoto city clearly, and it is also relaxation spot for locals.
By train 7mins to Shijo station, 11mins to Kyoto station
Easy access to all area in Kyoto by public bus.
As the house is surrounded by bus stops, you can get easy acess to all area.
5mins walk to bus stops, 15mins walk to Kuramaguchi station
The closest station
Subway Karasuma Line Kuramaguchi station 15 minutes
Bus stop Horikawa-Kuramaguchi 5 minutes
Bus stop Daitokuji-mae 5 minutes
In Common Space
High-speed Wireless Internet
TV
Balcony
Projector
Washing machine
Three toilets
Three Shower room
In Each Room
Loft
Bed
Desk/Chair
High-speed Wireless Internet
CAMPAIGN
【日本人対象:大学生限定】3/15までの入居で初期費用から20,000円引き!
For the information on other sharehouse, concerns or questions, feel free to contact us!
Please sign up below for a room-viewing for this house!
If your favorite room is not available right now, please fill out this form.You will be notified as soon as a new vacancy comes up.
Procedure
Inquire Searching for an available room

Reserve your room or Inquire us from our website/phone.Make a reservation for room-viewing.

Room-viewing

You can also make a reservation without room-viewing.

Confirmation of room reservation

You can move-in after 2 days at the earliest. You can make a reservation from the list above.

Contract・Move-in

Making a contract either in our office or the House.
FAQ
Can I move-in soon? Can I stay only for a month?

You can make a reservation without room-viewing. So, you can move-in after 2 days at the earliest.
Minimum of 1 month-stay is required.

How much does it cost to move in?

Initial fee 50,000 yen (30,000 yen key money and 20,000 yen deposit are included) and the first month's rent and utility fee have to be paid within three business days after the reservation is confirmed. If you would like to rent the bedding set, there is an additional one-time rental fee - 8,000 yen. (Bedding set includes sheet, mattress pad, futon, futon cover, pillow, pillow cover, and blanket.)Maximum 20,000 yen is refundable on the moving-out day.(If there is any unpaid payment, we will deduct from the deposit)

*Rent and utility for the first month are calculated on a pro-rated basis from the day you move in.
*If the room you reserved is currently available, your rent starts 2 weeks after you sent us the reservation at the latest. If the room will be available from a certain day, your rent will start 2 weeks after the available day at the latest.

Is there any language barriers in the House?

You can find your Japanese housemates who are fluent in English. So, please no worries!
You can enjoy your sharehouse life by learning & teaching languages each other with your housemates.

Can I get along with my housemates?

Borderless House offers you great opportunities to communicate with people. Our tenants discuss & set the House rules like cleaning rules together. Through those discusstion, they create nice and comfortable life environment.
It is our pleasure to support our tenants even after their move-in. Please do not hesitate to contact us!
Recommended Houses around this area