BORDERLESS MATES Program▏Mate's Voice of BORDERLESS MATES LIBRARY (Part.1)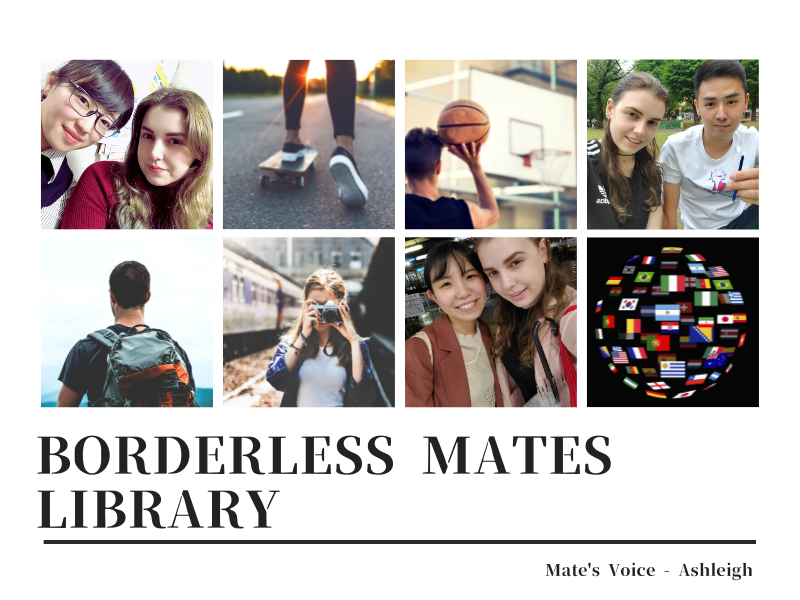 Until now, over 100 Borderless Mates have registered to BORDERLESS MATES LIBRARY program! In this blog article, we'd like to let you know more about this special program that is designed for our residents and help them connect with Borderless House Mates around the world by interviewing our resident!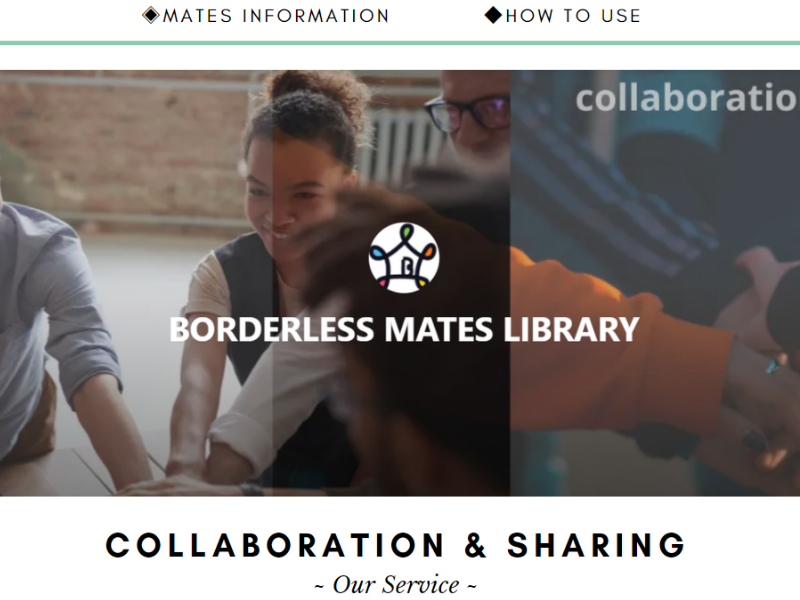 What is BORDERLESS MATES LIBRARY?
Borderless Mates not only have diverse nationalities and language abilities but also have a range of international experience in specialized careers and hobbies. Undoubtedly there are Borderless Mates around the world who have the same interests or areas of specialization. Through BORDERLESS MATES LIBRARY, we would like to connect all these knowledgeable and passionate people with each other!
We imagine each Borderless Mate as a single book in the expansive Borderless Mates Library, which is comprised of both current and past residents.
Then let's hear out the real voice from our resident, Ash about her experience of using BORDERLESS MATES LIBRARY!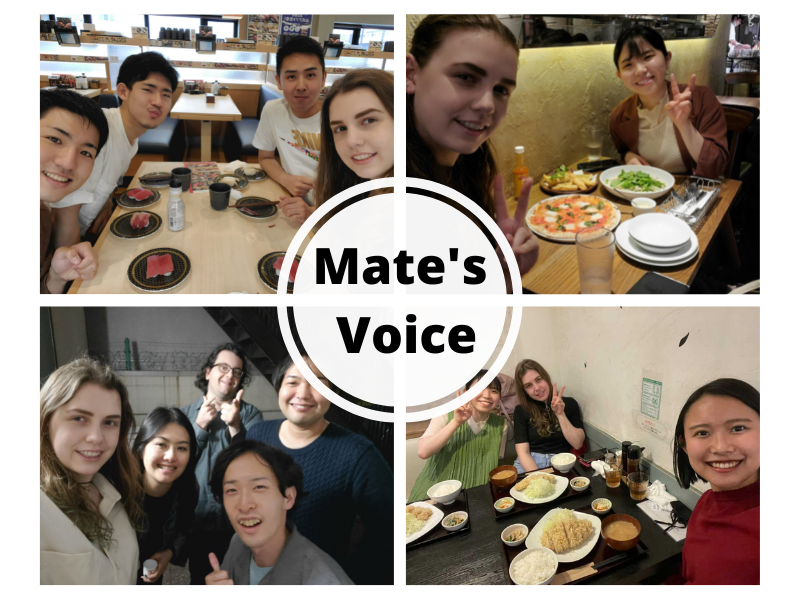 ※Aboved pictures are Ashleigh meeting other Borderless Mates from different share houses in person after exchanging messages through Borderless Mates Library!
Tenant's 'Borderless Mates Library' Story and Experience
Please introduce yourself first!
To quote my self-introduction on Borderless Mates Library, "G'day! I'm Ash and I was in Perth Australia until I moved to Japan… I love meeting new people, traveling, photography and I want to learn Korean, Chinese, and Spanish." I have been living in Itabashi-kuyakushomae House since I moved here in March 2018 and am currently an English teacher at a bilingual kindergarten.
Why did you sign up for Borderless Mates Library?
Being in Borderless for over 3 years, I used to go to almost every event and was even the MC at the Borderless Olympics and Christmas Party in 2019. I loved that it created a community with members from other Borderless Houses and I was able to make friends living in different houses. Everyone has their own interesting background and we can create a connection from living in the same busy city. However, since the start of the pandemic, Borderless has been unable to run these events and I was unsure how to continue creating connections with other houses. Many of my foreign friends that lived in Borderless had to go home and I was left to my own devices to find more Borderless members. I was excited when Borderless announced its Borderless Mates Program. I thought that maybe it was a way to connect with people from other houses again and hopefully have inter-house parties in the future.
Could you please explain to us how it works?
Within the program, Borderless Mates Library peaked my interest the most, as you can post a profile and also look at other people's profiles who have or are living in a Borderless House. Only those who have created a profile can send you a message because the site is password restricted. If you want to connect with someone after reading their profile, all you have to do is click "I want to contact this mate!" at the bottom of the page and it will lead you to a google form asking why you want to contact them and to write a message to them. The message is then moderated by Borderless Staff before being sent. As I read my profile again, it looks like I might have to update it, but at least that didn't stop people from messaging me!
Making friends!
After making my profile soon after Mates Library started in September, I was eagerly waiting for someone to contact me. After a couple of months, someone finally reached out to me. I almost forgot that I had created a profile by this time, but was glad that Eiji, who had recently moved into Kikukawa 2. Being my first time to reply to a request, I used the template that Borderless adds to help me respond. Having our interests and hobbies written on our profiles made it easier to make a conversation and we soon exchanged Line IDs to arrange to meet up at a cafe. Being the first Mate to meet, I was nervous but excited! When we met, Eiji told me he was moving to Honancho!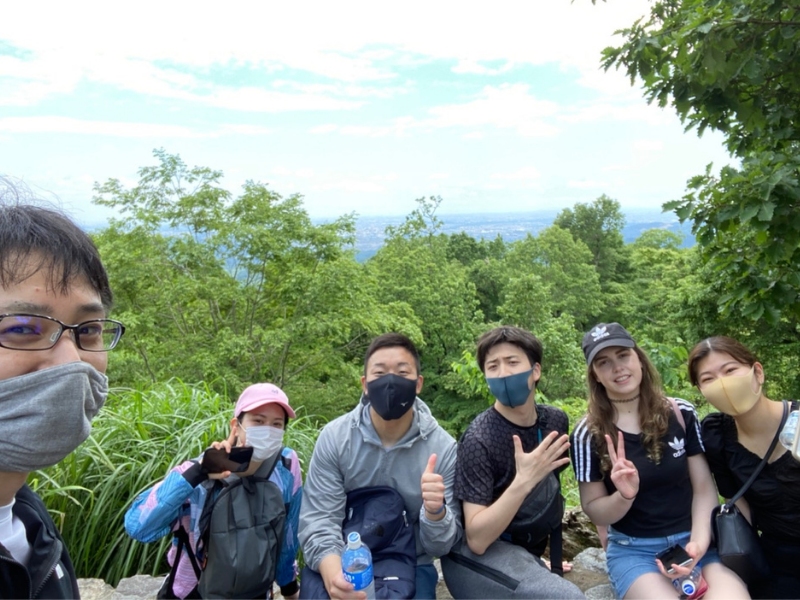 What do you think is the best thing about joining Borderless Mates Program?
The great thing about the Borderless Mates Program is that you can sign up for multiple activities. During the Language Exchange in February, I had the chance to talk to Moe and so I was so glad to see that she reached out to me through Mates Library shortly after! Moe was moving into the same house as Eiji had moved to and she also contacted my housemate Dani, so we arranged for the four of us to get dinner together.
The most recent Mate to contact me is Shinjuku-Nakai member, Shun. Not many Australians are in Borderless right now because they decided to go home, so he reached out to me to make an Aussie friend. We have been hanging out a lot lately and he introduced me to his housemates. Eiji and I even made a small event and I asked Shun to invite his housemates, so we had people from different houses there. It was great to meet others who were interested in being involved in the Borderless community! What I love about this program is that you don't form just one friend, but many.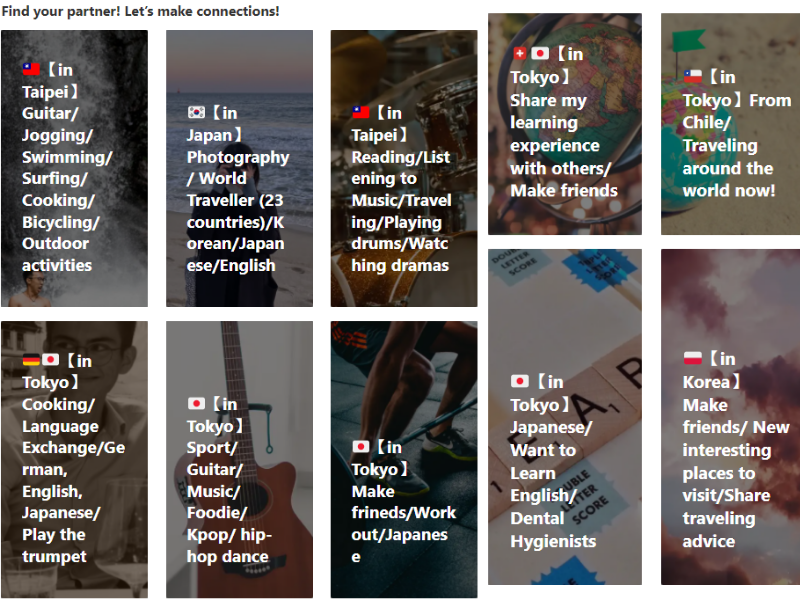 ※Image of BORDERLESS MATES LIBRARY platform 
There are more interesting stories from Ash that we would like to share with you in our next article, please look forward to it!! 
About BORDERLESS MATES PROGRAM & How to join
Not just BORDERLESS MATES LIBRARY, we also have LANGUAGE EXCHANGE that allows you to brush up your language skills while having fun chatting with other Borderless Mates via 1 on 1 language exchange online, and  CLUB ACTIVITIES to meet people who share common interests and hobbies as you, also BORDERLESS TRAVEL that helps you to meet locals, start an interesting journey! You can find more details from the webpage of BORDERLESS MATES PROGRAM!
Once you become our tenants, you can join and enjoy those programs for free!
We are now offering foreigners who are currently living in Japan a rent-free room for up to 2 months with 【Trial Stay Campaign】! 
This is a great opportunity to try out living in a shared house while enjoying the special program!