International experience with world food! Know more about Syria through Middle Eastern food!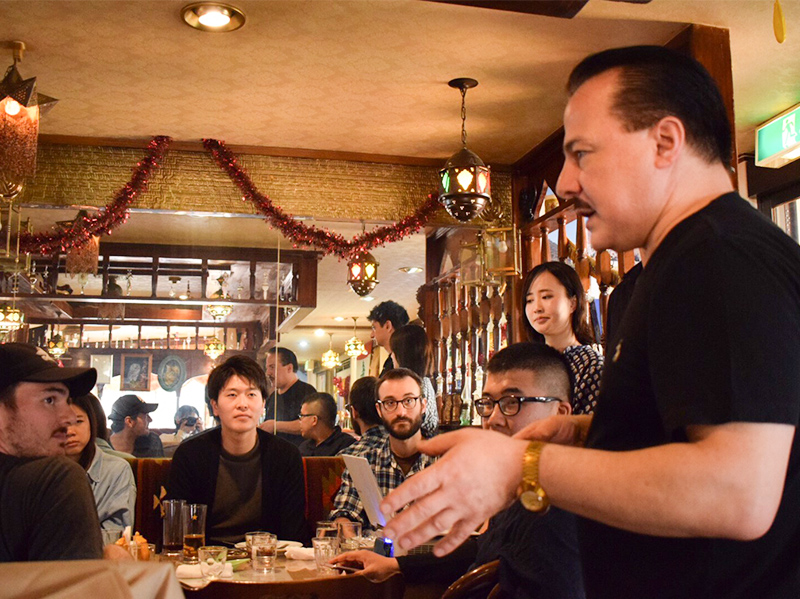 As-salamu alaykum!
This is Yuya from Borderless House who is in charge of the program!
『BORDERLESS DINERS~Experience international restaurants and travel around the world~』
Eat! Talk! Think! This is a hands-on program that you can enjoy the international exchange with your five senses and enjoy different cuisines in restaurants or catering in Tokyo!
The third time is Syria! I report the BORDERLESS DINERS which was held on April 20th.
Trip to follow memory, a beautiful hometown Syria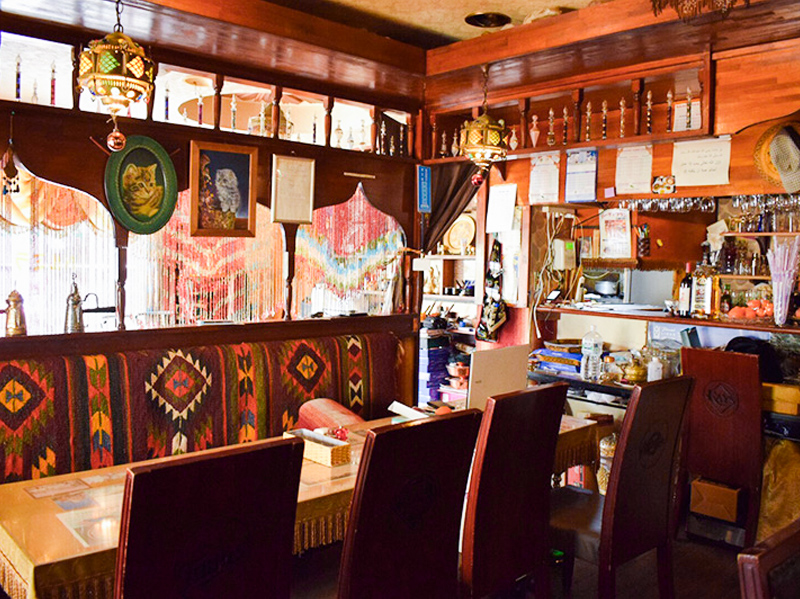 An Arabian Restaurant Palmyra is located on the second floor of a building, a 6min walk from Ikebukuro Station West Exit.

We held this event and reserved whole this restaurant that runs by a Lebanese owner at this time!
Guest speaker is our tenant Mr. F who is from Syria.
"Syria has not been stable yet, and the civil war has continued since 2011.
I think most of Japanese associate Syria with refugees and war."
But He said
"I only lived in Syria when I was little, so I don't remember much, but all my families say the same thing; we want everyone to know that Syria is such a beautiful country. "
BORDERLESS DINERS Syria began with such his words. Let's travel to the beautiful hometown of Syria through Syrian cuisine!
Experience a refreshing sour Middle Eastern cuisine with grazing culture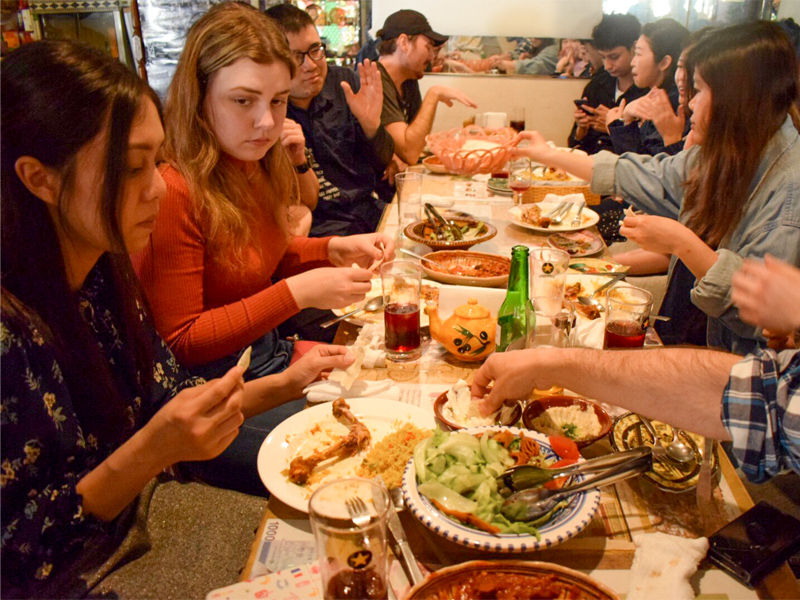 I said Syrian cuisine, but there is not really a clear difference between Syrian food and Lebanese food. Because Syria and Lebanon were one and the same country a long time ago.

Of course, there are also unique dishes from each country, but the main food culture of vegetables is the same. There are many cultures in Syrian cuisine, such as the hummus(mashed chickpeas) as a staple food, Turkish kebabs and Islamic food such as baklava.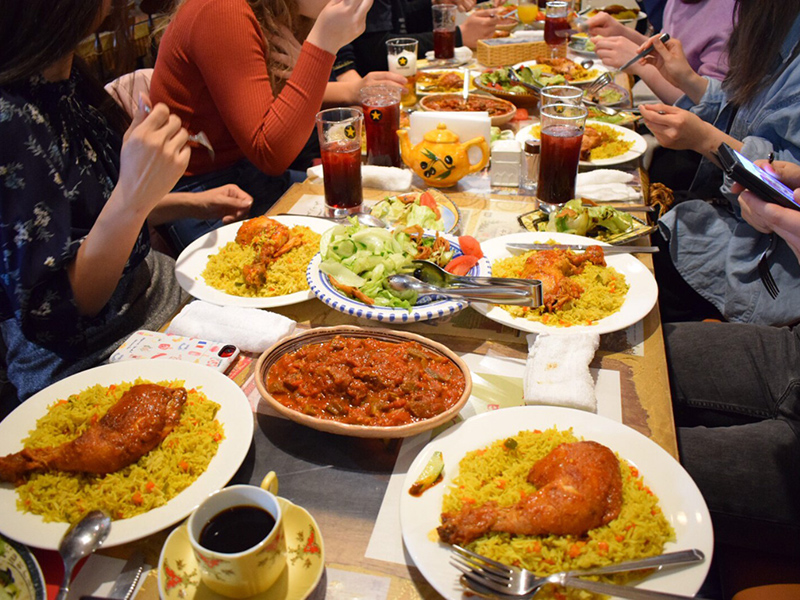 Sesame and lemon, olive oil, herbs, many dishes using tomato in yogurt, but it is refreshing, but sour very fresh flavor in the mouth!
And there are also refreshing drinks of salted yogurt called hibiscus juice or ayran. Since Syria was a grazing culture, there were not many choices of ingredients. It is a simple and sophisticated food culture that uses naturally grown crops and livestock milk.
Dynamic taste! Extremely sour, sweet, rich! Syria!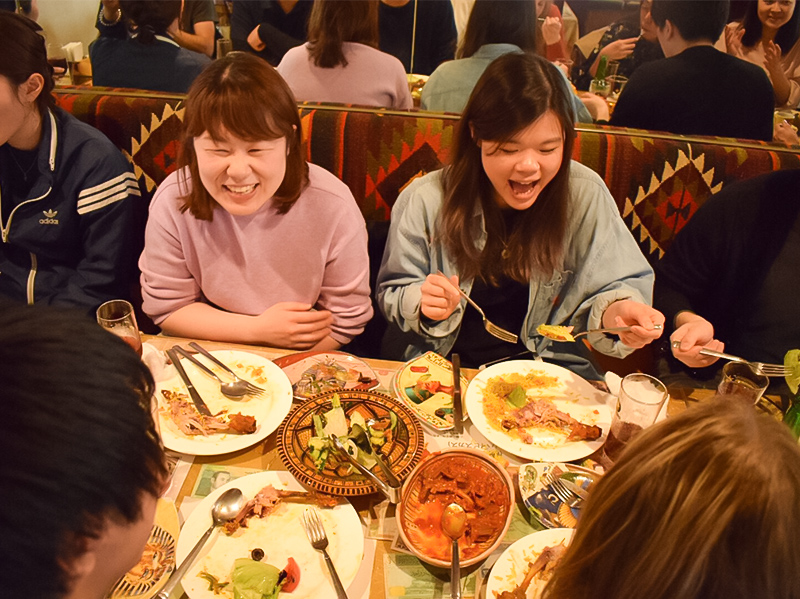 Syrian food is dynamic taste! For example, the sourness of the ayran is not slight, it is VERY sour!
The coffee is so rich that the powder precipitates. And the hibiscus of the national drink which also has a light laxative effect is too much sour!
Of course, there are also meals and dessert with a dynamic taste to eat with such a thick drink.
Okra tomato stew is very sour, and dessert bakrawa and basbusa are very sweet!
Middle Eastern cuisine was like a great adventure.
Syrian young people are in all over the world. What made him come to Japan?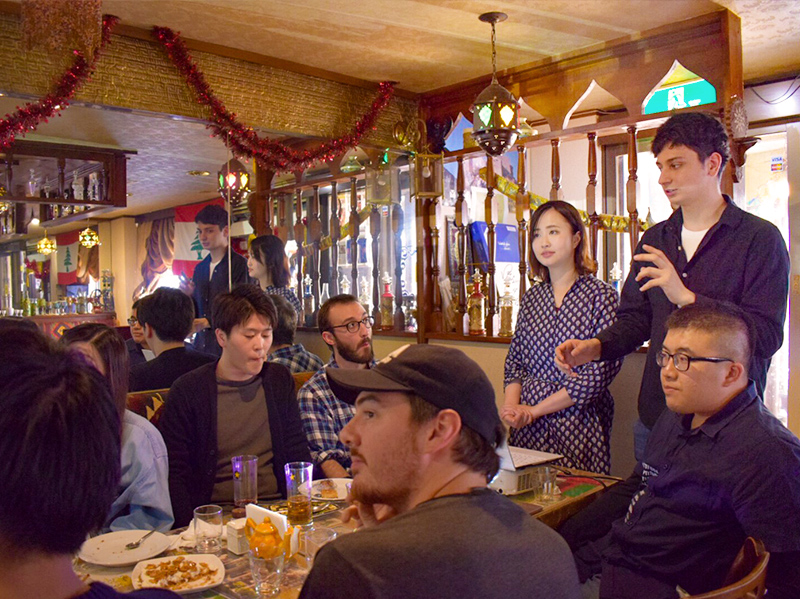 Well, after enjoying Syrian food, it is time for a Syrian story.
Currently, Mr. F has lived in Japan for about one year. He is a naughty teen boy who loves Japanese comedy and speaks Kansai dialect very fluently.
Also, he was born in Syria and raised in Saudi Arabia.
The last time he returned to Syria was just a year before the civil war began, when he was 10 years old. Since then, he has never been back in Syria.
Although now he is good at speaking Japanese and loves Japanese comedy, in fact, he didn't think he would come to Japan.
"At first, I tried to go to a university in the US and I needed to have VISA to stay outside Syria because I am Syrian. Unfortunately, Just after VISA in Saudi Arabia ended, it became Trump's administration at the timing in the US, and VISA for that suddenly dropped. I can no longer enter Saudi Arabia, and if I go to Turkey, where my parents stay, I have to make a refugee application. Then I decided to make a visa application to Japan.
Fortunately, Japan's Visa went down and I decided to stay in Japan.
From there I knew how wonderful Japan is. "

Currently, Syrian young people are drafted when returning to Syria and must join the army. Much Syrian youth cannot return to their hometown to avoid recruiting. In addition, they cannot go around the world freely.  Most of Syrians don't have choices and they have to stay temporary in various countries as refugees or immigrants.
"Syria is a really beautiful country. The beautiful geometric pattern of the mosques, and the world's oldest city, Damascus.The most romantic and beautiful Syrian-like Arabic language in the world. Now I met Japanese comedy and love Japan, but I hope to return to Syria someday. And I want the housemates and everyone I met to know more about Syria someday. Syria is a really beautiful country. "
The feeling from Lebanon that was divided country from Syria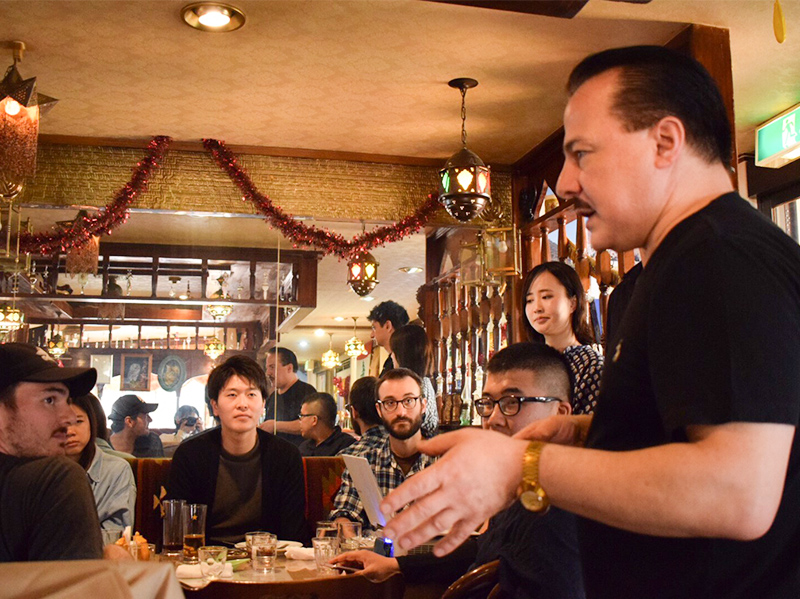 This time, the venue is the restaurant Palmyra, the owner Mr. Suriman who usually teaches Arabic culture at a university and he sells Syrian goods in the place to help Syrian children.
Mr. Suriman said,
"The Syrian people are not chemical weapons test subjects, they are humans with emotions."
The neighboring country Syria with similar culture since it was the same country. And there are many Syrian refugees in Lebanon.
Mr. Suriman believes Syrian and Lebanese people are brothers, and this motivates him to support Syria. He hopes that one day they will be able to come and go free again and create a society for Syrians to live their dreams. Dreaming of such a day tells stories about Syria in restaurants here in Japan.
BORDERLESS DINERS is a program where you can experience the country through meals. It was a moment that we can feel Syria close.
The next program is for Bosnia! You can touch a different culture every month!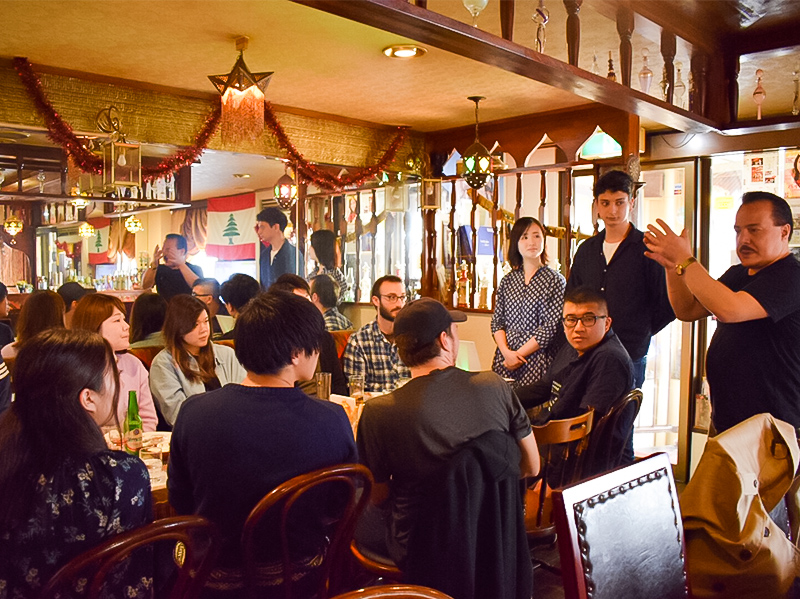 『BORDERLESS DINERS ~ Experience international restaurants and travel around the world ~』
This is a hands-on program which is held every month!
Next time, we will invite beauty chef in Borderless House Shinjuku Honancho!
Bosnian food! Well, what kind of experience can you make next?"
Looking forward to the next report!!
BORDERLESS HOUSE share house list