Can Walk to Shibuya and Harajuku! Right in Center of Tokyo, A New International Share House in Omotesando, Mar. 30th NEW OPEN!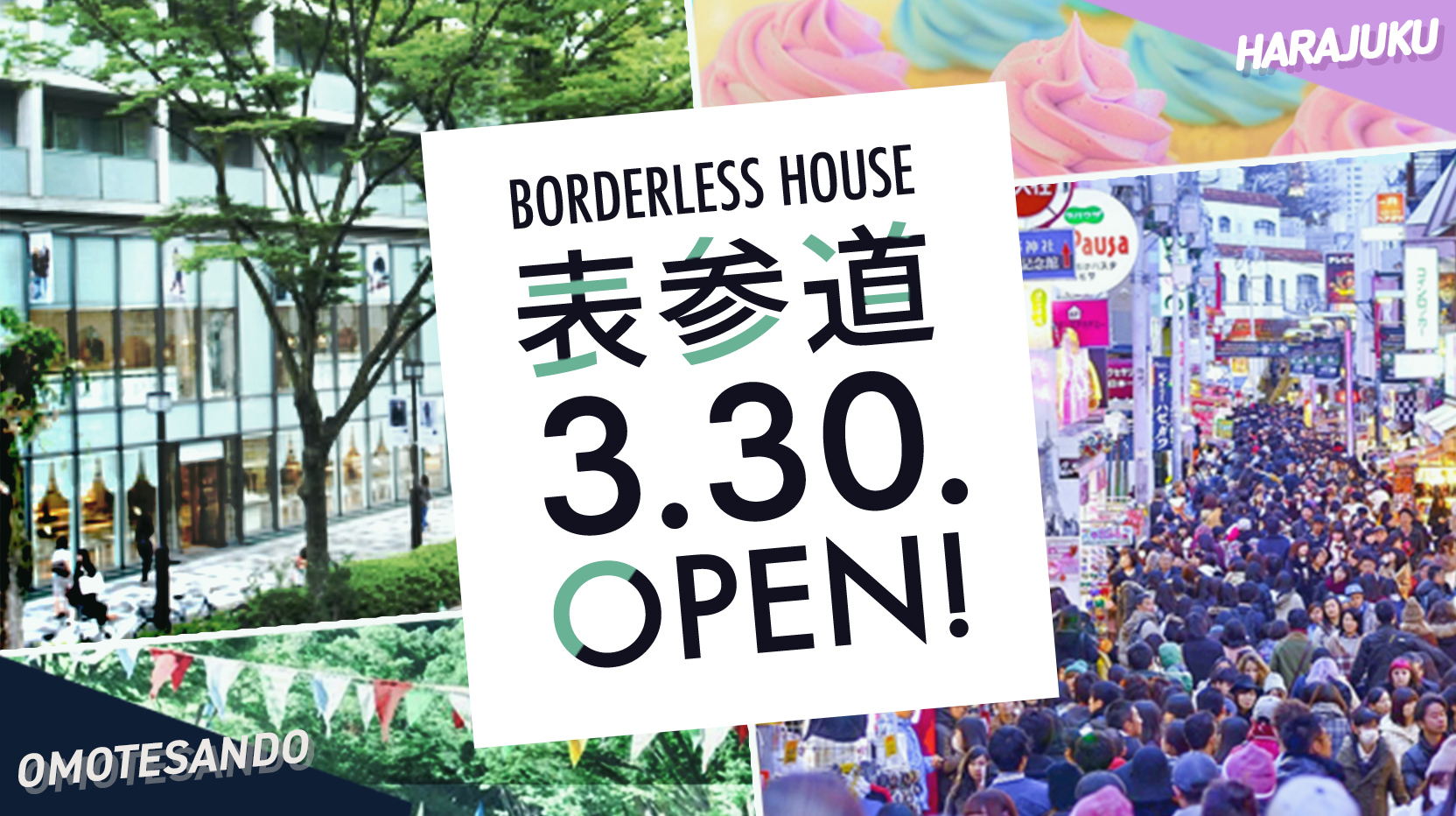 Hello, everyone!
This is Yuya in charge of blogs, recently, I've cut my hair too short.
It is almost spring, and we thought it was getting warmer, but surpringly, it's been freezing.
To everyone who is shivering in the cold, I, Yuya will introduce a super hot news!
Guess what! Borderless House is coming to one of the most fanciest areas in Tokyo, Omotesando!!
On Mar, 30th, Omotesando House, located where you can walk to Shibuya and Harajuku, will open after full renovation!!
I will be introducing Omotesando House's building and lifestyle around the house through two blogs.

7 Stations, 7 Lines Near the House! Life in Japan in the Best Location to Access Anywhere!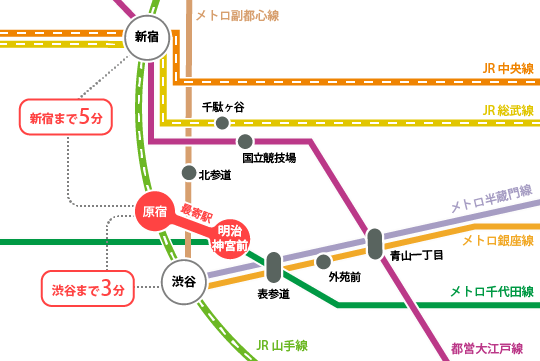 There are 7 stations, 7 lines located close to Borderless House Omotensando!
Look at this information on stattions nearby!
<Borderless House Omotesando near stations>
-Chiyoda Line Meji-jingumae: 10 min.
-JR Line Sendagaya: 10 min.
-Tokyo Metro Ginza Line Gaienmae: 10 min.
-Tokyo Metro Oedo Line Kokuritsu-kyogijomae: 10 min.
-JR Yamanote Line Harajuku: 13 min.
-Tokyo Metro Ginza Line/ Chiyoda Line/ Hanzomon Line Omotesando: 14 min.
Furthermore, Aoyama Ichome is accessible with 17 min. walk, so if you have a bicycle, the possibilities are endless.
It's the best location, not only with the great access to go anywhere, but where Japanese and world culture/ trend are gathered!
A Traditional House Fully Renovated! A Big International Share House With 18 People Living in Two Buildings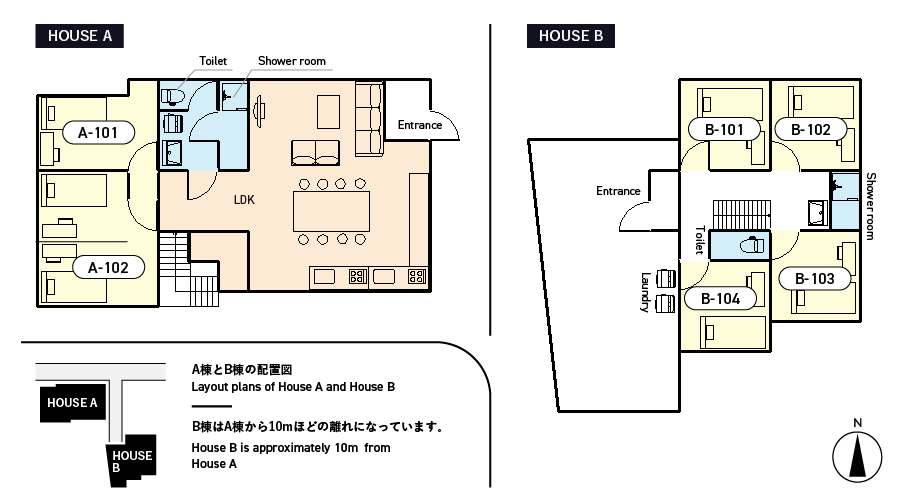 The Omotesando House opening on Mar. 30th is a large sharehouse for 18 people, with two traditional houses fully renovated.
Experiencing different seasons and lifestyles are possible in areas such as Harajuku, Omotesando, Yoyogi, Kokuritsukyogijyo!
Enjoy an urban life with multicultural housemates!


An Atmosphere Where You Can Interact Even in the City! A Big Living Room and Warm Open Terrace!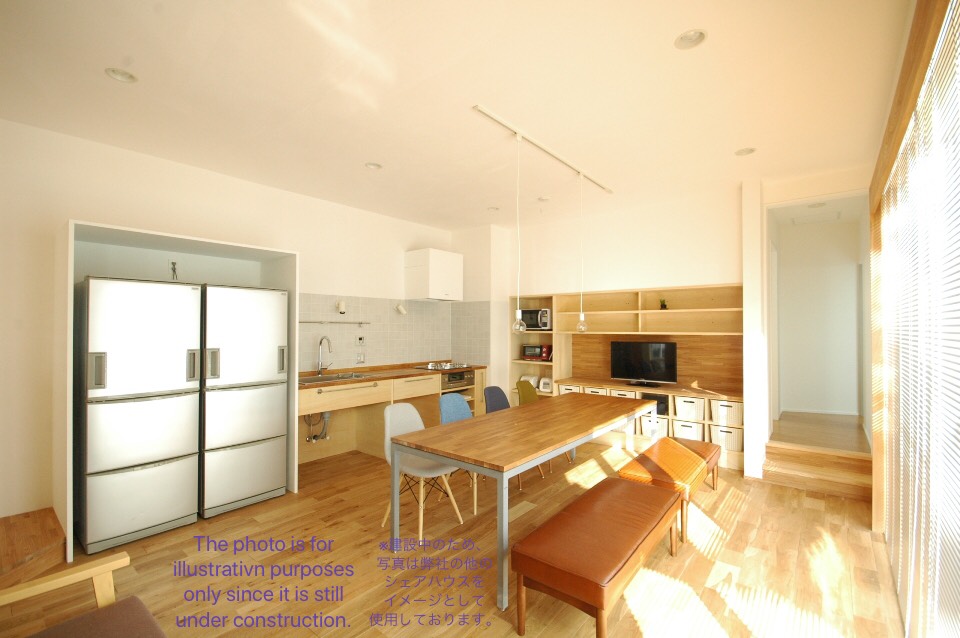 Borderless House's concept is international exchange!
Of course, the house is designed to accelerate interaction.
The first appealing point is the big living room right when you enter the house!
There is a big opened window, so you can always see inside the living room, even on your path to Building B,
And, this window will create a very calm, modern atmosphere in the daytime with the warm light.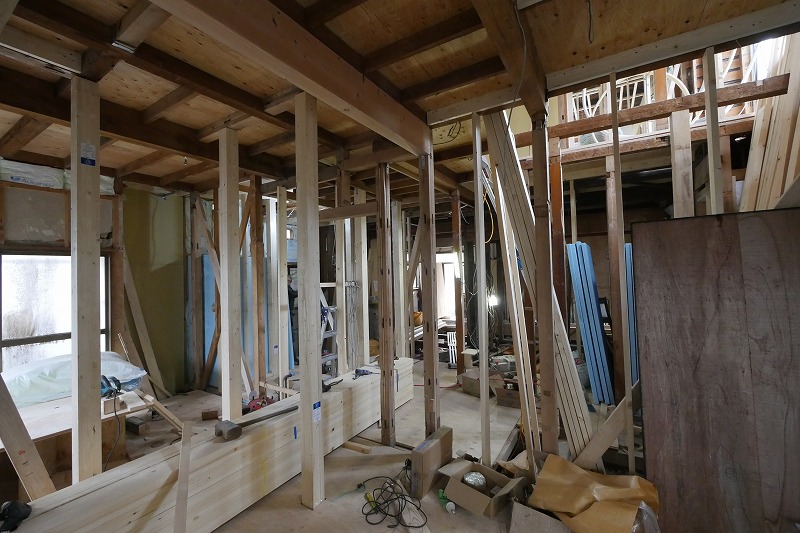 A picture during the reconstruction!
It is very exciting to think that many stories will be created from here!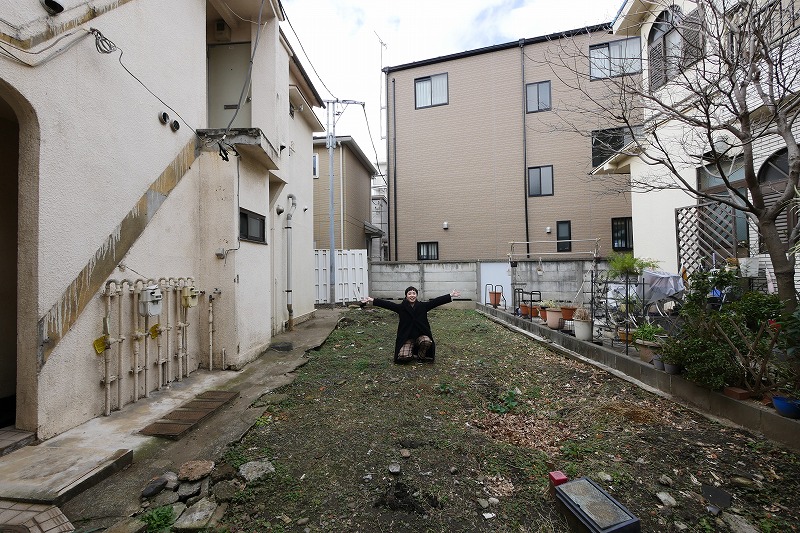 Also, a big open terrace will be built on Building B!
This is a yard planned to be constructed on the opne terrace. Look at this big site!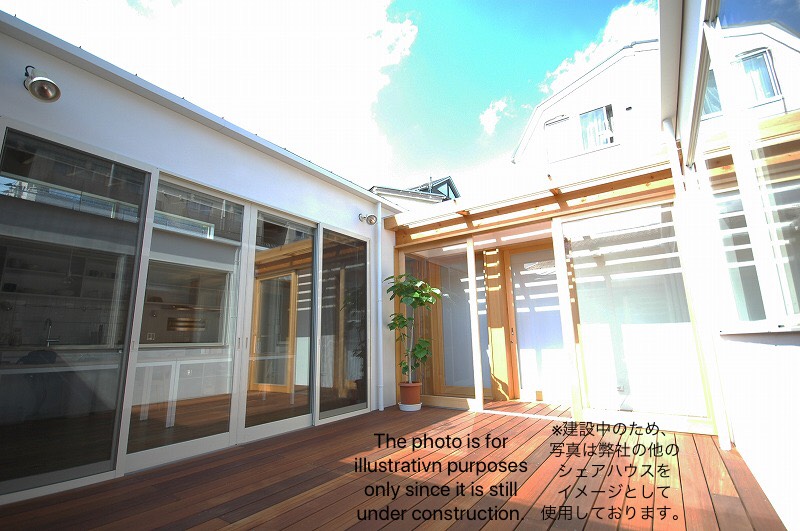 On warm days, you can enjoy gardening or yoga under the sun...
A projector is set in the living room, so on rainy days, you can enjoy movies and music with your housemates. So many activities are possible in this share house!
You Can Choose Your Own "Sharing Lifestyle"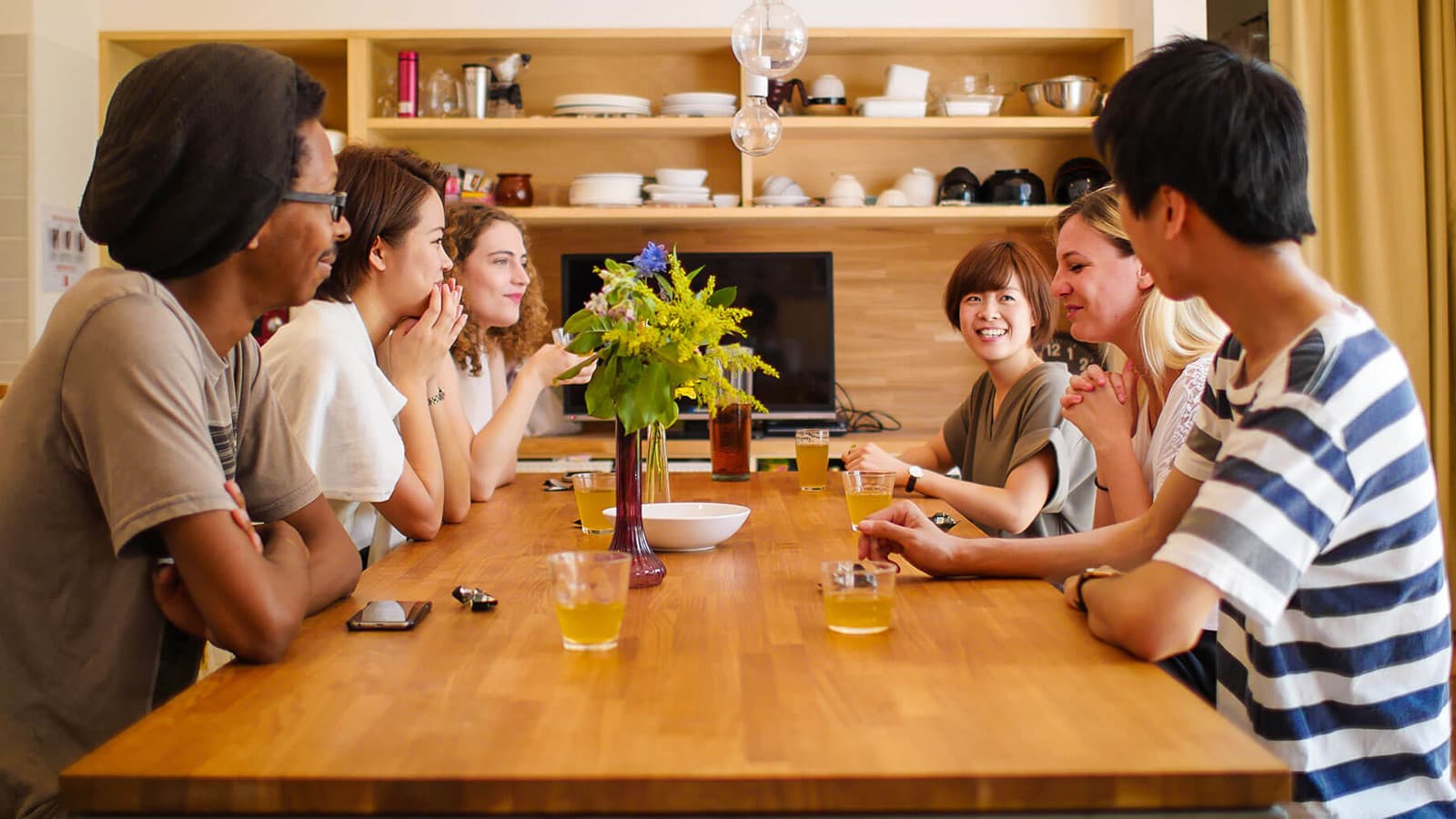 An another characteristic besides the great location and open terrace is the separated buildings, Bldg. A and B.
This is a community design that hasn't existed before in Borderless House!
Living Space is Choosable. Bldg. A that is Sociable and Bldg. B that is Private.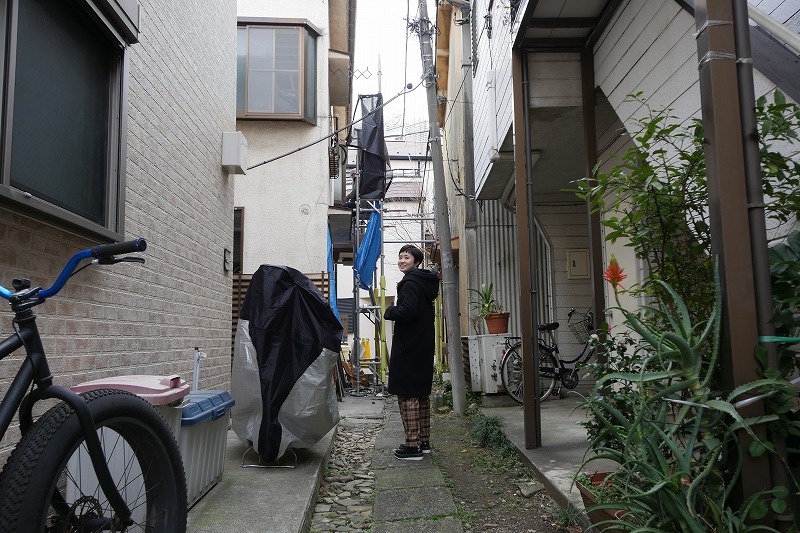 Omotesando House is made up of Bldg. A and Bldg. B, connected with a 10-meter path. This space design is new for Borderless House.
It is a design suited for Omotesando.
The theme is "relationship with neighbors!"
In today's generation, where interaction with neighbors is lacking, we hope that Tenants experience the excitement of visiting a second family when moving from Bldg. B to Bldg. A. For Tenants in Bldg. A, we believe they can feel a new sense of community when welcoming Tenants from the big window!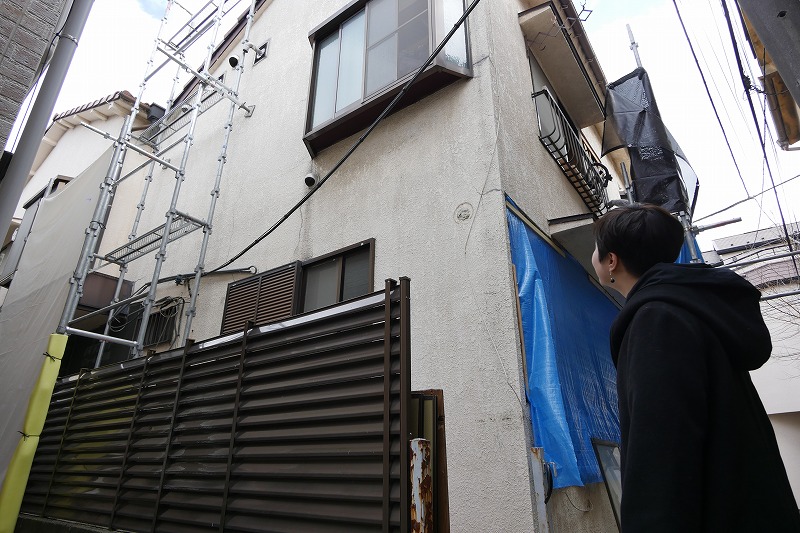 (The writer looking at Bldg. A, excited for the walls to be painted and the widow to be set placed soon)
There is also an another trick to the space!

From placing the living room in one building, you can create your own share house lifestyle!

Because you don't need to directly pass the living room to get to Bldg. B, it is recommended to people who come home late from work, or want to work quietly at home, or is their first time living in a share house, or want to relax at the open terrace.
On the other hand, Tenants in Bldg. A must pass the living room, and there are share rooms. It is suited for those who want to enjoy sharehouse to the most or want to use the foreign language daily!

※Bldg. B is planned to open near the end of June.
Community Space is Choosable. Share Room and Private Room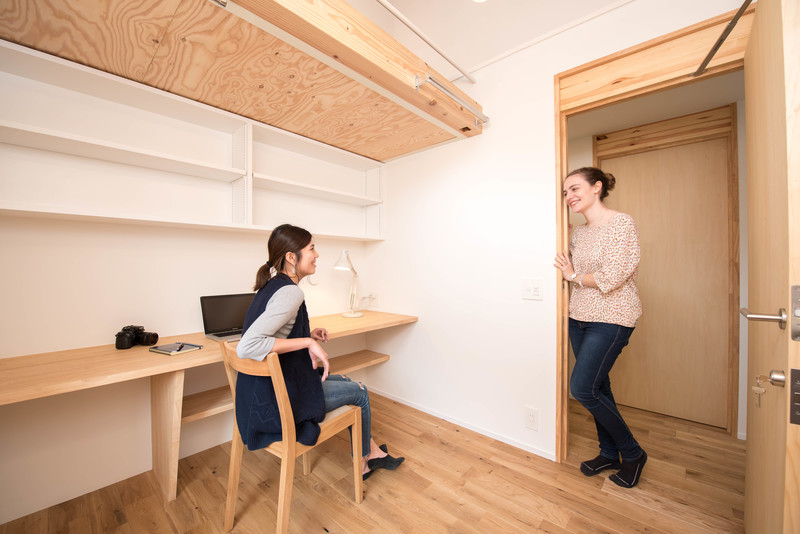 While share houses with only private rooms are increasing, we have provided both share rooms and private rooms in Omotesando House.
The reason is because we want the Tenants to choose their own way of interaction with housemates depending on their lifestyle.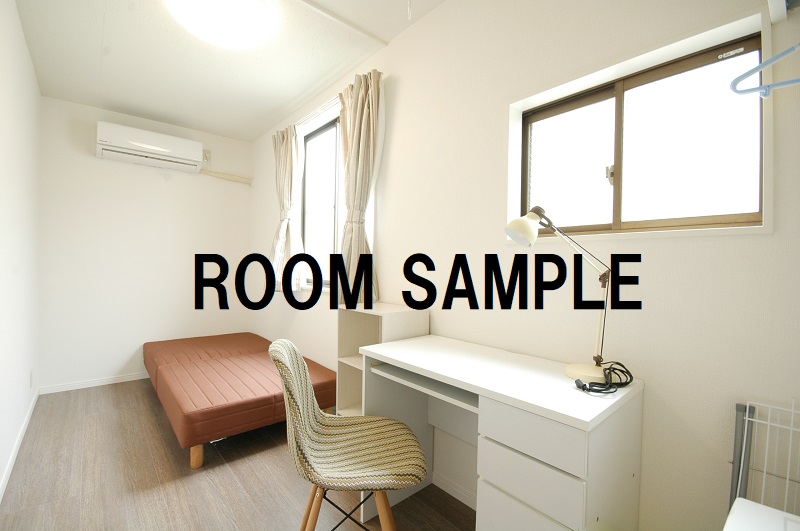 Private room is reccommended to those who want to rest and interact!
You can spend time in your room studying or working while joining the community!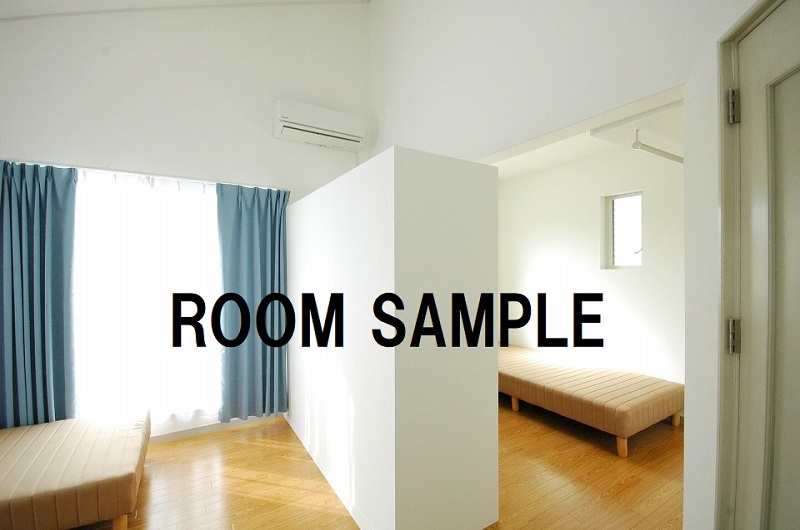 Share room is recommended to those who want to interact in English and Japanese even in their rooms and get along with housemates more!
You can create a twin-like relationship with a person from a different country!
※Share rooms in Omotesando House are a half private room type with a division in the middle.

The Atmosphere Changes Depending on the Station. Meet Your New Self at the Station You Get Off.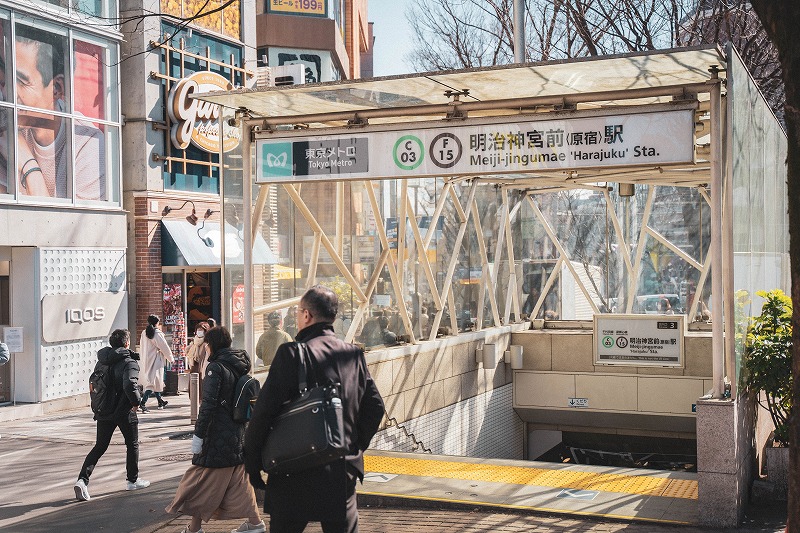 A good location is an appealing point that you cannot forget about Omotesando House!
Omotesando with the latest trend and Harajuku with Japan's cute culture.
And Meiji Jingu and Yoyogi Park which are one of the most relaxing places with vast nature in Tokyo.
There are 7 close stations, so depending on where you use, you can experience a totally diiferent city. You can find many of your new "favorite spots."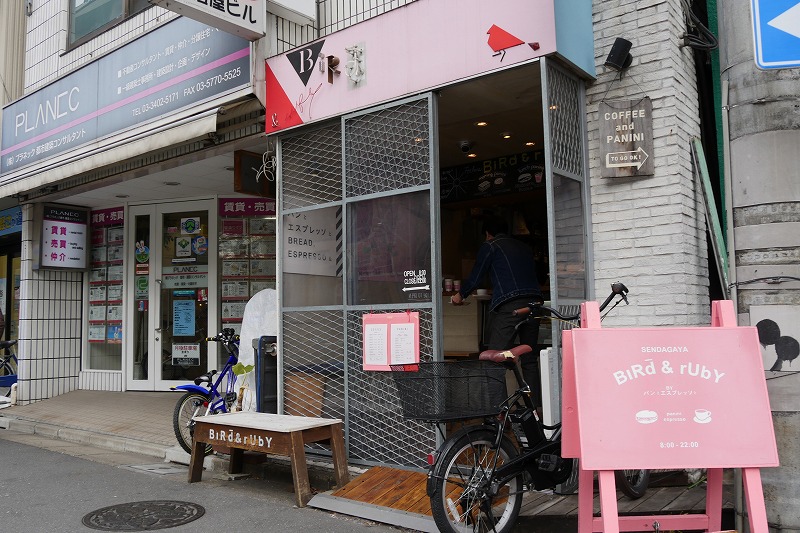 By the way, Bird&rUbY latte at this stand cafe, right near Sendagaya Station is sooo good!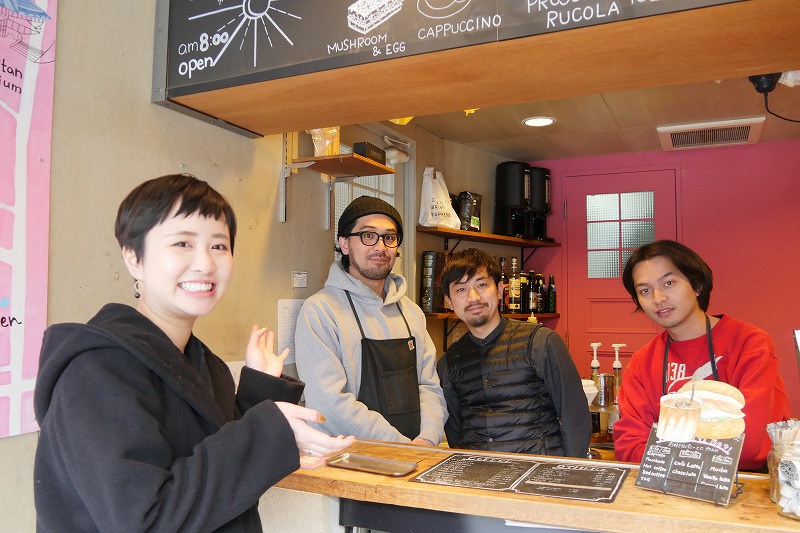 Why not walk around the city with your housemates, holding a latte in one hand?
Key Money Discount! Experience Life in Japan, Right in Middle of Tokyo
Celebrating the open of Borderless House Omotesando 1, if you register by April 15th, the key money will be 15,000 yen! (usually, it is 30,000 yen)
If you want to make Japanese friends or want to practice Japanese or want to live in an international environment!
Right now, during this campaign is the chance!
Do you want to experience an international share house life in the best location yet in Borderless House?
Right now, looking for new Tenants in Borderless House Omotesando!!
BORDERLESSHOUE OMOTESANDO

Next time, I will be introducing the are around the Omotesando House. Please look forward to it!

Tokyo sharehouse list

Currently Looking for Start-Up Ambassadors to Create a Community From 0!
In Borderless House Omotesando, we are also looking for start-up ambassadors!
Do you want to make a share house community plan with Borderless House??
The key money is free if you become an ambassador!
※There will be a selection.
What is a Start-Up Ambassador??
→A community leader that makes the community more fun and participate in House meetings!
Every month 5,000 yen discount!
More information from the link below! (Link Coming soon, Information out on the second week of February!)