Summer Early Bird Special ▎BORDERLESS HOUSE JAPAN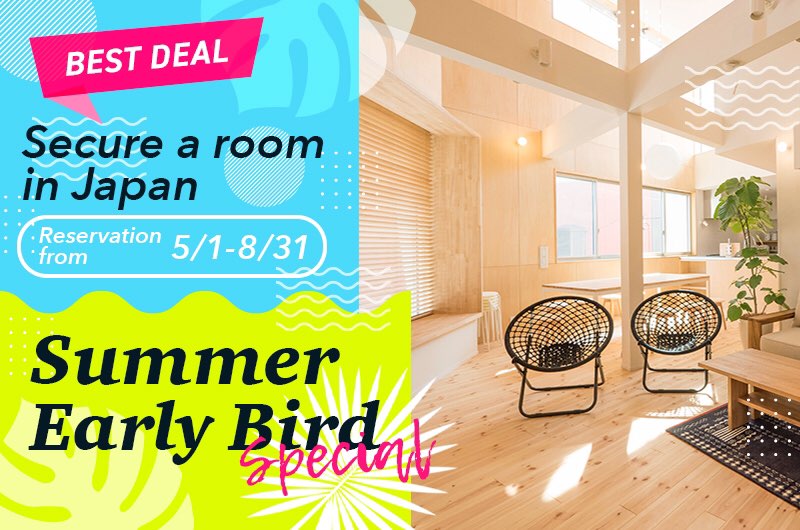 " I want to confirm my stay in Japan as soon as possible!" (๑•̀ㅁ•́๑)✧
" I need an address in Japan to help my application for coming to Japan!"
" I hope to secure a room in Japan soon so I can make plans." (✪ω✪)
BORDERLESS HOUSE wants to help those who wish to reserve a room in Japan soon to secure their future plan! Therefore, we are launching this "Summer Early Bird Special " for people who will be coming to Japan from overseas this coming summer. Let's keep our fingers crossed that Japan will lift its entry ban soon and hope to see you soon in Japan!
─=≡Σ((( つ•̀ω•́)つLet's cut to the chase, see details below for the special offers!
Special Campaign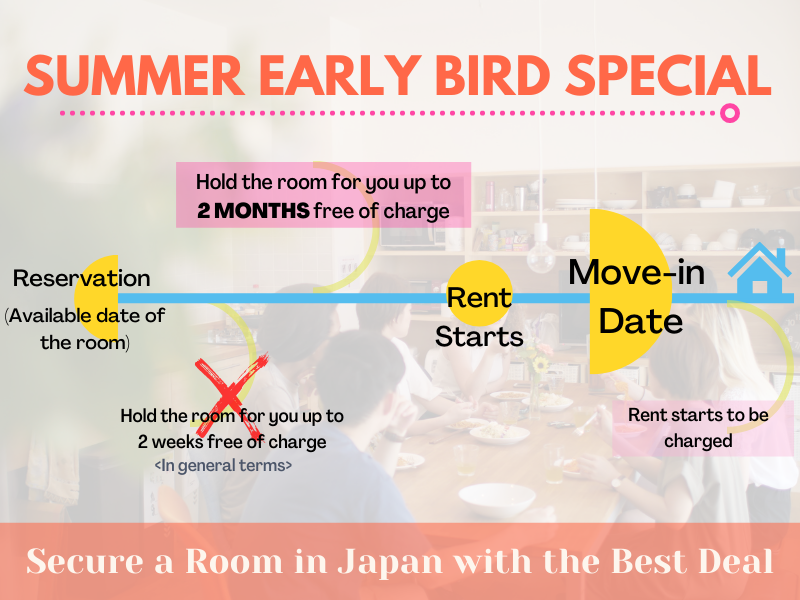 ・Usually, we can only keep the room free of charge for 2 weeks, but with "Summer Early Bird Special", BORDERLESS HOUSE will hold the room for you for up to 2 MONTHS!
・ You don't need to worry about paying extra fees because of booking a room too early. In the meantime, you have more choices and options to find your favorite room among all the share houses!
<Campaigns Terms and Conditions>
• The room will be reserved for you a maximum of 2 MONTHS starting from the day you submit the reservation form.
• If you can't move in within 2 months, your reservation will be canceled.
• The reservation form has to be sent between May 1st, 2021, and August 31st, 2021
• Only applicable to those who move in from overseas
※Houses are NOT applicable: Shinjuku-Honancho, Shinagawa-Oimachi, Omotesando, Ueno-Tabata3
More Benefit
Meanwhile, you can enjoy our ★2021 Special Offer Discount★ along with Summer Early Bird 。:.゚ヽ(*´∀`)ノ゚.:。
【What is ★2021 Special Offer Discount★】
If you book a room with Borderless House Tokyo before JUNE 30th, 2021,
you can have a maximum " 6 months " discount on your monthly rent!
(¥10,000 off from your monthly rent, up to six months)
Check details here ➧➧➧https://www.borderless-house.com/jp/blog/tokyo-20201110/
※Please note, applicable houses for the Special Offer Discount can be changed anytime.
How to Apply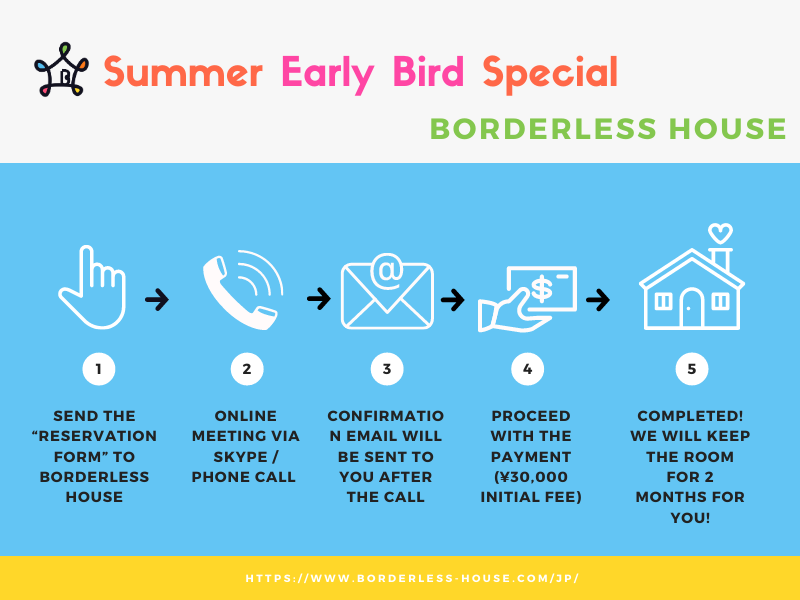 ①Send the "Reservation Form" to Borderless House
②Online meeting via SKYPE / Phone call
③Confirmation Email will be sent to you after the call
④Proceed with the payment (¥30,000 Initial Fee)
⑤Completed! We will keep the room for 2 months for you!
※The rest of the payment will need to be paid after your move-in date is confirmed.
※Cancellation Policy details will be informed through emails.
※If you have questions or have an interest in knowing more details, please send an inquiry form.
Messages from BORDERLESS HOUSE staff
Here are our Borderless House staff members' messages to you! ⁽⁽◟(∗ ˊωˋ ∗)◞ ⁾⁾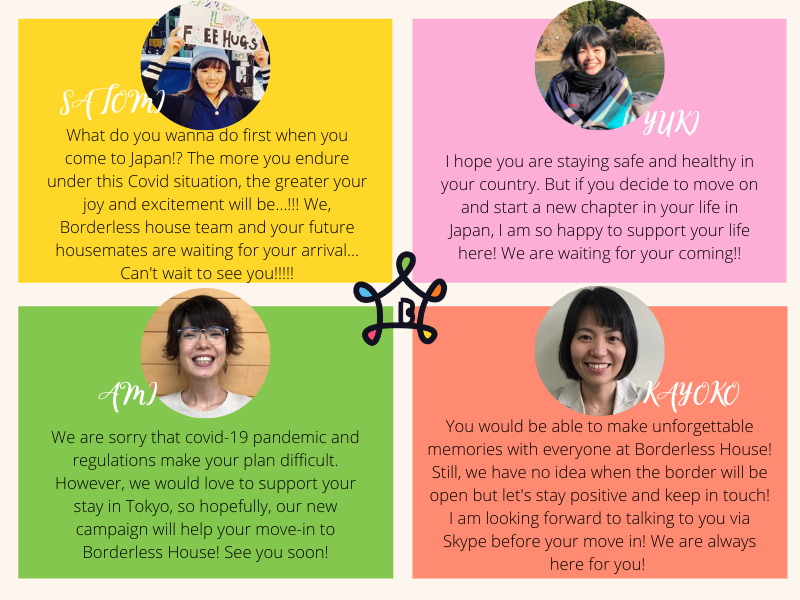 ✧*。٩(ˊᗜˋ*)و✧*。Please feel free to contact us! Looking forward to hearing from you!