Who Can Enter Japan & What's Required for the Entry to Japan? May 2022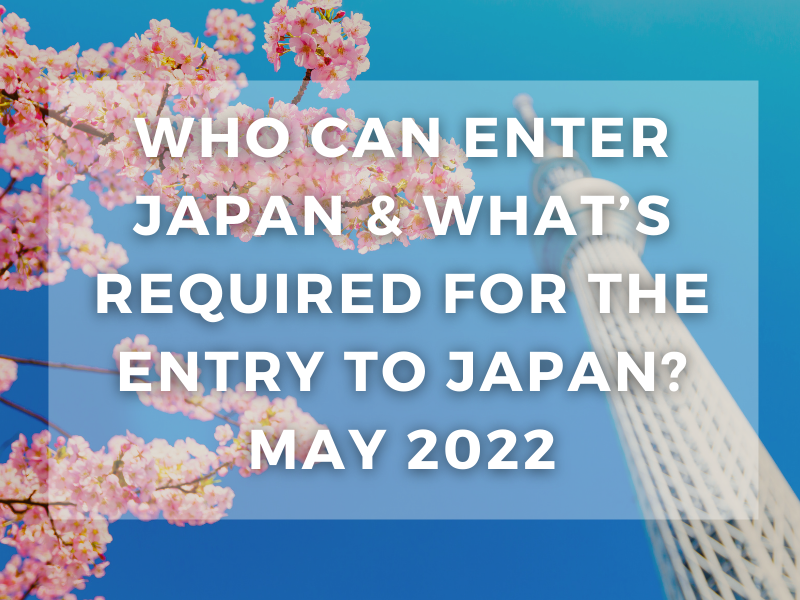 In this blog, we provide information for foreign nationals looking to travel to Japan, including who can travel to Japan now, and the entry requirements.  
Who Can Enter Japan
Japan is currently opening entry to business visitors, international students enrolled at a Japanese institution, and technical interns. As well as Japanese citizens, permanent residents or temporary residents including spouses and children of Japanese citizens who hold long-term visas, and some short-term business travelers.

Most foreign nations are now able to enter the country, however, you will need to be granted a visa allowing you to enter Japan.. As of April 2022, only persons originating from these countries are NOT able to enter Japan:

However, traveling to Japan with a tourist visa remains PROHIBITED. 
What types of vaccines are accepted for overseas visitors to enter Japan? Is quarantine mandatory upon entry?
From March 1, 2022, the following measures are implemented in Japan: 
The quarantine will not be required for those who have a "Certificate of Vaccination issued outside Japan" + "Completion of the third dose" (only for long-term residents, students, and business visitors in Japan, but not for visitors.) 

For those who have not received the vaccination or completed the third dose and do not have a certificate of eligibility, the period of quarantine will be shortened to 7 days. You can also submit a negative report to the Ministry of Health, Labour, and Welfare after PCR or RT-PCR on the third day after the entry into Japan, and the quarantine can be lifted after confirming that the test is negative.

What kind of foreign-issued vaccination certificate is eligible and approved by Japan?
・The issuing entity is a public entity such as the government of each country.
・Must be in either Japanese or English. 
・Name, date of birth, vaccine name or manufacturer, date of vaccination, and a number of vaccinations must be included.
・Vaccine type: Doses 1 and 2 must meet the following criteria: Pfizer (Pfizer), AZ (AstraZeneca), Moderna, Janssen (Janssen/Johnson & Johnson/J&J; the first dose is considered the second dose of this vaccine). The third dose must be in accordance with Pfizer BNT (Pfizer), Moderna.
Required documents for entering Japan
❶ Proof of negative test for COVID-19 within 72 hours before the departure time
❷A signed copy of a 'Written Pledge' document committing to follow all health procedures
❸Japanese visa
❹ Certificate of vaccination issued by a foreign country approved by Japan
❺ Download three apps: Health and Location Monitoring App (MySOS) to report health conditions, report location, verify location, Location Information App
(Google Maps), and COCOA to track close contacts. If you do not have a smartphone, you must rent one at the airport at your own expense.
❻ Show the QR code of the survey with your residence history or health status (a completed online questionnaire)
After arrival in Japan

Upon arrival and before leaving the airport you have to:
◇ Submit the documents listed above

◇ Undergo another PCR test and return a negative result
Within 24 hours of entering Japan, you may travel by public transportation.
Currently, due to quarantine procedures and other border control measures in response to the COVID-19, all passengers arriving in Japan on international flights take a long time to complete the immigration process.
For more information, please refer to the Ministry of Foreign Affairs of Japan website.
We'd love to help you with starting your new life in Japan! ▶WELCOME TO JAPAN